No one could ever tell what would happen in the future. However, the future becomes better manageable when preparing for it by properly planning and studying the likely scenarios. Financial planning prepares your business for success, and you can avoid many of the most common pitfalls. In business, we build a financial model to prepare a financial plan.
Building great financial models templates allows you to run simulations and better understand the impact of changes in key assumptions on the whole business plan. You can forecast and plan ahead of time that bend in the road could lead to rising and overflowing cash flows, which is a good indicator of healthy businesses and companies. With that, the future is less difficult to predict with proper planning and preparation.
However, you may be wondering what financial models are and how to build financial models templates. In this article, we will explain financial models and how companies build their financial models so that risks can be turned into opportunities. We hope that you will gain a thorough understanding of the principles.
Financial models forecast an asset's or a business's future financial performance based on a set of assumptions and rules that define their relationships. As a result, financial models can forecast profits, cash flows, balance sheets, financial ratios, and other ratios such as key performance indicators. Building Financial models in Excel today has become a common tool to understand how key financial metrics such as the Internal Rate of Return (IRR), Net Present Value (NPV), Payback Period, and Yield are calculated. They are excellent tools for better understanding investment propositions, business or asset valuations and are the foundation for financial decision-making.
Financial models are essential components of a business plan, particularly for startups or those looking to invest in a new project or firm. It is frequently planned and created in an Excel spreadsheet format. With that, financial models can also be defined as the following:
Financial models are typically constructed in the form of an Excel spreadsheet, since any change in assumptions needs to be dynamically update the financial forecast
Financial models are used by enterprises and businesses to help them in sound financial planning and educated financial or even strategic decision-making. Financial models are used by enterprises and businesses to help them in sound financial planning and educated financial or even strategic decision-making.
Financial models are used to simulate the financial performance of an asset, a project or company based on a set of assumptions and business relationships. Some of the spreadsheet solutions that people develop capture some of these relationships as well, and as a result, they can provide answers to "what if" questions to a certain extent.
In building financial models in excel, numerical values are included, and accounting—the language of business—is used to express this numerical report. Accounting is the foundation of finance, broadly defined as the science of managing money and other assets. As a result, it is critical to recognize the critical role of accounting, or the tallying of business transactions, in developing financial models.
The process of building financial models templates for a variety of different use cases and objectives will be much easier if you use Excel. However, this does not imply that financial modeling is a simple task that anyone can complete without the proper training and knowledge of finance. After all, it takes years of study and numerous practice sessions to be able to build experience and expertise in financial modeling effectively. Financial modeling is regarded as a precious skill, particularly for those pursuing careers in the finance industry.
---
Financial models are needed for financial decision-making, analyzing investment proposition, fundraising, or valuing businesses or assets. The following list provides several financial models examples of why financial models are being built in the first place:
Forecasting and Budgeting- Financial models are widely used in budgeting and financial forecasting. Existing companies can compare to historical financial data to forecast future revenues, costs and key performance indicators while new ventures will have to rely on a carefully prepared financial feasibly study to prepare such forecast. A forecast can either be prepared based on top-down or bottom-up estimations. Normally, a bottom-up approach is more solid as revenues and costs will be driven by measurable operational parameters. If the model is properly structured, any change in key operational parameters such as e.g., output per day will drive revenues. Modeling a business will give better insights and prepare the management for future business scenarios.
Fund raising: Entrepreneurs very often need to organize funding for their new ventures and present a financial plan to investors or banks. Therefore, they will need a financial model to calculate how much funding will be needed.
Financial Feasibility Study: Evaluating a new investment or business project requires comfort on its financial feasibility. A financial model is needed to prepare a forecast and calculate the required financial ratios and metrics to determine the financial feasibility of such project. This helps to assess the benefits and costs of launching a new project.
Evaluation of Investment Opportunities: Financial models are needed to assess the financial attractiveness of an investment proposition. This can be achieved by calculating various financial metrics such the Internal Rate of Return or the Payback analysis . Also, many businesses are constantly given various investment alternatives, and they must examine through options to determine the best feasible investment for future growth. The process of deciding on the best solution necessitates meticulous budgeting and analysis. A corporation may employ or use financial models or a variety of evaluation methods with different inputs and analysis elements when doing their analysis.
Value of Businesses or Properties: Financial models can also be used to depict a company's worth. Companies can examine financial data to discover how profitable their enterprises are by organizing and showing profit and revenue statistics
Manage and Allocate Capital: Allocating capital is difficult, and a CEO's capital-allocation decisions can make or break a company's success or failure. Through building financial models in excel, management can examine the viability of the various investment alternatives, assess each one's possible consequences on the company, and deploy the additional funds effectively and in a manner that will create the best overall results for the company.
Prepare Merger & Acquisitions: Companies can use financial modeling to see their cash flow. Businesses can use this data to make informed decisions about the benefits and costs of acquiring new assets, forming business alliances, or merging.
Divestment of Assets: Financial models can also be used to determine whether or not assets should be sold, as well as which assets should be sold. Financial models can show a company which of its assets are the most valuable and should be sold to help the company meet its revenue targets.
Scenario Simulations: Financial Models simulate how different financial scenarios or investment scenarios could play out. It also compares base case to worst case and upside case. On the other hand, companies or businesses can investigate and evaluate potential future occurrences or scenarios, as well as anticipating the many probable results or outcomes. In that way, companies or businesses can estimate changes the value of their firms or cash flows, particularly when there are potentially favorable and negative events that could affect the company.
Break-Even Calculation: Financial models are used by businesses to figure out what price they need to charge in order to pay their costs. As a result, revenue and sales are frequently examined during break-even analysis. However, it's critical to distinguish between sales, revenue, and profit. Income is the total amount of money collected from product sales, whereas profit is the revenue that remains after all operating expenses and costs have been deducted. Also, Financial models are also built to calculate sales or sales volumes needed to reach break-even
Assessing Risks: Risk assessment is critical for estimating the value of a particular investment and the appropriate techniques for risk mitigation. It shows the potential upside payoff in relation to the risk profile. Risk assessment is necessary to establish the rate of return required for an investment to be considered worthwhile despite the potential risk. Financial models offer a view on the key variables or financial ratios such as Debt/EBITDA, and low profit to decide what's best for the company or business. It can help firms make smarter investments, prepare for future outcomes, and get intelligent insights into specific risk scenarios.
Analyzing and understanding the profitability of companies: Financial models offer insights and analysis in how profits are derived. This allows to identify the real reasons of poor profitability and where to improve.
---
Financial models are used in various sectors to guide historical analysis of a firm and project a company's financial performance. These financial models are created for the purposes stated above and are primarily utilized by financial analysts. By building financial models, financial modeling assists management in making decisions and preparing financial analyses.
A financial model is a numerical representation of a real-life situation intended to assist people in making better financial decisions.
The use of financial models can be beneficial in any situation where financial problems or situations in the real world need to be solved, analyzed, or translated into a numerical format. Sometimes, all that is required is converting an idea or a concept into a business case or feasibility proposal. A skilled financial modeler can give substance to an idea by enhancing the details to the point where a working model can be developed from which decisions can be made, investor funds can be raised, or staff members can be hired, among other things.
Financial models, for example, can assist investors in determining which projects to invest in, executives in tracking which marketing campaigns generate the highest return on investment, and managers in determining whether to purchase a new piece of equipment for their facility.
When developing or just looking for great financial models, consider that those financial models should capture as many mutually beneficial relationships between the model's variables as possible. Furthermore, you want that it has a defined structure so that it is simple to understand and analyze.
To determine great financial models, both the process of building and searching for great financial models in excel will necessitate a keen eye and knowledge. If you choose to create your own, you must base them on financial theory, data analysis, and so on, and developing these relationships is one of the most difficult aspects of financial modeling. This section will show you how to create or find great financial models by incorporating or searching for these characteristics in the financial models you are considering.
Whether you are a finance professional or a budding analyst, it is crucial to understand these characteristics below, which make a financial model great.
Model Objectives: Great Financial models should not only offer users great designs, layouts and structure but it should also help users to address key questions the users most likely will have. The following are examples of such questions:
• How much funding is needed? With the help of financial models' businesses can assess how much fund would they need. To push their firm to the next level, most businesses require outside capital from investors. A startup in its early stages will need money to help prove its business concept. A more established company that has gained momentum may be searching for funds to help it expand. If you're looking for investment, understanding how much money you should raise is crucial at any stage of your organization.
• What are the profit margins? Analysts and investors use profitability ratios to measure and evaluate a company's ability to create income in relation to revenue, balance sheet assets, operating costs, and shareholders' equity over a given period of time. They demonstrate how well a firm uses its assets to generate profit and value for its shareholders.
• What is the profitability of a project (IRR)? Great Financial Models can project IRR calculations which are frequently used to assess the attractiveness of investments or projects. The higher the IRR of a project, the more appealing it is to take it on. If all projects demand the same amount of upfront capital, the project with the highest IRR would be the best and would be implemented first.
• How much debt could be used for a project? Businesses often used a mix of equity and debt in a project or expansion. With the help of financial models, you can run different scenarios which will give you an idea of whether you will use equity or debt financing to be able to finance a project.
• What is the payback period? When you hear the word "payback," the next question almost invariably begins with the word "when." Great financial models will assist you in determining when you will see the results of your labor. This implies it will tell you how long it will take you to receive your money back or recover your investment in a project. It suggests that the project is more appealing if the payback period is shorter.
• What is the value of this financial plan, company, or asset (NPV)? Another great way to assess the value of a business or a project is knowing its present value. Financial models are very helpful in evaluating whether a project or an investment is valuable in the present and will generate more value in the future.
• How much of the expected return is attributable to the project (unlevered returns) and to financial engineering (leverage)? When it comes to determining how well a business will profit its investors, the unlevered return is a straightforward metric. Investors and shareholders expect their money to grow in tandem with the company, but, as with any investment, there is a risk associated with every transaction. In order to maintain current investments and to secure new investments for the following year, it is necessary to measure how those investments were used. The decisions that a business makes regarding its investments will have a direct impact on the annual return. Without a positive return or a higher return than its competitors, a company runs the risk of losing all of its investors.
• By when will my project be profitable? With the help of financial models, you can run the different scenario and input various assumptions from which you can see how a component affect the other. You can assess whether your business will be profitable and when will it start to gain profits.
• Which value can I exit? Great Financial models help users or investors to determine at which point they can exit. Regardless of the sort of investment, trade, or business activity, a good exit strategy should be established for every positive and negative possibility. The risk connected with the investment, trade, or commercial endeavor should be factored into this strategy. With the use of a financial model, an entrepreneur can determine when to exit or to sell their company's ownership to investors or another company. An exit strategy allows a business owner to reduce or sell their ownership in a company while still making a significant profit if the company is successful. Exit allows the entrepreneur to limit losses if the business is not successful. An investor, such as a venture capitalist, can employ an exit strategy to plan for a cash-out of an investment.
• What returns investors could expect? Using a financial model, you can potentially see or forecast the amount or value of the expected return on your investment by experimenting with different scenarios.
• How much volume do we need to sell to reach break-even? It is critical to understand your break-even point in order to be profitable in business. This can be evaluated through financial models. The point at which total revenue equals entire costs or expenses is known as the break-even point. There is no profit or loss at this moment; in other words, you've 'break even.
2. Complete picture: Great Financial models helps you to see how your firm will perform in a variety of scenarios and to see how different actions interact to affect the company's future. Hence, Financial models in excel should have the historical data, present business measurements, and future expectations as those are representations of a company's current and future financial situation.
3. Logical Flow: There are various advantages to following a logical framework. For starters, it has a dependable and consistent architecture. Users can choose which regions they should work in and which the computer should work in. Second, it reduces errors by centralizing all assumptions. It is less probable to forget to remove old assumptions from previous studies this way. Likewise, Financial Models should present the content in such a way that consumers may easily switch between sheets. Make sure each sheet has a natural flow from left to right and from top to bottom.
4. Consistency: Financial model needs to be structured in a consistent way. When using and presenting a model, the formats should be consistent from the style, fonts used, height, width descriptions, labels etc. This is crucial as you might risk confusing the reader if the rows and columns or any elements are not defined clearly and have diverse formats. It's a massive mistake to format each Excel sheet individually. It gives the model an off-kilter appearance and raises the likelihood of a mistake. Format the spreadsheet in a straightforward and consistent manner while preparing them. Consistency provides the reader with a great level of comfort. If the reader understands the model, they will feel more comfortable recommending it to a friend or to someone who needs it.
5. Detailed: Great financial models offer a great level of detail. This is a crucial determinant if a financial model has a great structure. Remember, that financial models are one of the key tools in decision making so they should provide all the values and data needed to contribute to business growth.
6. Specification of Units: Financial models must be easy to read. Therefore, units and currencies used need to be clearly specified. The users of financial models should understand the unit of measurement in every assumption. A financial modeler should not assume that users will know and understand all the metrics. To avoid confusion, consistency in all units should be maintained.
7. Transparency on all calculations. All calculations need to be auditable if needed. Therefore, transparency on its calculations is required.
8. Financial Ratios: All relevant financial ratios should be calculated and included in a financial model. To get useful information about a company, financial ratios should be calculated using numerical numbers from financial statements. The figures on a company's financial statements; the balance sheet, income statement, and cash flow statement are used to undertake quantitative analysis and evaluate a company's liquidity, leverage, growth, margins, profitability, rates of return, and valuation, among other things.
9. Forecast Period: This is determined by the user's requirements. If you want to build a DCF valuation, you only need a 5-year forecast; if you want to start a business, you need an idea about monthly budgets at the start; and if you invest in a company, it may take more than 5 years before you can exit, so model a 10-year period. If you are studying a project that will deplete resources, such as solar energy, an oil field, or a geothermal power plant, you may want to extend your forecast to 30 to 50 years.
10. Simplicity: Long formulas are difficult to follow and take a long time to complete. Great financial models should be simple to understand and apply. Most formulas should not be longer than half the length of the formula bar, according to the rule of thumb. The more complicated a formula is, the more likely you are to make an error. To avoid this, make the formula as simple as possible and decrease the number of stages. Choose easy-to-follow methods to check for and pinpoint any issues. Excel's functionality allows you to simplify financial models in a variety of ways.
11. Financial Metrics: Financial metrics will summarize in 1 – 2 figures the main conclusion of the model at the end. The financial models become more understandable by including a summary. It enables the reader to instantly grasp the major assumptions, drivers, and other aspects. The summary gives a quick overview of the model. It enables the reader to rapidly decipher the major facts as well as the underlying rationale. The financial summary, on the other hand, will assist you in determining the focus for presenting your financials.
12. Dynamically linked: Financial models should allow for the simulation of various scenarios. This necessitates that the model undergoes a change in assumptions, which impacts the financial forecast in all relevant aspects. All the worksheets or tabs where the financial metrics are inputted should be linked to each other. It entails a wide range of complex calculations scattered across numerous tabs that are linked to explain how they relate to one another. While preparing a model, having a thorough understanding of Excel, including formulas, keyboard shortcuts, presentation types, so on, is essential. Having a working grasp of these talents offers the analyst an advantage over others. It is for the purpose of having accurate, consistent, and error-free calculations.
13. Inputs separated from Outputs: Inputs and Outputs should be separated. By keeping inputs in separate clearly labeled worksheets with no other calculations, or by placing inputs in clearly identified distinct areas of the same worksheet, will help you distinguish Inputs from other financial metrics. Separating inputs from calculations, outputs, and other data types of results in a logical design of financial models excel that reduces confusion and facilitates ease of maintenance, lowering the likelihood of error introduction. Documenting data sources and clearly labeling input areas aids in ensuring that data entered in a spreadsheet is understood and interpreted correctly.
14. Explains Terms and Abbreviations: It's not enough to include all financial ratios or metrics in a fantastic financial model; it also needs to have a section where users can see and read the terminology and abbreviations in the model represent. You should not expect everyone to be familiar with all abbreviations and phrases. Users will better comprehend financial models and how to navigate and use them if there is a section or spreadsheet that explains those terms. As a result, it will save a significant amount of time and energy.
It is crucial to know these characteristics of financial models as financial models are created for various reasons, ranging from the appraisal of innovative products and ideas to the valuation of firms for future investment or divestiture. Whatever the cause, corporate managers and decision-makers want well-designed and thoroughly created financial models to make the best possible judgments.
If you are a beginner, it is hard to create or create complex financial models overnight. Some professionals who build financial models are professional financial modelers, business analysts, bankers, consultants, entrepreneurs, investors, and management. The primary purpose of a financial model, which displays, analyses, and forecasts a company's performance, is to recreate the actual business essentially. After the business's variables have been set, analysts can enter various financial implications to modify the statistics. In this day and age of digitization, you can even find hundreds, if not thousands, of financial model templates and financial modeling courses available online. However, if you have a lot on your plate, taking a financial modeling course might be too time-consuming.
Furthermore, it takes years of knowledge of financial modeling theories to apply them in a real-world scenario. Another option is to look online for great financial models tailored to your business's needs. However, the issue that may arise when looking for great financial models is whether you truly understand how to determine whether a financial model is well-tailored or mediocrely made.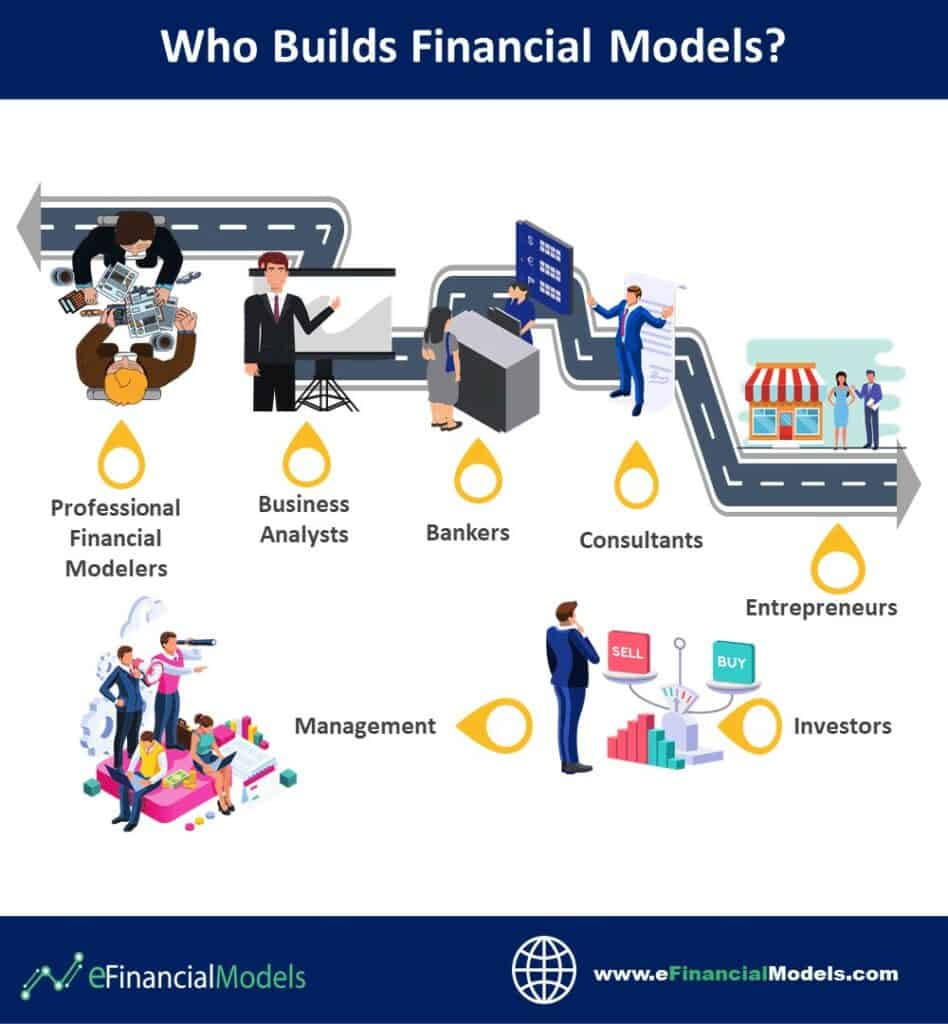 The key to determining great financial models is to be knowledgeable about them and to conduct thorough research on the financial model's source you are interested in. Check if the financial model templates they provide are truly created by trusted, reliable, and professional financial modelers.
There's no one size fits all financial model. Every business case needs a different financial model in excel. In this section, we will get the specifics of the financial models' examples. We have two dimensions here:
(1) We can differentiate between the way how cash flows are modeled:
Direct Cash flow Models: A Direct Cash Flow Model is one of the financial models examples which is straightforward financial model in excel that aims to forecast the direct cash flows of a company or an asset over the next several years. The task at hand is to forecast revenue, costs, and required investments. This is thought to be the most straightforward method of making forecasts.
Here's an example of a Direct Cash Flow Model Structure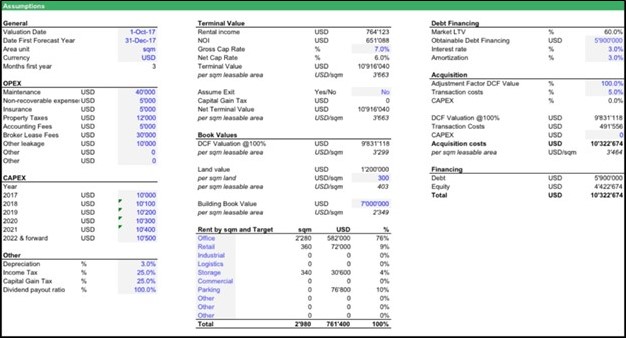 The model structure is fairly simple and can be applied to businesses or assets other than real estate. The structure of the model is as follows:
Assumptions
Operating model
Operating ratios
Direct cash flows
DCF or IRR analysis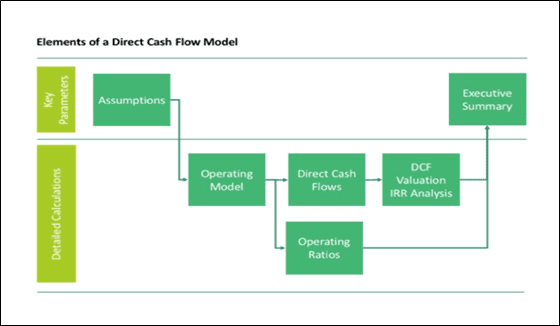 Three Statement Model: The three-statement financial model is the simplest basic financial modeling configuration. The three statements such as income statement, balance sheet, and cash flow in this model are all dynamically connected via Excel formulas, as the name implies. The goal is to integrate all of the accounts such that a set of assumptions can trigger changes throughout the model. It's critical to understand how to connect the three financial accounts, which necessitates a strong foundation in accounting, finance, and Excel. The term three statement model refers to the income statement, balance sheet and cash flow statement, which together forms the three statements required to understand any business. Below is an example of a three-statement model for your reference:
---

Financial models are crafted based on the user's industry or business. Every Financial model is unique from one another as it presents various financial metrics or ratios. Also, structures have commonalities and differences, but there are no two similar financial models. In this section, we will delve into another dimension of financial models.
(2) We can also differentiate by the main types of the model: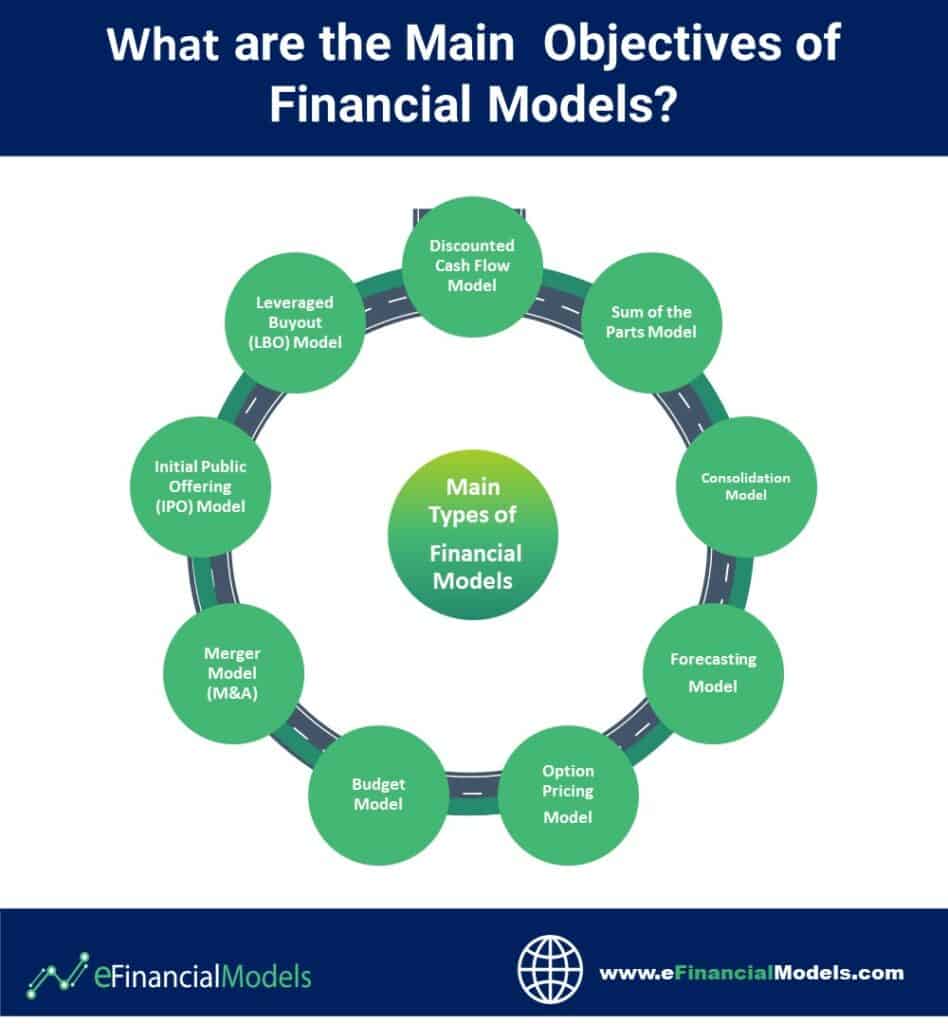 Discounted Cash Flow Model: The DCF financial model builds on the three-statement model to value a company based on its future cash flow's Net Present Value (NPV). The DCF model takes the cash flows from the three-statement model, makes any necessary adjustments, and then uses NPV to discount them back to today at the firm's Weighted Average Cost of Capital (WACC). Financial models like these are used in equity research and other aspects of the capital markets.
Merger Model (M&A): The accretion and dilution analyses are included in the Merger & Acquisitions financial model. The goal of merger modeling is to show clients how an acquisition would affect the acquirer's earnings per share and how the new earnings per share compares to the current EPS. In basic terms, the transaction will be considered "accretive" if the new EPS is greater, while it will be called "dilutive" if the new EPS is lower.
Initial Public Offering (IPO) Model: An initial public offering (IPO) is the process of turning a privately held firm into a publicly traded company with stock traded on a stock exchange. "Going public" is a term used to describe this procedure. A public corporation is owned by the shareholders who purchase its stock after it becomes a private firm. These models combine an examination of comparable companies with an estimate of how much investors would be prepared to pay for the company in question.
Leveraged Buyout (LBO) Model: The LBO Model is one of the types of financial models. It entails buying another company with a large quantity of borrowed money to cover the acquisition costs. This type of approach is commonly employed in leveraged finance by bulge-bracket investment banks and sponsors such as Private Equity firms who aim to purchase companies with the goal of selling them at a profit in the future. As a result, it aids in analyzing if the sponsor can afford to spend such a large sum of money while still receiving a reasonable return on its investment.
Sum of the Parts Model: Sum of the parts is a method of valuing a corporation in which each of its subsidiaries or business segments is valued independently before being combined to arrive at the total worth of the company. This type of model is made up of various DCF models that have been combined.
Consolidation Model: The financial results of many business units are combined into a single model to create a consolidation model. The model's initial worksheet is usually a summary or consolidation view that displays the highest-level figures (monthly and annual sales, profits, costs, productivity rate, and so on) in the form of tables, graphs, or charts. Financial data is displayed in other tabs of the model by departments, business divisions, or product lines, as well as by years, quarters, and months.
Budget Model: It is used for financial planning and analysis by financial specialists who are putting together the budget for the following year (s). Budget models are often based on monthly or quarterly data and place a strong emphasis on the income statement. The financial situation, cash flow, and goals of a corporation are all represented in budgeting. Depending on how management wants to update the information, a company's budget is usually re-evaluated on a regular basis, usually once every fiscal year. Budgeting establishes a baseline against which actual results can be compared to see how they differ from expectations. While most budgets are made for the entire year, this is not a strict rule. For some businesses, management may need to be adaptable and allow the budget to be altered as company conditions change during the year.
Forecasting Model: Financial models which examines previous data to forecast a company's future financial outcomes. Forecast financial models enable management teams to predict outcomes based on historical financial data. Forecast Models can also be used to figure out how corporations should divide their budgets in the future. When there is a change in operations, inventories, or the business plan, it should be updated on a regular basis, perhaps monthly or quarterly. This type of financial model allows management team to take quick action based on the data projected. A management team can use the forecast model to make adjustments to production and inventory levels. A long-term prediction can also assist a company's management team in developing a business plan.
Option Pricing Model: Option pricing models are mathematical models that compute the potential value of an option based on a set of variables. An option's theoretical value is an estimate of what it should be worth based on all known inputs. To put it another way, option pricing models tell us how much an option is worth. Finance experts could change their trading strategies and portfolios based on an estimate of an option's fair value. As a result, option pricing models are effective tools for finance professionals who trade options.