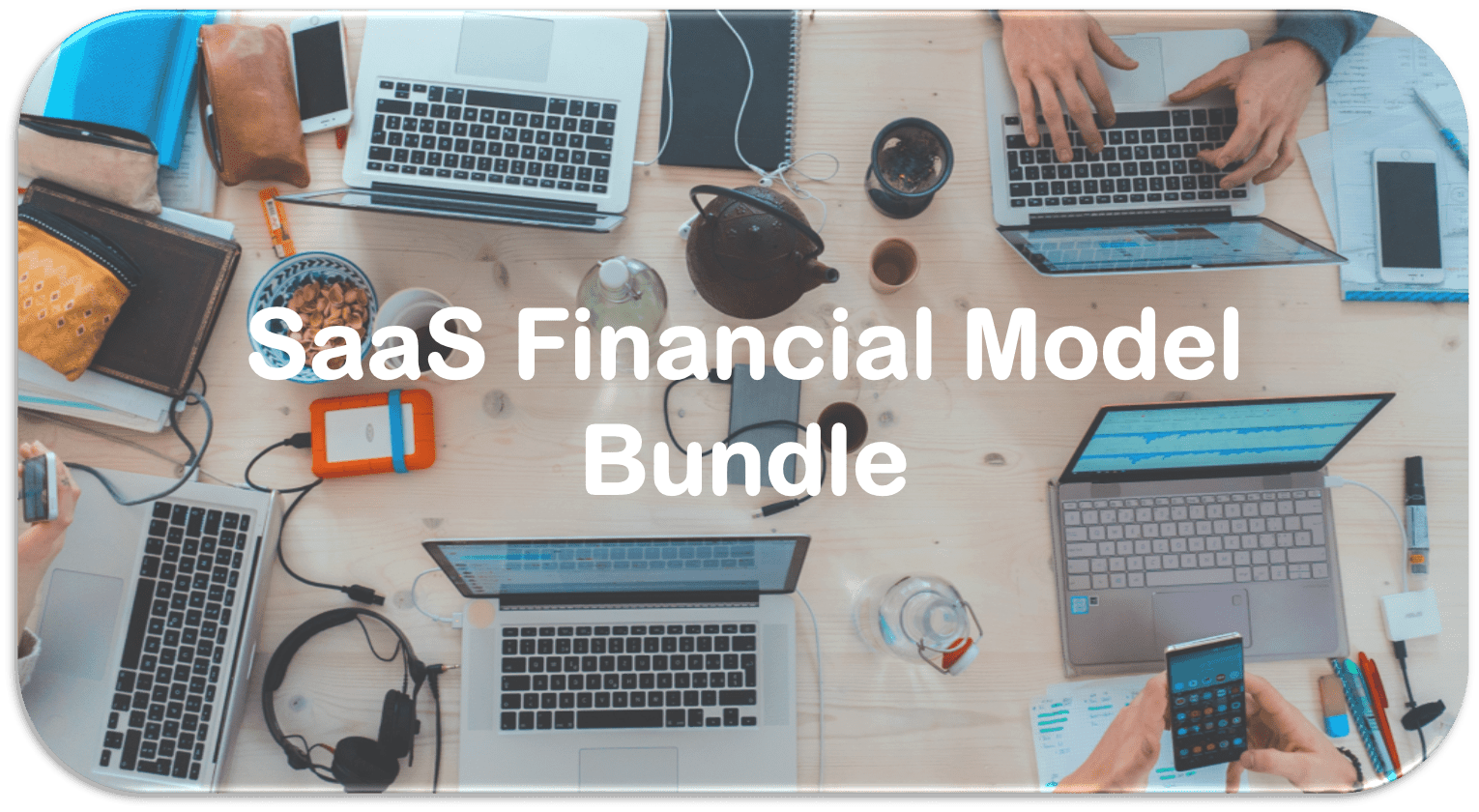 Financial Model, Financial Services, Mobile Apps, Online Businesses & IT, SaaS
Business Valuation, Customer Acquisition Costs (CAC), Customer Lifetime Value, Excel, Financial Planning, Startup Financial Models, Template Bundle, Valuation
A package of financial models for Software as a Service (SaaS) businesses and its related sectors in Excel. This bundle includes the following financial model templates:
SaaS Financial Model (Basic startup with up to 4 pricing tiers for 5 years) – This is driven directly from a starting monthly user count and grows/churns from there. It is a good high-level model to get some idea of P&L and cash flows of the operating business.
Website App Financial Model with Recurring Revenue Services (SaaS traffic-driven) – This is a more complex SaaS model. You have equity split between owner/investors with more comprehensive cash requirements / IRR / distribution summary views. The revenue is driven from expected traffic, conversion to a free pool, and conversion from the free pool or direct traffic to paid users (5 pricing tiers). There is also a Low/Mid/High feature where you can affect all major assumptions with a dropdown selection that adjusts the base assumptions up or down. The expense assumptions are also more detailed than the standard SaaS model #1 above.
Freemium SaaS Financial Model (LTV to CaC ratio) – This model has unique revenue logic to plan for traffic that converts to a free pool and then a conversion rate from the free pool to a paid service. The key difference here compared to #2 above is you also have ad revenue being generated from the users that are in your free pool. You can pick when the paid service starts dynamically as well as the free service.
Lending Platform Financial Model (LaaS) – This model is designed specifically for anyone looking to start a platform that facilitates lending between individual entities. The logic goes as far as defining various loan groups, closing fees, and revenue share made from the monthly interest.
Hiring Plan for SaaS Business Model (Hiring planner per future revenue) – This model is structured to deal with scenarios more common to SaaS business logic
SaaS Ratio Planner (LTV, CaC, and CaC Payback) – This model helps calculate the key metrics of relevance to a Software as a Service (SaaS) company such as the Lifetime Value (Value of customer lifetime sales), CaC (Customer Acquisition Costs), and the CAC Payback Period.
Product as a Service (PaaS) Model – Models the addition of a subscription revenue service on top of your product by testing various conversion rates, unit sales counts, and churn against expected costs. A 5-year monthly and annual forecast.
Alarm and Security Monitoring Services – This model is a 5-year startup financial forecast designed for a security monitoring services company. It includes up to 3 pricing tiers with advanced metrics such as MRR expansion and negative churn. It can be adapted to a standard SaaS business by simply 0ing out the installation revenues or modifying them if they are relevant to your forecast.
Ratio-based SaaS Model (Smarter Scaling Logic) –  Scale you SaaS business smarter with this ratio-driven forecast. Growth is dependent on Account Executive (AE) quota attainment. Headcounts are all run based on revenues and users. AE counts are driven off of SDR counts. Monthly and annual summaries are included as well as equity distributions.
5-Year Enterprise SaaS Financial Model  – A dynamic financial model to forecast monthly and annual customers/revenues/expenses for a SaaS company.
The value of this product bundle is USD 750 while the offering price is USD 315 (at more than 50% Price Discount!)
All finance models above come as Excel Files.
SaaS Basic Startup
Website App SaaS Financial Model
Freemium SaaS Financial Model
Lending Platform Financial Model (LaaS)
Hiring Planner per Future Revenue Model

SaaS Ratio Planner – LTV, CaC, and CaC Payback

Product as a Service (PaaS) Model
Alarm and Security Monitoring Services
Ratio-Based SaaS Financial Model