Category: Real Estate
Listed in this category are financial model templates for real estate businesses and its related sectors. The models are great tools for conducting valuation to those who plan to invest or buy properties, developers, and other users that involves real estate.

 
Real Estate Industry - Real Estate Financial Modeling
The real estate industry is one of the biggest industries that is continuously growing. Generating billions of dollars in revenue every year, even though there were times where the economy in real estate fluctuates, it is still undeniable that this industry is offering a lot of opportunities for startups to turn a profit. This is due to its fast adaptation of huge economic trends that affects real estate businesses greatly such as interest rates, population growth, and economic strength.
The real estate industry, as we know, consists of various fields such as the following: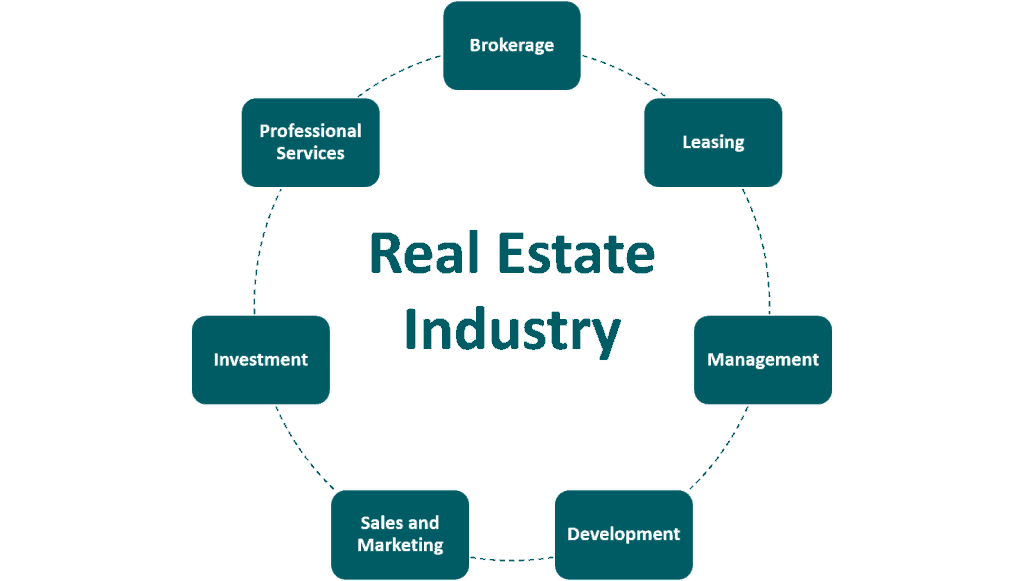 Real Estate Brokers (for Buying and Selling Real Estate) - Working in this field which is also called real estate brokering, focuses on convening buyers and sellers of properties as well as assisting in negotiations for pricing, and facilitating the tasks involved in closing deals towards interested parties. They also offer services such as property appraising and inspecting. The usually earn their keep through commissions based on the agreed percentage of the sale price, split between the buyer's broker and the seller's broker. This is why brokers earn more money when closing a higher-priced deal since they get a higher cut. Also, to be a broker, one must get a license in the area they work at.


Lease Brokers - Different from brokers that usually work for either the buyer or seller of properties, leasing agents work directly with property owners. They deal all the complexities involved with canvassing, investigating, and signing prospective tenants of the owner's properties. This also includes all the paperwork needed to be done.


Real Estate Management - In this field of real estate are management companies that operate with bigger properties such as buildings. Their tasks are ensuring that the buildings are running properly, checking if the utility expenses are paid, the hiring of staffs, and also performing the maintenance. Sometimes, these companies also act as leasing agents. Management companies' profitability depends on their ability to maintain low vacancy rates since most property expenses are fixed anyway.


Developers – Earns profit by adding value to the land such as creating a building, rezoning, building improvements, etc. while also shouldering the cost for the said projects. Developers usually purchase a raw land then either they rezone, construct new buildings, and renovate the existing buildings so that they can sell or lease the final product to the market. Basically, real estate developers are people and companies that coordinated such activities to covert a raw land into something more of a marketable and more appealing property.


Sales and Marketing - Usually works hand in hand with developers to market their finished products, such as for selling condos, townhouses, apartments, etc. People working in this field are often called real estate sales agents who do all the marketing and selling, in exchange for some commission.


Investors – Entities such as entrepreneurs, executives, companies/business enthusiasts, banks, etc., who are interested in venturing in the real estate industry. Most often they look for potentially profitable ventures and provide funding. There are different types of real estate investors such as:




Institutional – an organization that invests on behalf of its members e.g. banks, insurance companies, pensions, REITs, endowments, mutual funds, etc.

Funds – an open-ended investment company or entity that pools investors' money into a fund operated by an assigned manager which uses the pooled money to invest in various ventures.

Private – an entity that invests their money with the goal of providing help and getting a return on their investment e.g. family and friends, angel investors, venture capitalists, private equity firms, etc.

Corporate – is basically a company that invests in other companies with the hopes of taking control or taking over the company itself.

Etc.



Professional Services – Composed of real estate professionals who work for many different cases in the real estate industry such as valuing properties, appraising assets/properties, agents, inspectors, lawyers, accountants, contractors, construction workers, tradespeople, etc.
It is quite common in the real estate industry to practice intermediary to provide real estate owners with a dedicated sales and marketing support in exchange for commissions. Therefore, it became the main reason for the development of different fields in the industry.  
Types of Real Estate Business
When you hear real estate, what's the first thing that comes into your mind? Isn't it property, land, buildings, etc.? The term was actually derived from the Latin word of real which is
rex
. It means "royal" since it is known that kings own all land in a kingdom. The real estate industry is very huge not just in terms of lands and properties but also financially. Thus, it is no wonder there are many entrepreneurs, investors, property owners, wants to start a business in real estate.
There are four types of real estate that are commonly known nowadays: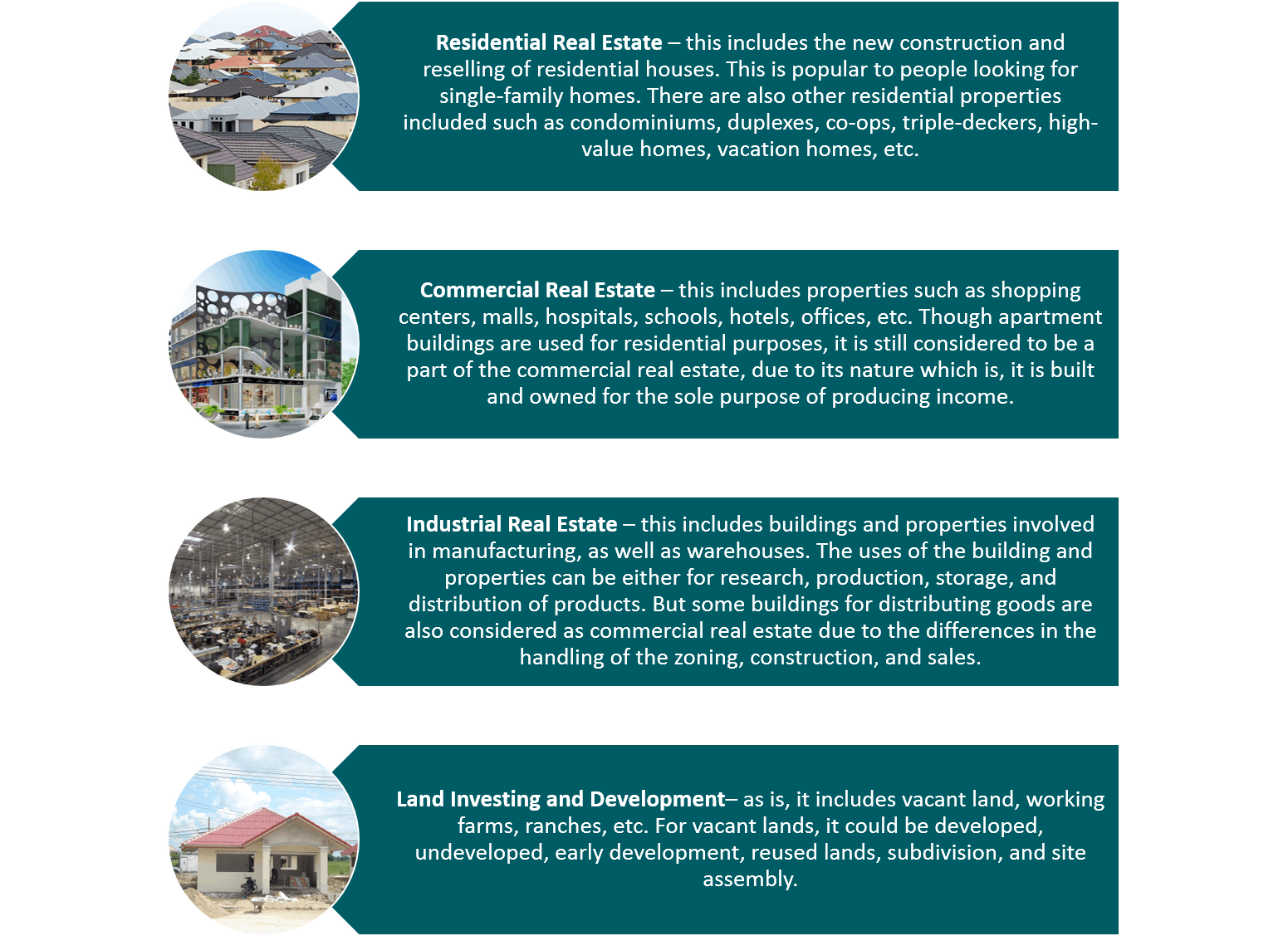 Nowadays, the real estate businesses cover not only one type of real estate but also combinations of different types of real estate. Thus, giving them more coverage of the potential market in the industry.  
Investing in Real Estate
As simple as buying or selling real estate properties are already considered as investing in real estate. Thus, this entails that there are many factors that you need to consider. Will the house value increase while currently staying in it? Will the future interest rates and taxes affect you if you get a mortgage? There are different ways of investing in real estates, such as real estate flipping, commercial real estate investment, real estate investment trusts, market listings, public auction, private sales, etc.  
Real Estate Flipping
It really varies on an individual on how good they are with handling real estate deals, that in the end, they'll end up starting a business with it. This is what we call
house flipping
. It's when you buy a simple house, improve it to make it more valuable and attractive, then you sell it back to the market for a better and higher price. Real estate flipping is ideal for getting a quick profit rather than holding on for a long-term deal. It is often used to describe short-term real estate transactions as well as to describe purchases in initial public offerings (IPO).  
Real Estate Development
In some cases, some take advantage of the opportunity by further developing their properties to earn more profit. Real estate development or property development covers activities such as:


Buy raw land or properties to start a project with

Finance real estate deals that are potentially profitable

Manage the process of development from the start till the end (plan, design, lead, etc.)

Develop new projects from scratch (different from flipping since it is taking something which already exists).

Small or large-scale developments especially in fast-growing places like Dubai, real estate developers like Emaar have developed large scale projects nearly in the middle of the desert and turned them into skyscraper cities (E.g. Dubai Marina). They also developed large scale residential housing projects (e.g. the Palm Islands Dubai)
Most often, real estate developers take a huge risk in the building and renovating of real estate projects but this also allows them to reap great returns. Hence, the rise of real estate development became a field which is very popular in the real estate industry.  
Commercial Real Estate Investment
Another way is when you own several properties, so you end up renting/leasing them out. It is very convenient and helpful for you when you are tight with expenses and handling many properties on hand that is not being used. So, might as well earn some extra cash out of it. In some cases, people transform their homes into Airbnb types, as a convenient way to rent out all the rooms available, while others turn their vacation homes into vacation rentals by owner (VRBO)or Home Away.
In some cases where it involves properties that are solely meant for commercial purposes then investors earn by leasing property then charging the tenants rent in exchange for using the property and also by taking advantage of the value of property over time. This is called
commercial real estate investment
.  
REITS
For those who don't own any property for housing or building, there are also other options for you to invest in real estate. There are stocks offered that are available to the market from homebuilders. Though it's a bit risky due to the stock prices fluctuating prices in the market. Last but not the least option is more common which is called the
real estate investment trusts or REITS
. This is when you invest in commercial real estates, which works just like buying stocks in the residential real estate but its prices are more behind the trends by a few years.
REITS works like private equity firms, but for properties rather than companies. Raising money from investors and then acquire properties by combining debt and equity, they then operate and improve the properties over time, and then eventually sell them for a better price. REITS can be divided depending on the type of property they focus on such as residential, hotels, office, storage, and so on.
But of course, before you start venturing in these kinds of businesses, you must ensure that you will be able to get the best out of it. Study the market but conducting a research analysis and also make sure that you know the current business cycle of the real estate industry. You don't really want to start investing in real estate when the market is about to crash. So, be smart and supplement your know-how in the real estate industry.  
Real Estate Industry Risks
With how much the real estate industry earns annually, it is no wonder that many entrepreneurs, venture capitalists, and other investors, are interested in starting a business in the real estate industry. But, just like in any industry, one must be aware of the risks that you will have to face.
The following are a few of the common risks in the real estate industry:


Macroeconomic Factors – this risk is beyond the control of the business owner since it has to do with the local or national economy such as natural disasters, market decline, economic downturn, etc.


Changing Demand – location, location, location… this is what they all say that matters the most when working in a real estate business. Location matters a lot so, when there are changes in the demand from the market, some properties become less desirable. But this also goes the same for in times when you predict the areas which will give you a lot of benefit in the future. Basically, the changes in demand can be a good or bad factor that will affect real estate businesses.


Increased Supply – seeing how great the real estate business is doing in the market, many wants to have a go in this industry too, hence there are many new building properties available for sale in an area. But, this can actually drive the rent and prices of properties to go down due to the overwhelming number of supply available.


Tenant Destruction of property – in some cases, some tenants tend to destroy properties randomly. Hence, the need to screen the potential tenants carefully is critical but then again, it's not always full-proofed and effective since there are cases that couldn't be helped such as accidents, burglary, purposeful destruction of property, etc.


Interest Rates – it is only obvious that if the interest rate rises, the value of the properties normally come down due to higher cap rates. As it is, interest rates are important factors in the evaluation and performance of any investment due to the impact it causes to the present value of future cash flows. The increase in interest rates is often caused by inflation, bond supply, and demand, etc.


New Laws - especially new immigration laws which can lead to more demand among foreigners to rent properties as they come to work, as a result, there are certain tax laws that affect the rental real estate owners.


Government – the changes in the government affects pretty much every industry, especially the situation of the economy. Some effects might be minimal but most often, an effect is still an effect which the small-time owners in real estate might not be able to shoulder.


Changes in Priorities and Requirements – this mostly applies to buildings under management companies that are aging. As time passes by, the properties will slowly deteriorate, so there will be changes to ensure the life duration of properties. E.g. indoor air quality, mold removal, etc.
These are just a few out of all the existing risks in a real estate business, but this doesn't mean that it's a bad idea to invest in real estate. You will do just fine, as long as you do certain preparations such as building a financial model.  
Real Estate Financial Modeling
Real estate financial modeling became a sought-after skill for businesses and career involving real estate. Learning real estate financial modeling enables one to build financial models for the acquisition, financing, and development of real estate properties as to conduct analysis across assets, capital structures, investment returns, valuation, and other factors which could help the user with a profitable venture.
The following are some of the things needed in real estate financial modeling:


Build a functional and dynamic real estate financial model from scratch

Model real estate transactions for different types of real estate as well as calculate the key metrics and financial ratios

Conduct an analysis by considering different scenarios and simulations according to trends

Real estate industry and financial modeling know-how
Without the proper know-how, of course, it is only natural that real estate financial modeling is a time-consuming and a complex task that not just anyone can do. Hence, the need for assistance from professionals in financial modeling is critical for those who want to turn a profit in real estate business or career.  
Best Computational Help for you as a Real Estate investor
Are you a real estate investor, always on the lookout for deals that can help in getting attractive returns on your investment? If yes, then you surely come across propositions that are confusing and where you cannot easily decide whether to put in your money or not. This is a problem encountered by many investors like you. Experienced investors have a lot of data and information to fall back upon while relatively inexperienced investors must take a decision based upon their gut feeling. However, in this age of science and technology, you need not to take a risk involving hundreds of thousands of dollars anymore. We, eFinancialModels, bring to you the power of our
real estate financial models
.
We have the best Real Estate Financial Modeling Excel Templates

You must have heard about real estate financial model xls templates. These templates are a treasure house of knowledge for all real estate investors. They combine the principles of finance and real estate in such a manner to make the financial picture much clearer for the investor. This makes it easier for readers/users to take a decision before signing off on a deal. By using a solid and working financial model framework, you will know better whether the deal is going to be profitable or not. All you have to do is to update the templates with figures applicable to your specific investment case and run the model to know what the returns on your investment would be.
No need to be the finance expert

The best thing with real estate financial model xls templates is that you need not to be a financial expert to understand the nuances of your investment. No worries if you do not have a sound understanding of the principles of finance. Our experts have everything worked out for you by applying their know-how to the financial model. Plus, most of our models are in Excel so you can see the calculations and how the results were calculated/arrived. Do you want to know the present value of cash flows in the project you are interested in? The real estate financial model will help you in knowing a correct estimate of the future cash flows. Isn't that great for you as an investor?
Use our templates to help calculate financial feasibility

Imagine a situation where you have fallen in love with an apartment building and also with the asking price demanded by the owner. You are ready to arrange the money to buy the building as a real estate business potential without ascertaining the future cash flows the building would be able to generate. This is nothing but taking a huge risk as an investor. Thankfully, you can now have reliable help in the form of real estate financial modeling Excel templates. These financial templates cover every aspect of a real estate transaction such as valuation, financial projection, calculation of key financial ratios, etc. Real estate transactions could range from residential land purchase, real estate development to
commercial real estate valuation
and investment, to which a real estate financial model xls can help determine the profitability and risks for such ventures.
A real estate financial modeling Excel template that fits your project

We have you covered whether you are planning to buy an apartment complex or real estate that you plan to buy and develop. Of course, to make sure any investor or user can understand and use them, we practiced building our real estate financial models to be simpler and less complex. However, it is expected that any investor trying to work out the profitability of a real estate project has a basic understanding of finance related concepts such as LTV (loan to value ratio), GOI (gross operating income), NOI (net operating income), DCR (debt coverage ratio), CCR (conditions, covenants, and restrictions), and so on. If you have basic knowledge of finance related concepts used in real estate transactions, you can easily use our financial templates to have a clear picture of the profitability of a project.
Remember, it is your hard-earned money that is at stake. Do not take a decision in haste. Try our real estate financial modeling Excel template to get a clear understanding of the profitability of a project before taking a decision to invest.
We always strive to create our financial model templates to yield the most accurate results as we offer our assistance to people in need of our financial modeling expertise and know-how all over the world such as in the US, UK, Canada, Australia, Japan, and many more countries.