Creating a financial model can be very time-consuming and requires skills as well as financial modeling know-how. For these reasons, many users such as entrepreneurs, executives, consultants, and investors, appreciate the possibility of being able to make use of ready-made financial model templates in form of Excel spreadsheets or similar programs. By simply downloading a template, they can use it as either a base or a reference for their financial modeling tasks.
With your help as a vendor, you will be able to provide our users their need for easy-to use financial model templates. So, get started and sell your model templates now! Below is a simple step by step guideline on how to upload your template and then sell it here at eFinancialModels.
Vendor Dashboard
The vendor dashboard can be accessed if you're logged in. You will find it under the My Profile Menu. On the left side, you will see the other menu that you can access such as adding a new product, showing your earnings, orders, your profile, and then the customer feedback regarding your templates or services.
Products
The Products menu basically shows all the Excel or Google Sheets products that you have uploaded. It is shown just like the picture below: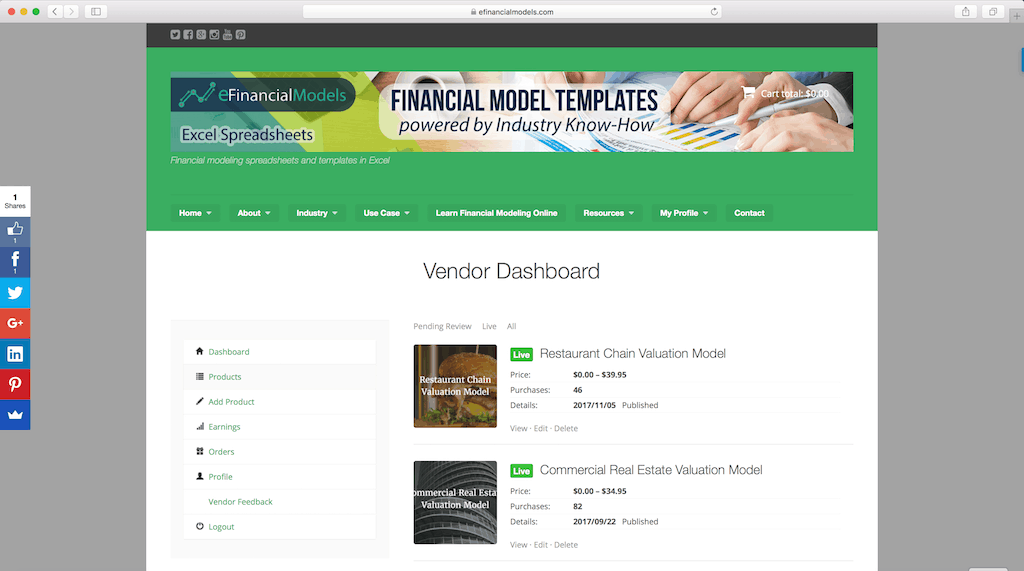 It will be shown as empty if you still haven't uploaded any templates yet. So, start creating your templates and upload it here to start earning!
Add Product
This Add Product Menu is where you can briefly describe the name of your Excel or Google Sheets Template and then describe how to best use the Financial Model template. Please keep in mind that the content of description is very important. Highlighting on what your template includes and what your model can do will be critical for users and potential customers to know to decide whether to buy your product or not. See pictures below as an example:

Assigning the Industry
The next thing to do is to select the relevant industries related to your financial model template. The list of industries will be continually expanded so please select "other" in case your industry is not on the list at the moment. This will help tagging your template under its own category of industry and help the customers find your template under the Category of Industry it belongs to.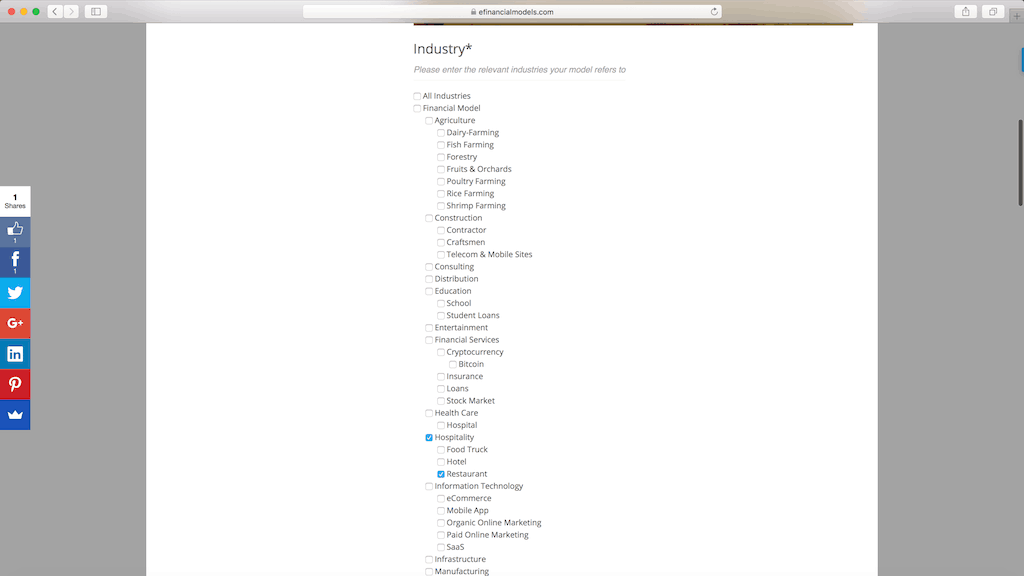 Uploading Screenshots of your Excel Model
It's important to show the user what he/she gets when downloading the model. We recommend for you to upload at least 3 to 7 screenshots or pictures depicting your model's appearance or overview.
Uploading your Excel File and Pricing
In the next section, please upload your Excel Files or the link to the Google Sheets and choose a price. Please note that if you choose a higher price, the user expects more documentation, better quality formatting, and design as well.
Also we recommend for you to upload two or three versions of your model and choose different pricing points. We practice to always upload a FREE Version where the cells are protected and a FULL Version where all cells are unprotected. This allows the user to first download the Free Version and test your model before making the decision to buy it. As the cells are protected, the functionality is very limited and any serious user most likely will return to buy the Full Version.
Assigning the Use Cases
Up next is to assign the use cases that apply the functionality of your financial model template. This will help tag your template under its own use case and then help the customers find your template faster. After you are done with this part, you are now ready to submit the model for reviewing.
Review Process
We manually review every financial model template we receive in order to ensure the quality of the website and also help our Vendors to market their products in the best possible way. You will either receive an approval notification message or we will reach out to you directly with feedback and suggest some changes that will help your template sell better.
Earnings
In this Menu, you will find all the commissions owed and paid to you. Commissions are paid as follows:
Customers paying with PayPal – Commissions are paid instantly to your PayPal account
Customers paying with their Credit Cards – we will send you the commissions owed at the end of the month to your PayPal account.
Your commission is 70% of the sales price while we reserve 30% for marketing and operations of the platform. The Earnings menu looks like this: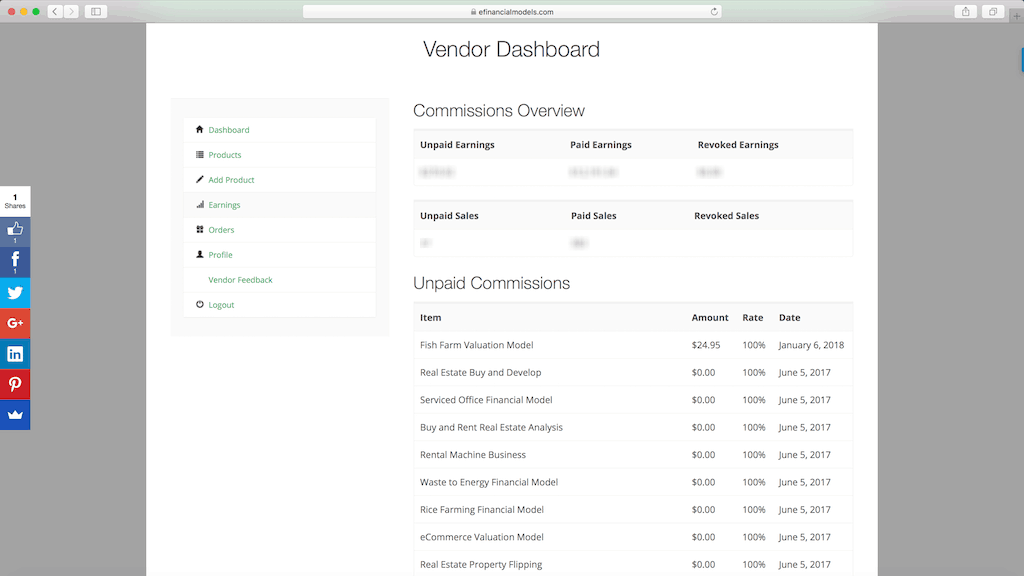 With this, you will be able to track all sales as well as your commissions.
Orders
Here you can see how many times your products have been downloaded. This will give you an overview of which template sells the most.
Profile
If you haven't filled it up yet, please complete your profile by adding some background information about yourself in the Profile menu. It is important to make sure that a valid PayPal Email is entered so that payments can be done automatically.
Vendor Feedback
Users can give feedback to the models they have downloaded. So, if they chose your template and left a review, you can see the feedback received on the Vendor Feedback tab. This will allow you to contact the users directly to get back to them by simply clicking on their name. This is a great way to further improve the templates and also many users require help as well as assistance with financial modeling projects. Therefore, feel free to reach out to them directly.
We hope that this guideline gave you a useful overview on how to upload and sell your Excel Files on eFinancialModels. If you have any further questions, please don't hesitate to contact us.