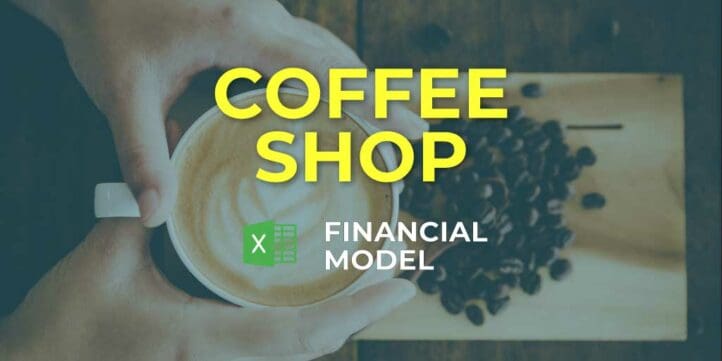 Cafes & Bars, Financial Model, Food Truck, Hospitality, Retail
5-year financial projections, Break-Even, Budgeting, Business Valuation, Cap Table, Cash Flow Projections, Cost Calculation, Cost Projections, Debt Amortization, Debt Schedule, Excel, Financial Feasibility, Financial Model, Financial Modeling, Financial Planning, Financial Projection, Financial Projections, Financial Reporting, Financial Statements, Forecast, Forecasting, Free Financial Model Templates, Investor Cash Flows, Post Money Valuation, Pre Money Valuation, Pro-Forma, Profitability Analysis, Revenue Projections, Startup Financial Models, Three Statement Model | Three Financial Statements, Uses and Sources of Funds, Valuation, WACC (Weighted Average Cost of Capital)
NOTE: Single-User pertains to a limited Single User License where the template can only be used by one single user; while Multi-User is a license for users sharing the template with up to 20 members. Please refer to Terms of Use and License and Permitted Use for clarification.
COFFEE SHOP FIVE YEAR FINANCIAL PROJECTION TEMPLATE KEY FEATURES
Video tutorial:
Key Metrics Analysis
Creates 5-year Coffee Shop Excel Financial Model, proforma, financial statements, and financial ratios in GAAP or IFRS formats on the fly.
Easy to follow
Clear and transparent Coffee Shop Pro Forma Template Excel structure (15+ separate tabs, each focusing on a specific planning category, colour coded => input, calculation and report sheets).
Convince investors and lenders
Enhance your pitches and impress potential financiers with a 3 Way Financial Model Template delivering the right information and expected financial and operational metrics. Facilitate your negotiations with investors for successful funding. Raise money more quickly and refocus on your core business.
Simple-to-use
A very sophisticated Coffee Shop 3 Way Forecast Excel Template, whatever size and stage of development your business is. Minimal previous planning experience and very basic knowledge of Excel is required: however, fully sufficient to get quick and reliable results.
We do the math
3 Way Forecast has all the required features ready with no formula writing, no formatting, no programming, no charting, and no expensive external consultants! Concentrate on the task of planning rather than programming.
Great Value for Money
Use a robust and proven Coffee Shop Startup Financial Model based on years of experience at an affordable price. This financial projection has a one-off payment and absolutely no hidden fees or monthly payments.
REPORTS and INPUTS
Top Expenses
The Top expenses tab of the Coffee Shop 3 Way Forecast Model reflects your company's annual expenses, both total and grouped by four categories.
This Financial Projection Excel provides an overview of annual expenses on customer acquisition, COSS placeholders, wages & salaries, fixed and variable expenses, and all other expenses.
All in One Place
Our Coffee Shop Startup Financial Model has all financial reports crucial for start-ups and existing businesses. It has proformas for projected income statement, pro forma cash flow projection, and balance sheet. It also has templates for performance reviews and summaries on a monthly, quarterly, and annual basis.
Sources and Uses
The statement of the sources and uses of cash gives users a summary of where capital will come from (the ""Sources"") and how this capital will be spent (the ""Uses""). The statement is structured in the way that the total amounts of the sources and uses accounts should equal each other.
The sources and uses statement is critical for the situations when the company considers recapitalization, restructuring, or mergers & acquisitions (M&A) procedures.
Cap Table
The Cap table template in our Coffee Shop Excel Pro Forma includes four rounds of financing, and it shows how the shares issued to new investors impact the investment income. After each round of financing, the Cap table shows users the ownership structure and the percentage of changes, i.e., the dilution.
Valuation
With our Coffee Shop Pro Forma, you will get proformas for valuation analysis. You will be able to perform a Discounted Cash Flow (DCF) valuation analysis and other valuations you may need.
CAPEX
A capital expenditure ('CapEx' for short) table reflects the company's expenses, either cash or credit, on purchases of goods that are capitalized on the balance sheet. Such capitalized expenses, the company does not reflect directly in the p&l projection as expenses, and such expenses are considered as an investment in the company's expansion.
Benchmarks
Three Way Financial Model benchmark tab calculates the company's key performance indicators, either business or financial, and finds an industry-wide average as a comparison. The industry average metrics are then used to determine the relative value for benchmarking analysis.
Financial benchmarks are essential for the financial planning of the companies, especially for start-ups. These studies help companies determine the 'best practice' companies within the industry and compare their own financial results with these best practices. It is a useful financial and strategic management tool.
File types:
Excel – Single-User: .xlsx
Excel – Multi-User: .xlsx
Free Demo – .xlsx