Mining & Resources
This category contains mining valuation model templates and financial plan templates for businesses or projects as well as projections for mining operations and other mining business models. The excel model templates project the expected metal content of ore mined, relevant income and cost drivers and come up with financial projections for a mining operation.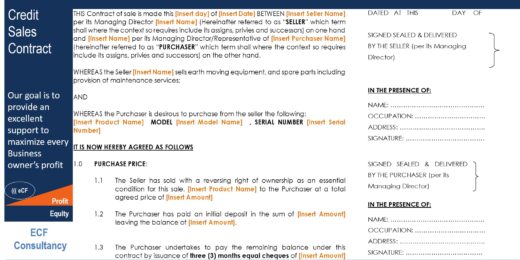 A sales agreement with reserving the right of ownership is a financing arrangement where a buyer takes possession of an asset
Price:

$20.00
The Mining Industry – Projects, Businesses, Operations, and Companies
Mining projects or mining operations are usually frowned upon due to creating a negative environmental impact both during mining activity and after the mine has closed. But, with today's technological advancement as well as countless research studies to lessen the damage and also due to the huge returns in the mining business, it is still ongoing and continuous as long as the mining companies go through and pass the proper regulations to decrease the negative impact to the environment.
Now that those who are in the mining industry don't mindlessly start mining projects and more mindful with following the regulations by the government to lessen the negative impact, work safety has also been improved due to modern practices in mines, which means the hope of this industry's growth is slowly getting restored. Though its growth is pretty slow, it is still considered as one of the high risks, high costs, and high returns industries that existed.
Not all opportunities in the Mining Industry is capital intensive. Small businesses can also focus on services that are needed for the mining businesses such as data mining, machine sales, transportation, developers, financial consulting, equipment leasing, risk assessment services, and other services that are required in Mining. A lot of mining companies are more than willing to pay for these services and such companies spend a lot of time managing for these kinds of services.
There is a process that mining business projects have to go through before starting the operations. These steps are critical to follow through such as from the discovery of an ore body through the extraction of the ores and finally the restoration of the lands natural state.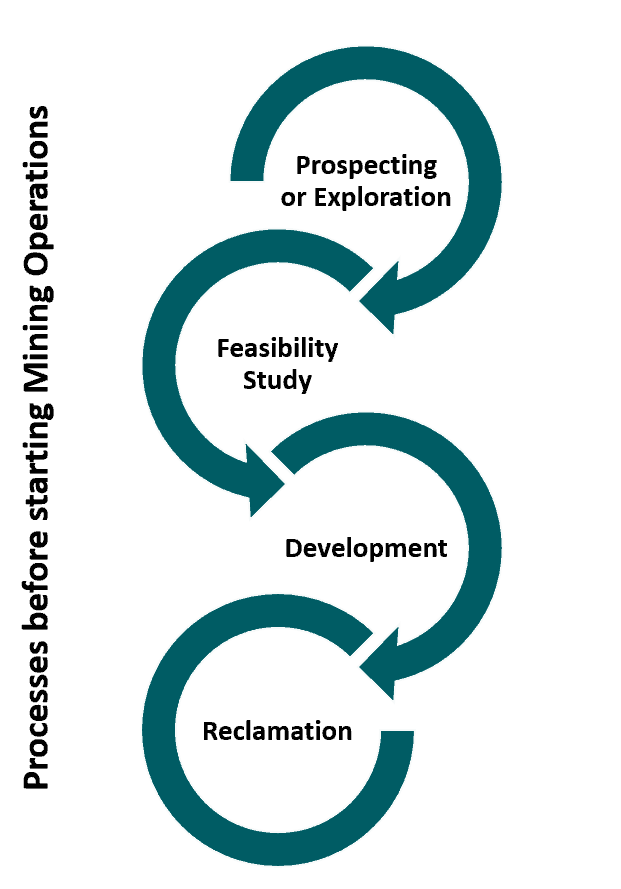 Prospecting or Exploration – before starting a mining project, looking for a source to mine is the first step to do. By prospecting or exploring, this will lead to the discovery of the ore body, define the area, location, and value of the whole ore body. Thus, by conducting a mathematical resource estimate, one will be able to determine the size and grade of the existing deposit. The result of the estimation will be detrimental to identify whether further investment and engineering studies are needed to identify key factors that need improvement.


Feasibility Study – conducting a feasibility study is needed to evaluate the financial feasibility of the project. The study will be used in cases where the mining company need to make decisions like developing the mine or dropping the project. The feasibility study encompasses the planning of the mine's recoverable deposit, metallurgy, marketability of ore concentrates, risks, costs, finance and equity, and analysis conducted from the extraction through reclamation.


Development – after conducting the analysis to determine the mine's recoverable deposit, development begins to give access to the ore body. The construction of mine buildings and processing plants are made, also the equipment needed is obtained.


Reclamation – once operation starts, the decision whether to recover the ore extracted, solely depends on the company. Reclamation is when after all the ore that can be mined has been extracted and recovered, the company will then reclaim the mining area which is suitable for future use.


One thing that needs to be taken note of in a mining project, to determine the proportion of a deposit that is economically recoverable is dependent on the enrichment factor of the existing ore in the area. So, to gain access to the deposit, one must mine through or remove waste material which is not useful for the business.
Basically, the excavation of ores and waste material are both parts of the whole mining process. Depending on the nature and location of the ore body, there might be cases where there are more waste rather than the ore deposit. Thus, waste removal has been one of the long-standing factors that cost mining companies a lot. So, before the start of the project, a detailed characterization of the existing waste material upon exploration is critical for the companies to take note of before mining operations start.  
Starting a Mining Project or a Mining Business
Planning, as we know, is one of the most critical tasks to do when starting a business. The same thing can be said in starting a mining project or when starting a mining business. There is a great need to create the best business plan which is detrimental to any kind of business to ensure feasibility and profitability. Funding is also another factor that needs to be addressed. A mining project is very capital intensive, thus, having a stable source of funds is also detrimental for the continuation of the mining operation.
Another thing to add is having a dedicated workforce divided into teams to handle specific tasks on a work schedule. Hiring the best staff with experience in the mining industry is the best choice, but also, take note of saving up on wage expenses. Meaning, be reasonable with the offers as long as it's within the budget. Also, included in the plan should be different strategies to keep the mining business on the path of progress, such as the marketing team reaching out to prospective buyers and grab a contract before the materials are even ready, keeping the work team satisfied with their wages by paying on time, offering targeted tasks on a deadline to keep the workforce engaged, etc.
Of course, there are many circumstances that might affect the mining operation, management within the workforce, or could be grabbing hold of potential customers, especially for startups. In mining operation, you can avoid those circumstances by preparing beforehand. By including an assumption analysis in the business plan, you will be able to foresee what areas will be affected and what you can do to resolve it. In managing the workforce, this can be resolved by creating a workforce tracking model. By taking note and keeping track of your workforce in a systematic way, you'll be able to determine areas that need improvement or solutions to certain complications. A tracking model is also needed to keep track of the manufacturing and selling of the materials to the market. To know whether you're yielding more than the cost spent for the excavation and production, this information must be recorded in a mathematical framework to determine faster on which areas need to be developed and cut off for budget purposes. Attracting customers will be the responsibility of the marketing team. While the executive's job is to do a market analysis of the suitable prices, demand rate, the location of the target market, and other factors that will help with increasing the number of customers.
"Do unto others as you would have them do unto you." This saying rang true in business too. If you give proper treatment to your workers, with excellent work condition and offers, they will most likely take more interest in working harder and faster. Given the great benefits before them, they will be more passionate in giving their all when working for your business. This doesn't only apply to mining businesses, but also in other businesses and companies. This is also a great strategy to keep your workers and, in the future, will boost your reputation when hiring more workers. The efficiency of their output will also rise without compromising the quality, thus, this also opens up new opportunities for expanding and slowly raising the load of quantity excavated.
Never stop researching for new ideas that you can apply to help your company or business progress. Though it is best to stick to your decided business model, as to see a great improvement in your specified purpose. Don't forget to update your business plan too, keeping up with the trends and figuring out the factors that will bring about changes in the operations of your business. Checking your competition or comparable industries is also another factor that you need to study on. As long as you keep delivering the best and quality service, as well as adding new ideas for development, your mining business has a big potential for greater achievements.  
Types of Mining Business Models 
In a mining business, there are different ways to excavate the ores. Due to the advancement in technology, there have been other methods emerging such as:
Basically, the mining method used solely depends on the ore deposit that is mined, the location of the mining area, whether underground or on the surface, and also if the resource is feasible enough to start a mining project in the first place.
Running a mining business should be run efficiently and responsibly, with every move managed properly. There are technical and economic issues in mining projects that must be revealed ahead of time by the responsible mining company. That's why, before starting mining projects or investing in the mining business, you need to make a proper mining business model or a financial plan to make sure of its financial feasibility, financial projections, forecasting, valuation and other representations which will prove that the mining operation is profitable.  
Investing in a Mining Business - Mining Valuation Model Excel Templates
If you're interested in starting your own mining business or investing in a mining company, above are mining business model templates, mining valuation models, financial model for mining projects, and financial plan templates for mining businesses such as a
Goldmine
or an
Open Pit mine
. These mining valuation model templates in Excel are specifically designed for Mining projects or businesses in the Mining Industry.
In the mining valuation model Excel templates or mining financial model XLS, included are the projections of the expected metal content of ore mined, relevant income, and cost drivers, and come up with financial projections for a mining operation. The data is then used to determine the value, profitability, and feasibility of the mining project to ensure that the investment is worth it.
These mining financial model XLS templates for mining business models will be helpful as your guide to complete your business plan or financial plan for a mining business. You can also use it as a tool to determine the value of the mining project as well as calculate its feasibility in the long run. Another use for the financial model for mining projects could be as a basis to see the profitability of the investment.
Also, included as part of the complete mining valuation model Excel templates are charts and other things you'd need for swift editing and application of figures to complete your financial statements and projections, as well as valuation, giving you a full view and presentation of the business's financial feasibility and profitability.
But of course, we not only have a financial model for mining projects. You can also check out our other
Valuation Model Templates
modeled for other projects, businesses, industries, and other entities. These templates are also downloaded and used by different users such as analysts, managers, senior managers, associate directors, CFOs, entrepreneurs, and others from all over the globe such as in the USA, UK, Germany, Japan, Australia, Switzerland, and many more who are in need of know-how as well as assistance with their financial modeling tasks.
If you are looking for a specific financial model template and couldn't find it in our inventory, feel free to comment here: 
Missing Financial Model Templates
, so that our Vendors will pick up that project and will soon add in our still growing inventory.
If you found the template but need help with customization of your preference, we also offer financial modeling services which you can avail here: 
Custom Financial Modeling Service
.
We would be really grateful if you also rate our products and leave a review, comments, suggestions, or any kind of feedback, about our financial model templates, for this will greatly help us shape our templates to be even better in the future.  
Need guidance on how to build your own financial models but can't afford to hire an expert to help with your financial modeling tasks? Then why not do it yourself and save your money from high professional fees by learning financial modeling today!
Study financial modeling and valuation, specifically for Mining, online with this
Mining Valuation & Financial Modeling Course
from CFI. Get this chance to acquire skills that will benefit you with your career as well as business with the convenience of learning whenever and wherever you prefer!
Disclosure: This page contains affiliate links.