Infrastructure
Listed here are Financial models related to business plans and financing proposals for Infrastructure projects.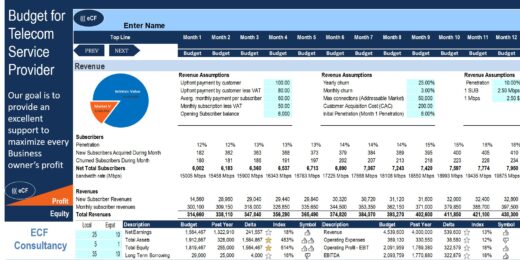 The template is a statement of estimated income and expenses based on future plans and objectives for a Telecom Service Provider industry
Starting at: $0.00
The Infrastructure Industry
The Infrastructure Industry encompasses businesses which provides fundamental facilities and systems serving a country, city or an area and services or facilities necessary for the functionality of the economy. Either public or private physical improvements such as roads, bridges, tunnels, water supply, sewers, telecommunication, and electrical grids. Big projects like these are covered by businesses in the infrastructure Industry.
Infrastructure projects tend to be high-cost investments and are crucial to the economic development. With the constant growth of the population and the aging of the facilities and infrastructures, business in infrastructure guarantees high returns too. So, the high potential of profitability in this industry gives rise to opportunities for those who are planning to start their own business in the infrastructure industry.
The
Economic Infrastructure
are the basic services that represent as a foundational tool for the economy whether for a nation, region, city, etc. The infrastructure could be in a form of physical structures, systems, institutions, services, and facilities. To further segment the range of infrastructure, it is categorized broadly in different types such as:


Transportation – These are infrastructures built to provide convenience for transportation services such as roads, highways, rail, ports, bridges, airports, etc.


Technology – The technological advancement developed this new type of infrastructure which provides basic technology services such as networks and systems.


Health and Education – These are institutions built for supporting a healthy and educated lifestyle, e.g. hospitals, schools, etc.


Public Space – These are infrastructures that encourage the tourism activity. Usually, these are government funded or private parties interested in making some income from the available market. E.g. nature reserves, parks, beaches, etc.


Energy – In this type of infrastructure, they deal with the production and delivery of energy towards the masses. They are usually the ones behind the electric grids and some support the application of alternative sources such as solar panels, wind, etc.


Water – One of the most basic needs is water. Thanks to the water infrastructure development, provision of water supply, especially clean water, is existent and very convenient for everyone. The management of the water resources is also monitored in this type of infrastructure.


Financial – In this type of infrastructure, it focuses on the financial markets and services that help with the basic economic processes such as raising capital, investment, savings, payments, risk management, etc.


Safety and Resilience – In this type of infrastructure are institutions and systems that help avoid and endure natural disasters or certain circumstances that are uncontrollable such as shelters, detection systems, developed sources, etc.


Environment – The services provided in this infrastructure type are systems that help with the improvement of the environmental conditions such as rain gardens and green roofs.


Culture – In this infrastructure type, they build cultural institutions that promote tourism and corporate action, such as museums.


Standards and Rules - In this infrastructure type are institutions that sets a basic standard of lifestyle, rules, etc., that results in productive competition, protection of lifestyle preference, and management of resources.


As a whole, these types of infrastructure have one thing in common – economic development. Economic infrastructure exists solely to serve as the foundation to build a better economy.  
Starting a Business in Infrastructure
Just like any business, the start will always need a lot of preparation to ensure that you have a strong foundation, listed down all the details needed to be noted, completing a working structure, and more! To help you out in starting a business in infrastructure, here are four common business management strategies that you can implement:


Settle on a Business Model and be flexible with it.To start a business, you must determine what kind of business model you prefer. It will be a deciding factor of what kind your business will venture on and how you're going to achieve the business objective. Hence, the need to start preparing for a strong business plan is very critical, especially when you're just starting.

Every industry will have different circumstances that could affect your plans, thus you must also update your plans and instead of applying hard set figures, it's better to be flexible. There will always be changes that will happen, not just in the market, but also with the trends, laws, systems, etc.

It is best to test out different assumptions that will help you forecast the projected figures of the business in 3-5 years to come. Stick closest to the figures though and don't inflate the values too much so that you will come up with a more realistic result.


Details are everything.You don't want to miss anything that might be a factor of changes that will happen in your business. Ensure that you keep on track, read every contract, follow guidelines, check your duties, etc. If you prepare the details beforehand, you'll be more efficient in your work and better prepared compared to last minute researching. Every detail will be counted as a factor that can help you mold your plan for any circumstances that'll come your way.


Ensure to have a limit according to your capabilities.No market leads can escape if you have a wide range of products or services offered indeed, but, this kind of strategy which is being a jack-of-all-trades is not beneficial at all for your business. With too much going on, either you won't have enough people for it, losing time, and uniqueness, all of these ends up weakening your accountability and progress in your business operations. It is best to focus on specific areas where your business is the best at and also guarantees the customers the very best that you can give.

This also applies to the funding for your business. Keep track of all the transactions to ensure you won't go over the limit that your business is capable of handling, thus a budget plan would be a really great help in this.


Offer benefits that are also an investment.Help build the know-how of your staff and invest in supplementing their existing skills or niche. You want your business to be the best and also the people in it. To provide an even better output, investing in your employees to provide training and getting certificates will further enhance your business' quality, accountability, and efficiency. As you help them build up their skill sets, they also give back by helping your business grow and more reputable.


The steps above are also applicable to other business industries, but of course, the specifics and input of the plans and strategies will vary for every industry sector. Still, it is undeniable that just like any business that requires meticulous preparation, it is indeed not easy to start your very own business in the infrastructure sector. But as long as you draft out everything beforehand, you should be able to at least resolve the issues that you might encounter, take advantage of opportunities, and get an overall view of your business.  
Financial Model and Business Plan for Infrastructure Projects
Starting a business in this industry will require one a well-thought business plan and financing proposals to attract investors to fund the projects. These projects can either be funded publicly, privately or through public-private partnerships. Proper management of the finances will be a huge factor in keeping the business afloat and be successful with a promise of financial stability.
To keep track of the finances and managing the financial projections of the business, creating a financial model and business plan is a no-brainer. But the question is, is it better to prepare the plans yourself which is too time-consuming or will you resort to a more efficient and time-saving way to create the financial model of your business or investment in the Infrastructure industry?  
Infrastructure Industry Financial Model Templates
If you are planning to start a business in the Infrastructure industry, it is critical to be prepared and have a business plan and financial plan ready. But if given the option to acquire Infrastructure financial model templates, then why not? Nowadays it's easy as pie to get Excel templates available for you to work on, as your base for your financial plan or business plan, saving your time and resources.
Listed in the section above are Financial model templates in Excel, related to business plans and financing proposals, designed for infrastructure business or businesses in the infrastructure sector. The infrastructure industry financial model templates will help you with your financial planning for your business, smoothly and efficiently. Saving your time in creating a model for financial planning and even help you do a valuation if investing or starting an infrastructure business to see if it's financially feasible.
If you are looking for a specific financial model template and couldn't find it in our inventory, feel free to comment here: 
Missing Financial Model Templates
, so that our Vendors will pick up that project and will soon add in our still growing inventory.
If you found the template but need help with customization of your preference, we also offer financial modeling services which you can avail here: 
Custom Financial Modeling Service
.
We would be really grateful if you also rate our products and leave a review, comments, suggestions, or any kind of feedback, about our financial model templates, for this will greatly help us shape our templates to be even better in the future.