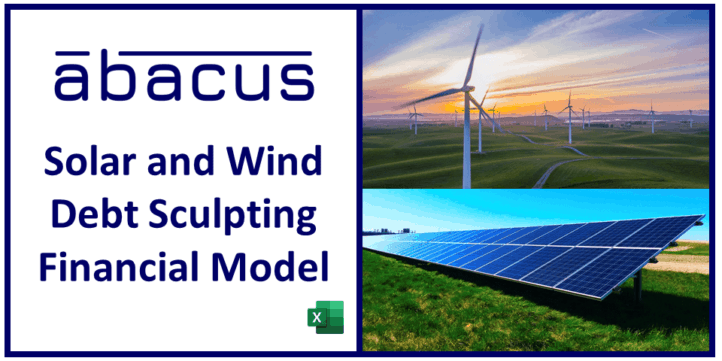 Biogas, Financial Model, Hydropower, Infrastructure, Renewable Energy, Solar, Wind
Amortization, Cash Flow Projections, Debt Amortization, Debt Service Coverage, Excel, Financial Feasibility, Financial Model, Financial Modeling, Financial Planning, Financial Projection, Financial Projections, Financial Statements, Free Financial Model Templates, IRR (Internal Rate of Return), LLCR (Loan Life Coverage Ratio), Macros, Private Equity Waterfall Distribution Models, Scenario Analysis, Sensitivity Analysis, Stress Test, Three Statement Model | Three Financial Statements, Uses and Sources of Funds, Valuation
Project finance transactions, especially utility-scale, require a highly-detailed financial model. Abacus provides cash flow analysis on a monthly basis, helping maximize debt financing and IRRs, and uncover cash flow issues that may arise from seasonal or intermittent revenues and expenses. Abacus includes fully-linked financial statements (income statement, balance sheet, cash flow statement), and over a dozen built-in error checks to guard against unintended mistakes. It also includes two easy-to-use macros which can 1) sculpt project debt to a target debt service coverage ratio (DSCR), and 2) maximize debt used against maximum leverage and minimum DSCR inputs. Abacus also provides summary information ready for presentations to financing parties, including charts, IRR, DSCR, LLCR, and other metrics, as well as quarterly and annual financial statements.
Worksheets:
– Introduction
– Inputs – all inputs are on this single worksheet
– Scenario Analysis – ability to analyze the project under multiple scenarios.
– Summary – a helpful dashboard of all project details
– Quarterly Financial Statements
– Annual Financial Statements
– Calculations – all calculations are performed on this single worksheet
– Custom – allows users to add custom calculations easily into the model*
– Changelog
*Latest iteration includes calculations for U.S. MACRS depreciation and Investment Tax Credit (ITC).
You will get: 1 Basic Excel Model (.xlsm) and 1 Macro Documentation (.pdf)
We welcome all suggestions, comments, improvements, or feature requests that would make Abacus more helpful for energy developers!
For any specific customization requests, please inquire at [email protected] by providing us the details of your specifications and any questions about the model template.
Reviews
It is a very comprehensive model, it allows you to understand how the Solar Farm will function and the different/outputs or scenarios that will play out.
Plug and play. Once you enter the inputs and run the background check, it is very easy to understand and has a very round review of the project.
Write a Review