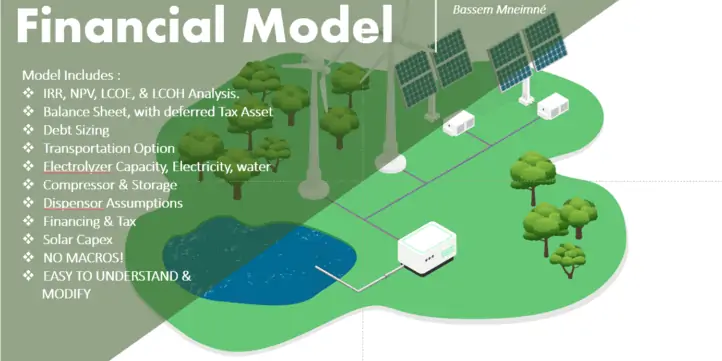 Electricity Distribution, Financial Model, Infrastructure, Manufacturing, Renewable Energy
Accounting, Budgeting, Cash Flow Analysis, Cost Projections, DCF Model, Debt Amortization, Debt Schedule, Debt Service Coverage, Excel, Financial Debt, Financial Model, Financial Modeling, Financial Projections, Financing, IRR (Internal Rate of Return), NPV (Net Present Value), ROI, Scenario Analysis
The case I address is to illustrate a fueling station that produces hydrogen and sells it. This is done using an electrolyzer to separate H2 from O. The model includes the Production assumptions (Production Capacity, Water Consumption, Degradation, Cost of maintenance, Cost of Electricity, and transport). The CAPEX includes the cost of the Storage Compressor, Dispenser, Electrolyzer, and Trucks to transport the hydrogen (using diesel).
The purpose of the model to find the selling price needed for a per KG of hydrogen to reach a certain IRR (which can be done through a goal seek). The model has the option of not including the transport cost which would get the selling price of hydrogen at around $4.6 per kg at a project IRR of 10%. Including Transport the selling price of hydrogen would need to be around $28 per kg for a project IRR of 10%.
The output of the model is a clean and easy-to-understand model which has a Balance Sheet, Project Finance Loan, Cash Flow projections with Project and Equity IRR. It includes nice charts to complement the analysis.
The point is to create an easy-to-understand model that does not include any VBA or Macro Switches.
Reviews
Great product . I was really looking for a
similar product for quite some time .
Hydrogen. Power. Is a the existing.
Disruptive. Technology. Which Every.
Energy. Consultant. Should. Know. About.
And Should. Really. Go. In. Details.
Through. It's. Financial. Model. .
Write a Review