A cash flow projection, also known as a cash flow forecast, is a set of financial statements that project the cash flow, or rather, the movement of cash in and out of your business, an organization, or an individual, over a given period.
There are two methods for calculating your estimated net cash flow:
Direct Cash Flow Method
Indirect Cash Flow Method
The direct cash flow method presents operating receipts and payments (and all other items that have an effect on cash flow) as they occur. This is the easiest method to use when calculating the estimated net cash flow and also makes the report very easy to read; however, oftentimes net working capital effects are neglected. While the indirect cash flow method is more complete, as it bases on the creation of creating the three financial statements: Income Statement, Balance Sheet, and Cash Flow statement which allows checking if those statements are inherently concise. Both methods can be used to forecast cash flows, while the indirect method oftentimes shows a higher level of quality. For our purposes, we focus on the indirect cash flow method by forecasting the three statements Income Statement, Balance Sheet, and Cash Flow Statement for our business.
The Three Statement Model
As you already know, the three statement model is an essential element when creating a financial model. It contains numerical data needed to know the position of a business. To help you recall what the three financial statements are, we'll provide a brief explanation.
Balance Sheet
This is where you'll see the Assets, Liabilities, and Equity of the entity as of the reporting date. Meaning, the data shown is as of a specific point in time. The format of the report shows that all Assets will be equal to the total of all the Liabilities and Equity; this is what we know as the basic Accounting Equation. The balance sheet is considered as the second most element in a financial statement since it showcases the liquidity and capitalization of a business.
Income Statement
This is where the Revenues or Sales, Expenses, and Profits or Losses presented, which is generated during the reporting period. Others call this statement as the Profit and Loss Account, which shows how it derived the net income of the business over a stated period. Basically, it projects all the business's operations and financial activities, which is why this is considered as the most important of the financial statements since it showcases the operating results of a business.
Statement of Cash Flows
This is where all the Cash inflows and outflows caused by the business's activities during the reporting period. All the changes in the business's cash flows will be presented here and used to provide a useful base to compare in the income statement. To check whether if it is reflected or balanced in the amount of profit or loss reported during the stated time. Cash flow statement basically answers the questions; where the money came from and where it went. With this statement, it will help the business assess the amount, timing and predictability of cash flows which is used for budgeting and business planning.
Using Cash Flow Projection Templates
A good cash flow projection template is essential, as it influences business planning, budgeting, and is vital during the decision-making process. A 12 months cash flow projection template mostly serve budgeting purposes, while a minimum 3 year cash flow projection template is needed to come up with a longer-term financial plan.
A 12 month cash flow projection template is usually used when creating a budget for a business and focuses on all the cash flows that will happen for the next year. Surprises aren't always that pleasant, thus, it is essential to know what might happen in the future and prepare for certain circumstances that might affect the business negatively. A 12 month cash flow projection is also more ideal for budgeting since it is short-term and updating the plan won't be too complex of a task. Basically, a 12 month cash flow projection is created to help the user to better understand the cash position of the business during the year and as preparation for sufficient liquidity for the business in the upcoming future.
The same applies to a 3 year financial projection template, except, it is more ideal for long-term financial planning. The report will require more details and a lot of complex computations that one needs to go through to come up with the projections, after all, 3 years is a very long time. Many different circumstances might or might not happen within those 3 years, thus, you will have to apply different assumptions which will help you determine the resulting projections after going through numerical simulations. Still, the use of a 3 year financial projection template for long-term financial planning is very beneficial for you in the long run.
In conclusion, the main objectives of financial planning are determining the capital requirements, structure, financial policies, and ensuring that the funds will be distributed properly as to maximize the returns in the future. Depending on the factors like expenses, assets, cash, etc., a financial plan is needed to project what will be the expected cash flows in the business, whether for long-term or short-term period. Basically, by creating a cash flow projection, as a business executive, you will have a more effective cash flow management and be able to anticipate and prepare for the future.
A cash flow projection can help you manage cash flow easier by predicting your finances surpluses or cash shortages. This will also enable you to make more informed decisions about whether to pour in more capital or develop certain projects for business growth. Including the risks and benefits of running a business, with a cash flow projection model, you'll be able to avoid the worst or most likely case scenarios that will affect your business' resources. Hence, it is very important to create a financial plan in a form of cash flow projection model.
12 Month Cash Flow Projection Templates as a Part of your Budget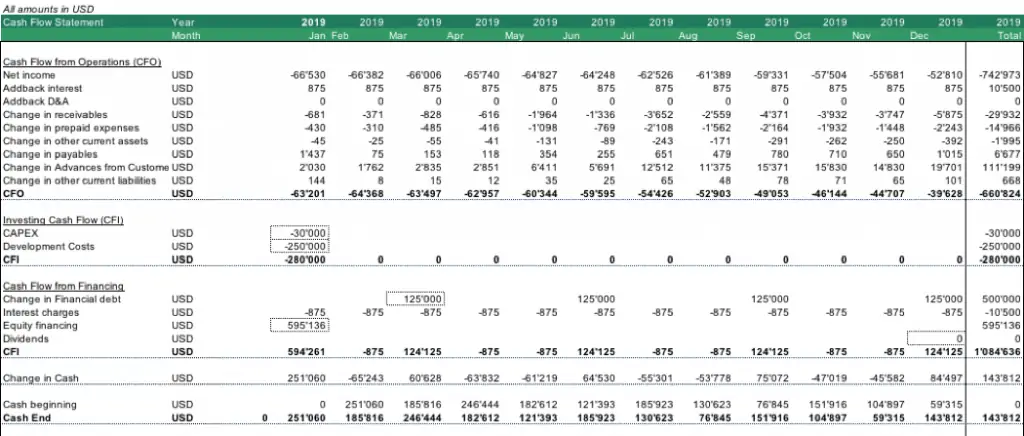 A 12 month cash flow projection template basically, is a budget which focuses on understanding cash flows for the next year. It is something essential to have in business, as you want to avoid any negative surprises at the end of the year. The first step in developing a 12-month cash flow projection is to assess expected revenues and expenses for each month for an entire financial year.
If you've been in business, you can use the previous sale history to substantiate your sales and expense assumptions—and if you're just starting out, you can use economic surveys and logic to determine what you can likely expect within a 12-month time period.
The advantage of using a 12 month cash flow projection template is that you can correctly reflect seasonal patterns. This might lead that in some months you are losing money while income is coming in, only in some months. This budget will help you to better understand your cash position during the year and will prepare you to plan for sufficient liquidity for your business. Do not forget to factor in your future plans and market trends/conditions. For instance, if you're planning to launch a new product or add a new item to your inventory of sales products, you should expect a certain "sales increment" which should ultimately be factored into your sales forecast. Similarly, if a competitor just entered your domain, you may consider showing an impact on sales volumes or prices, if needed.
What does a cash flow projection template look like? – Here are somes examples provided below:
Consolidated Financial Statements Actual vs. Budget Model Template
Monthly/Quarterly Salesmen Bonus Template
Budget to Actual Comparison Dashboard
3 Year Cash Flow Projection Template – Your Business Plan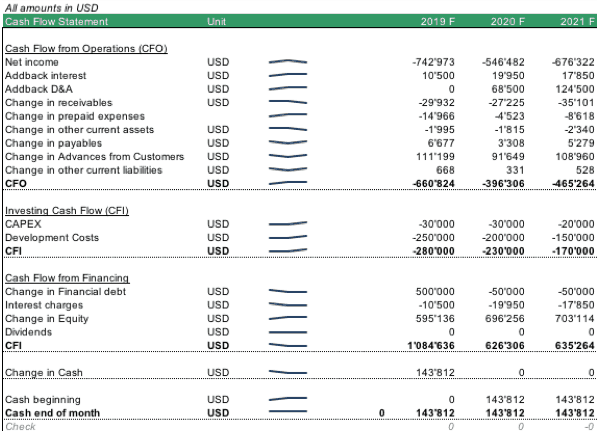 Your business plan will only have meaning if it is backed up by a solid financial plan. The financial plan will outline where you will generate revenues, which costs you expect, and why and how much profits the business should generate. A detailed operating model translates the assumptions in the projected income statement, balance sheet, and cash flow statement, over a minimum of three years forecasting period. The 3 Year Cash Flow Projection Template is the minimum required financial plan to have in order to build a business plan. Business plans can also go up to 5 years. However, the reality is that normally after 3 years, it will be very difficult to justify what will happen. Longer projections are then even more difficult to come up, as is with as simply the range of scenario outcomes will increase so that after three to five years, the best-educated guess normally will focus on a normalized profit the business can generate.
A financial plan should clearly explain the expected cash flow projections of a business going forward. Sometimes, profits are subject to manipulations due to some freedom on how to interpret accounting rules. Cash is a more precise figure and most financial analyst and business valuation experts will focus on the business' true cash flow generation potential.
A 3 year cash flow projection template can prove to be especially useful when considering the theoretical "what-if" scenarios to simulate any change in assumptions on the forecasted cash flow over time. To compare scenarios, one can simply compare the resulting cash balance at the end of the forecast period and compare to other scenario results.
Creating a financial model from scratch can be tedious and time-consuming. For this reason, eFinancialModels offers a selection of cash flow projection templates for a variety of industry and use cases.