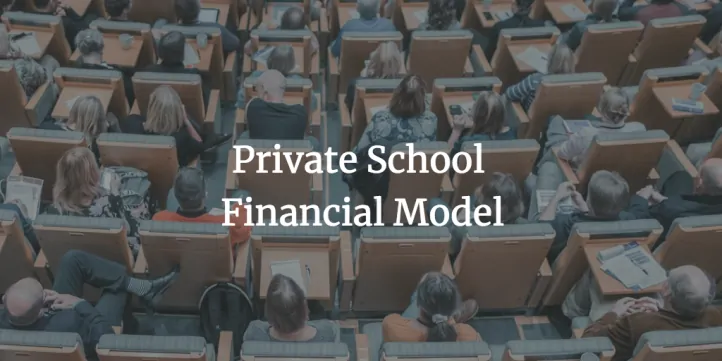 This is a financial model template for a new private school startup business. The financial model template allows forecasting the cash flows over the next 10 years by deriving a clear picture of the expected financial statements and returns to investors. The Excel model has built-in two scenarios, where 1) a new building is built or 2) premises will be rented. The model is made for a comprehensive private school Startup which wants to offer classes such as Kindergarten, Middle School, and High School classes.
The highlights of this Startup financial model template are the following:
Property development model with space requirements by students and type of class
Switch to either build a school (CAPEX assumptions) or rent the premises (rental price per sqm assumption)
Detailed revenue projection model split into three different class categories: Kindergarten, Middle School, and High School classes
Projection of number of students and classes required
Calculation of required teaching personnel, salary cost estimation, and projection model
Forecast for other related revenues and costs, e.g. for bus pickup, uniforms, cafeteria, etc.
Estimation of general, administrative, sales & marketing costs
Detailed and transparent calculation of all revenues, costs, balance sheet positions, etc.
3 Statement Model with Forecast for Income Statement, Balance Sheet, and Cash Flow Statement
Calculation of Free Cash Flow to Firms and Project IRR
Sources and Uses of Funds Table
Calculation of levered IRR and Investor IRR based on a cash in / cash out consideration
The model comes with an Executive Summary and Assumption sheets where one can easily play around with all the major assumptions and see the effects on the financial forecast, project and investor returns. This Excel model is ideal for Startup companies wishing to determine the financial feasibility of their project and obtain an in-depth understanding of their expected financial performance over the next year. The model then can also be used to present a financial plan to investors and discuss their financing contribution to the business.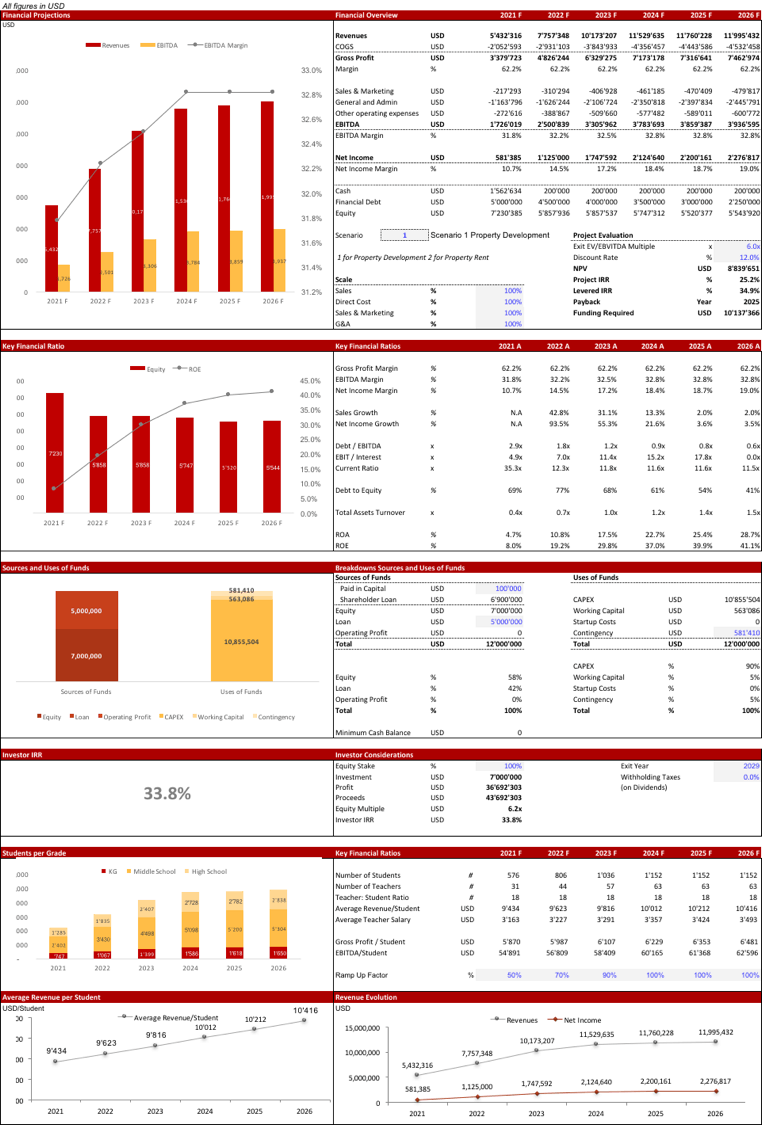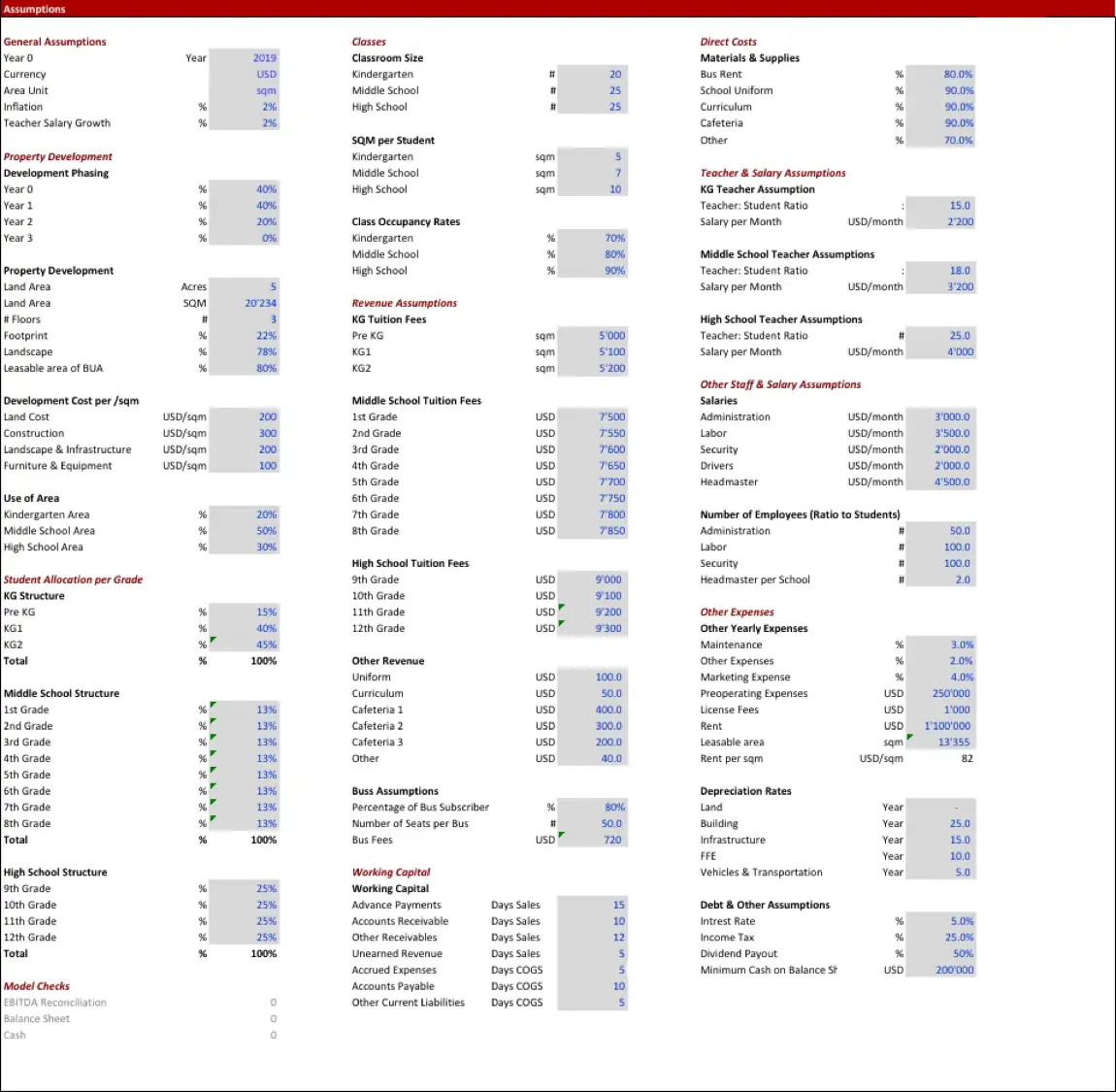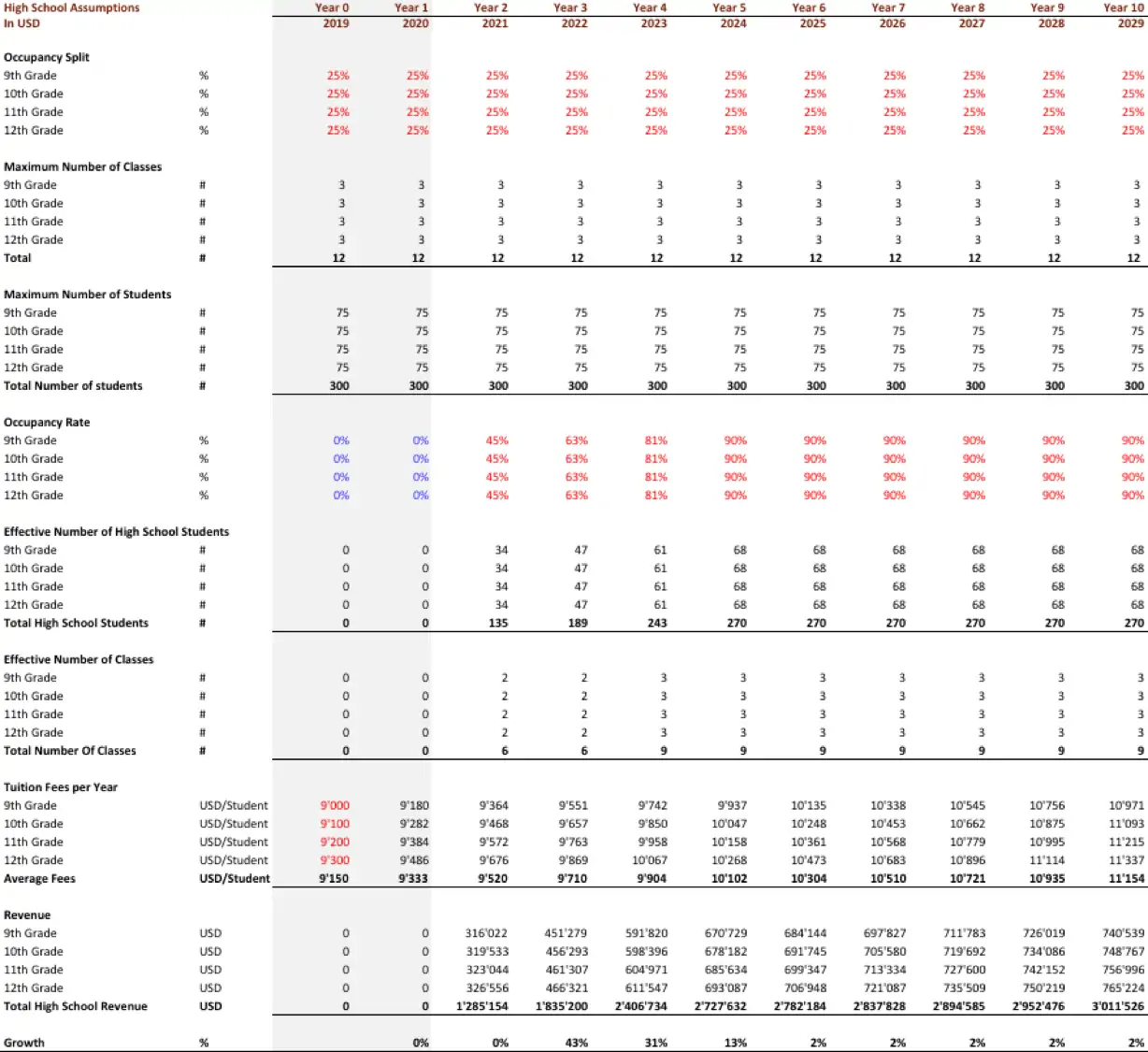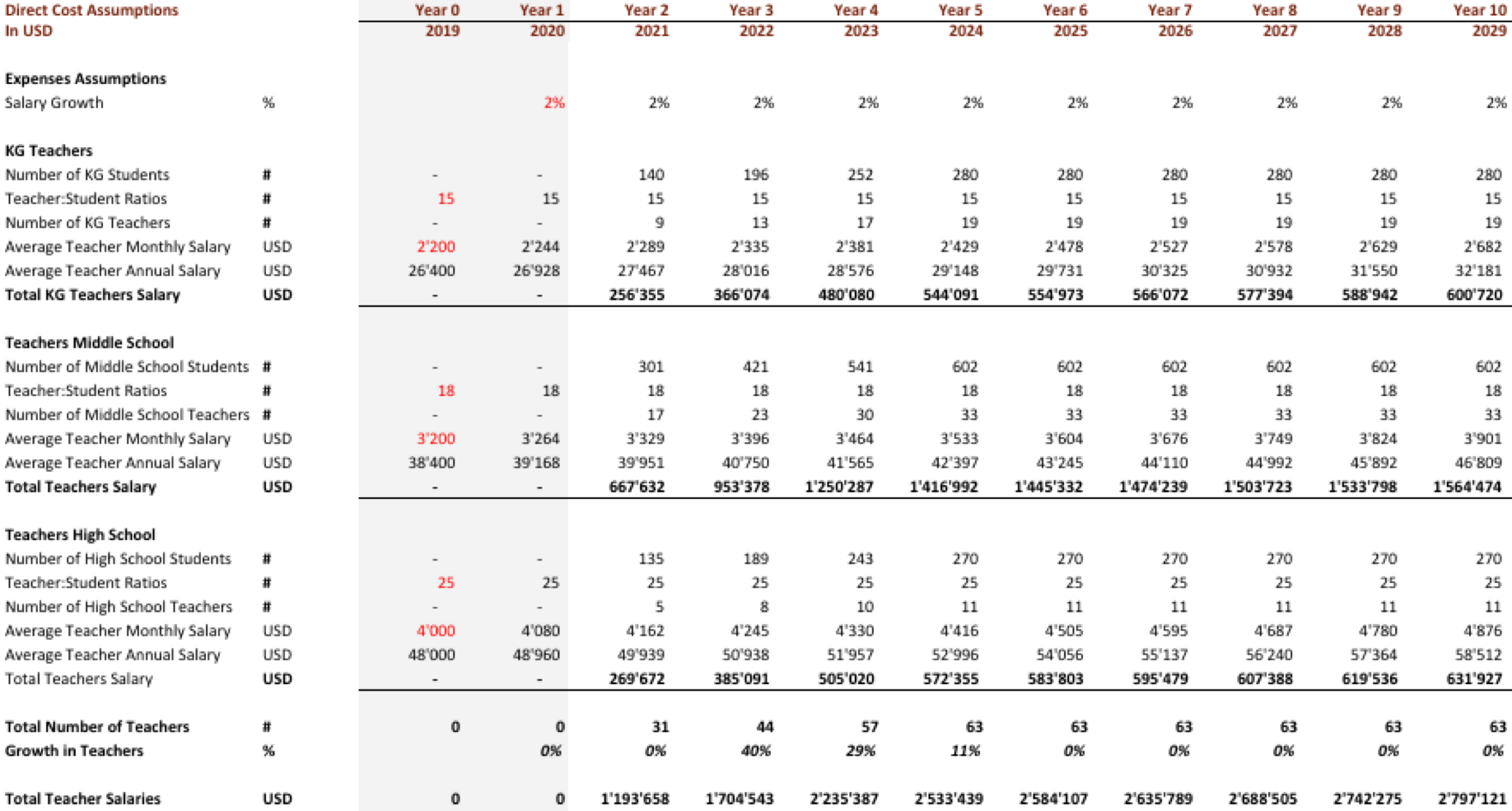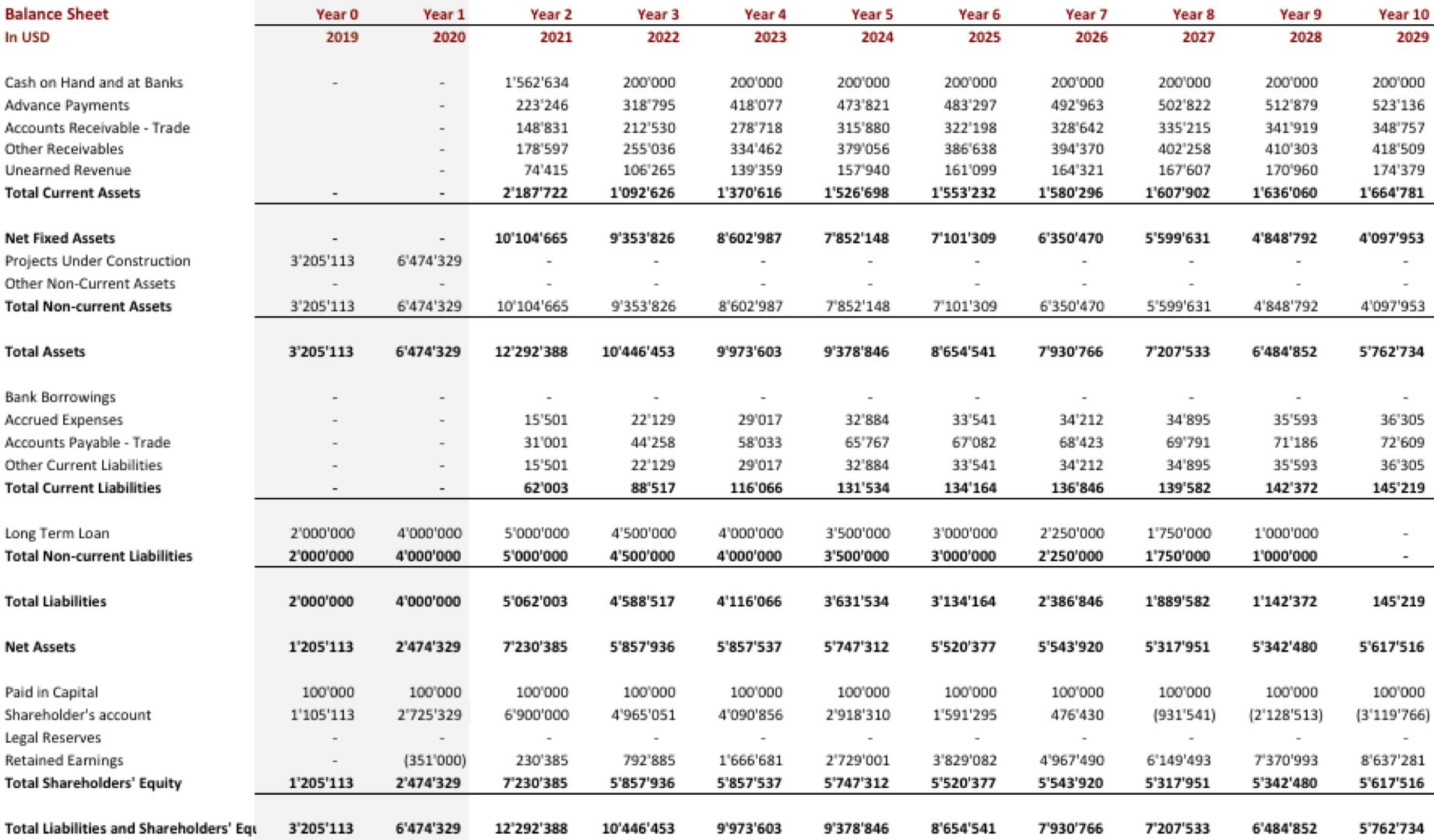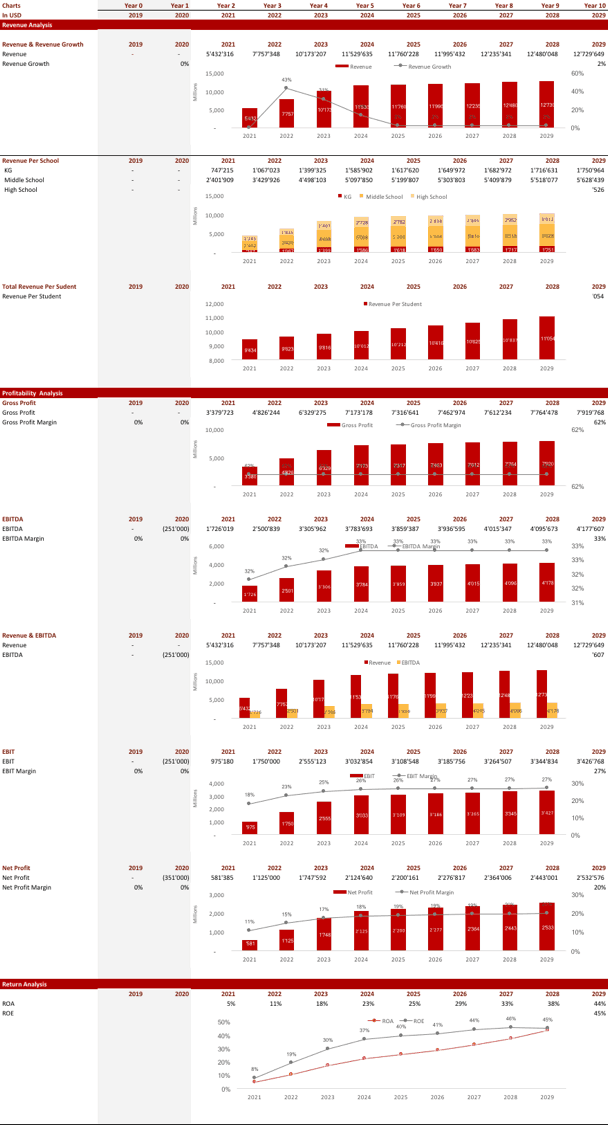 This financial model is available in two versions (1) a Demo Version in PDF and the Full Model in Excel where all cells can be manipulated without any limitations.
Filetypes:
.pdf PDF Acrobat Reader
.xlsx Microsoft Excel
| | |
| --- | --- |
| Industry | Education, School |
| Summary | This is a financial model template for a new private school startup business. The Excel model allows forecasting the cash flows over the next 10 years for a School Startup offering Kindergarten, Middle School, and High School classes and calculates expected financial returns to investors. |
| Screenshots / Pictures | |
| Use Cases | Cash Flow Projections, Cost Projections, Dashboard, Excel, Financial Feasibility, Forecast, IRR, Kpi, NPV, Payback Period, Revenue Projections, Startup Financial Models, Uses and Sources of Funds |