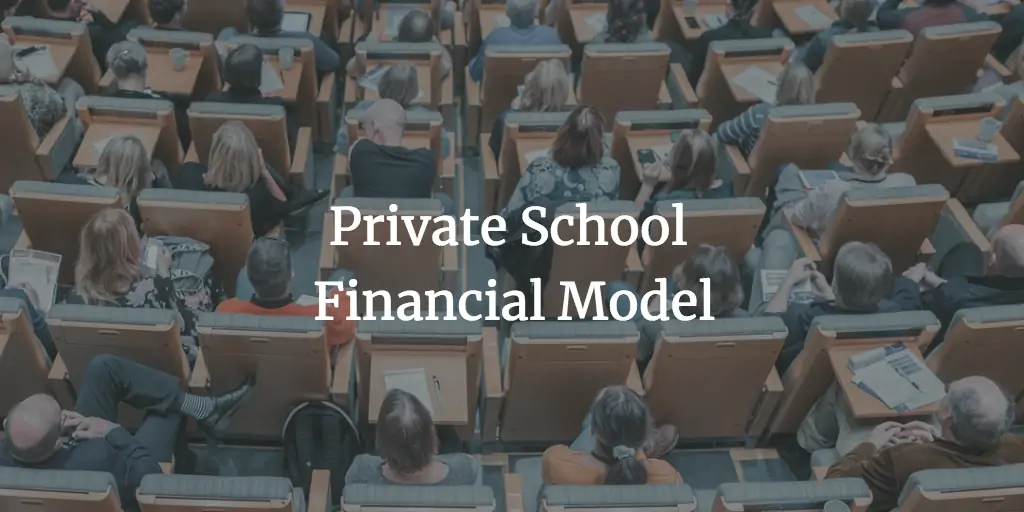 Education, Schools
Cash Flow Projections, Cost Projections, Dashboard, Excel, Financial Feasibility, Forecast, IRR (Internal Rate of Return), KPIs (Key Performance Indicators), NPV (Net Present Value), Payback Period, Revenue Projections, Startup Financial Models, Uses and Sources of Funds
This is a financial model template for a new private school startup business. The financial model template allows forecasting the cash flows over the next 10 years by deriving a clear picture of the expected financial statements and returns to investors. The Excel model has built-in two scenarios, where 1) a new building is built or 2) premises will be rented. The model is made for a comprehensive private school Startup which wants to offer classes such as Kindergarten, Middle School, and High School classes.
The highlights of this Startup financial model template are the following:
Property development model with space requirements by students and type of class
Switch to either build a school (CAPEX assumptions) or rent the premises (rental price per sqm assumption)
Detailed revenue projection model split into three different class categories: Kindergarten, Middle School, and High School classes
Projection of number of students and classes required
Calculation of required teaching personnel, salary cost estimation, and projection model
Forecast for other related revenues and costs, e.g. for bus pickup, uniforms, cafeteria, etc.
Estimation of general, administrative, sales & marketing costs
Detailed and transparent calculation of all revenues, costs, balance sheet positions, etc.
3 Statement Model with Forecast for Income Statement, Balance Sheet, and Cash Flow Statement
Calculation of Free Cash Flow to Firms and Project IRR
Sources and Uses of Funds Table
Calculation of levered IRR and Investor IRR based on a cash in / cash out consideration
The model comes with an Executive Summary and Assumption sheets where one can easily play around with all the major assumptions and see the effects on the financial forecast, project and investor returns. This Excel model is ideal for Startup companies wishing to determine the financial feasibility of their project and obtain an in-depth understanding of their expected financial performance over the next year. The model then can also be used to present a financial plan to investors and discuss their financing contribution to the business.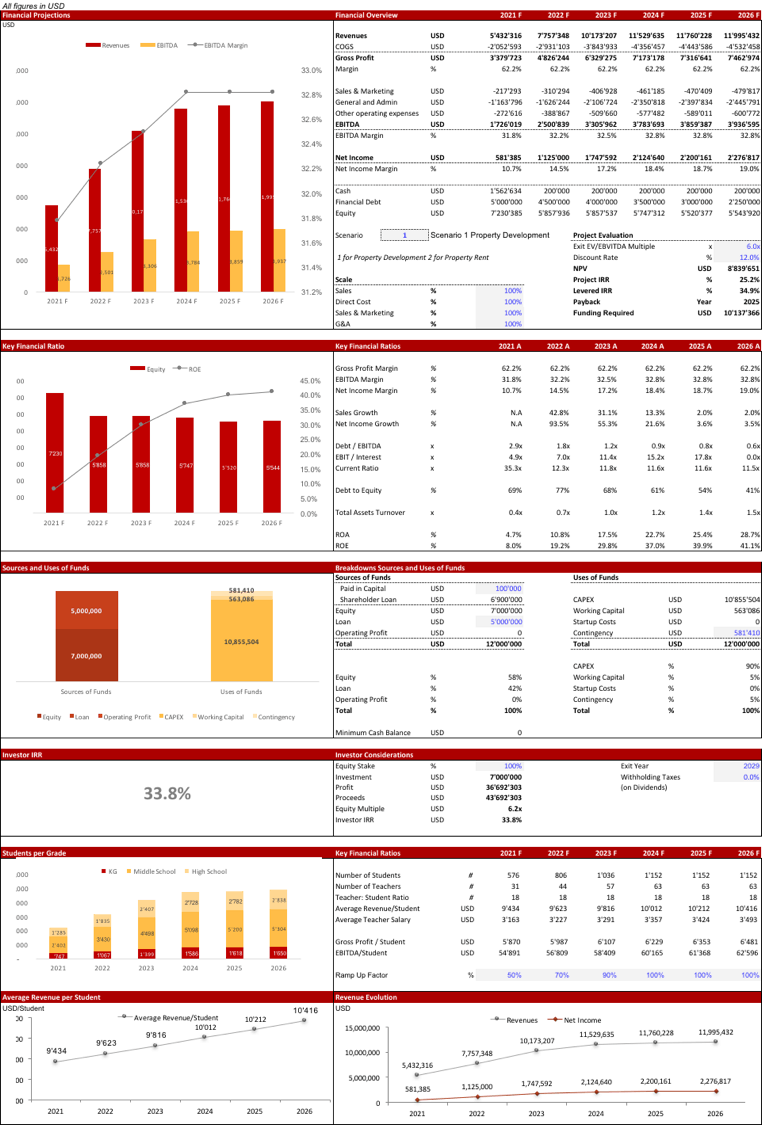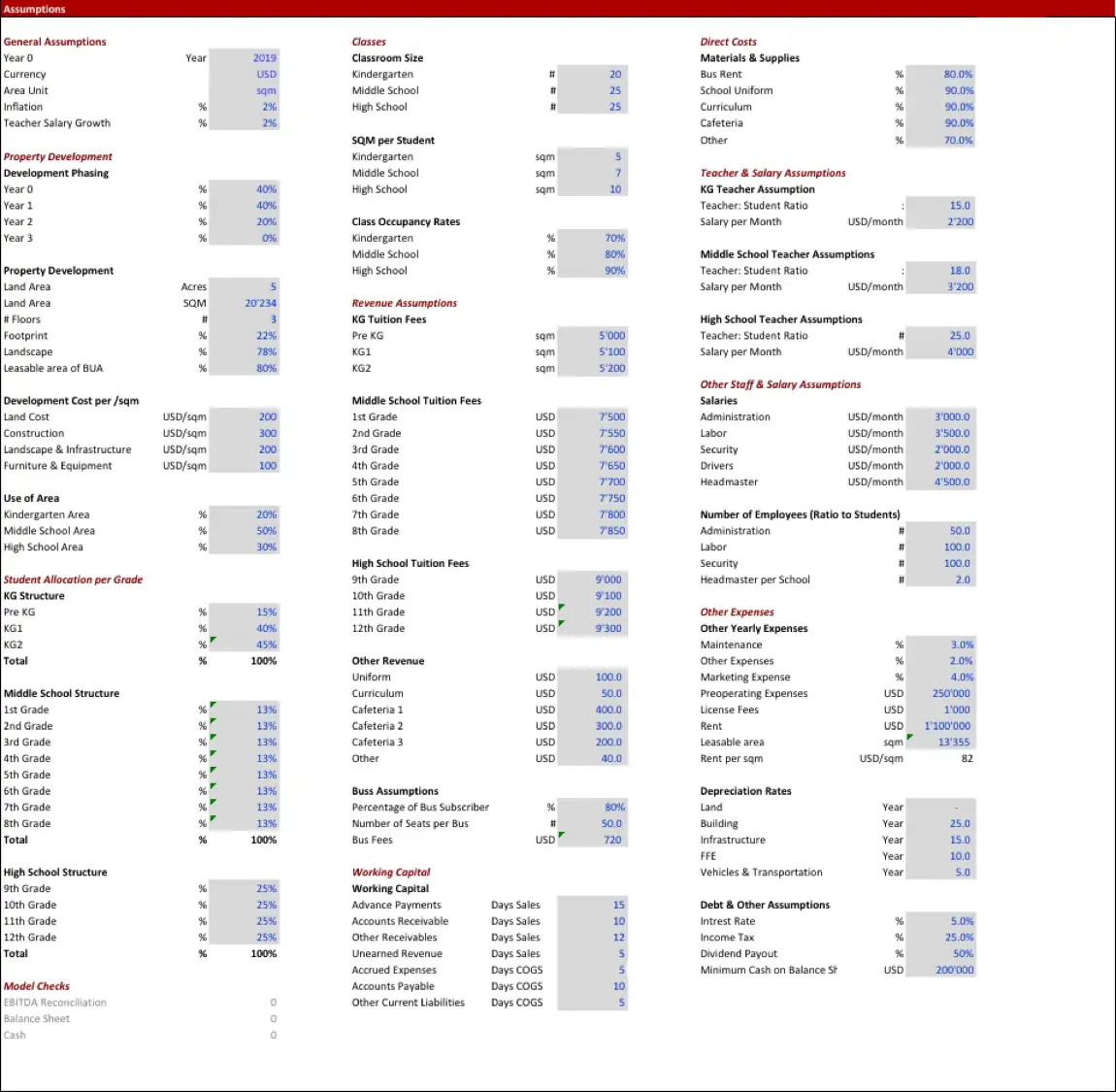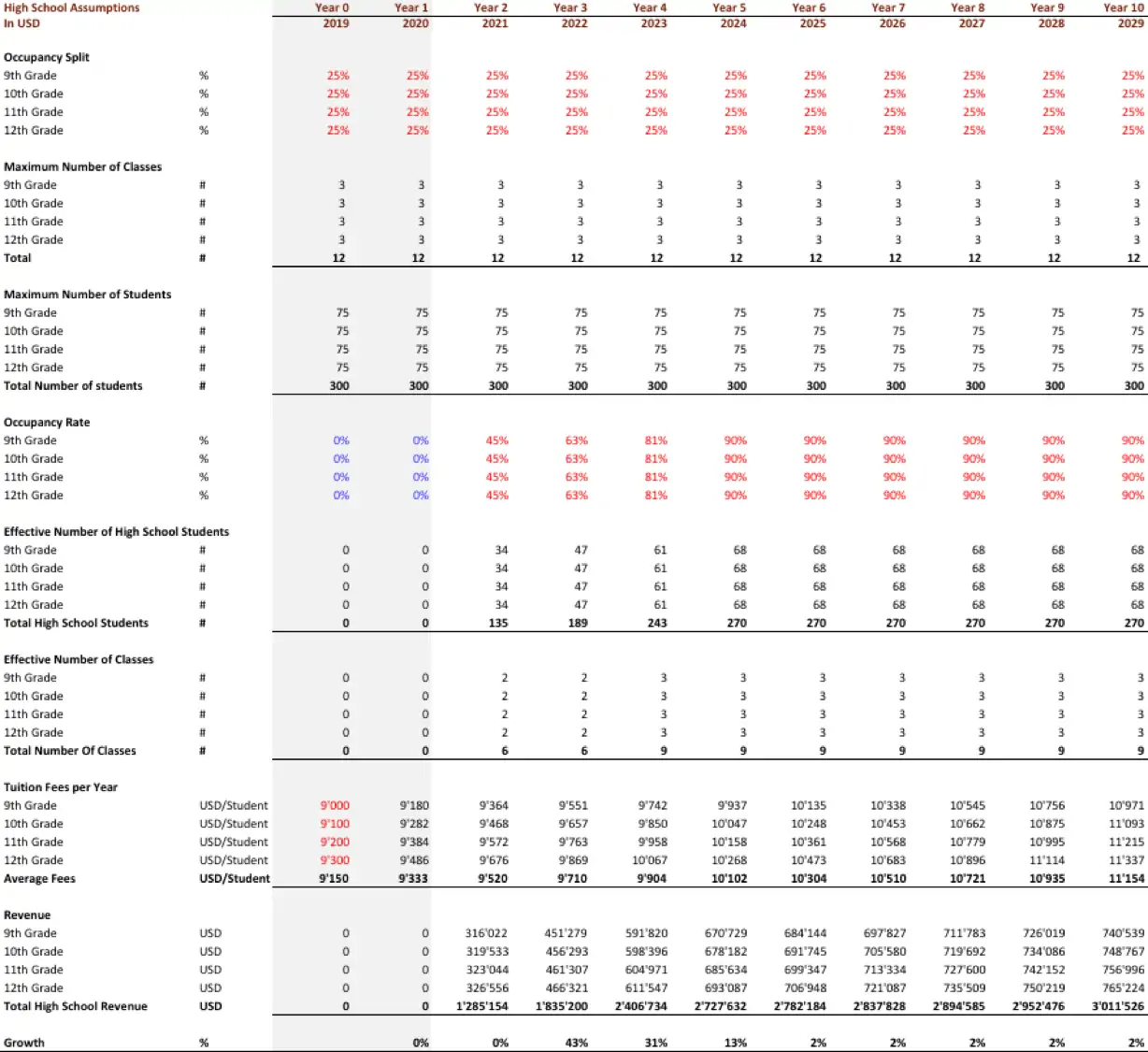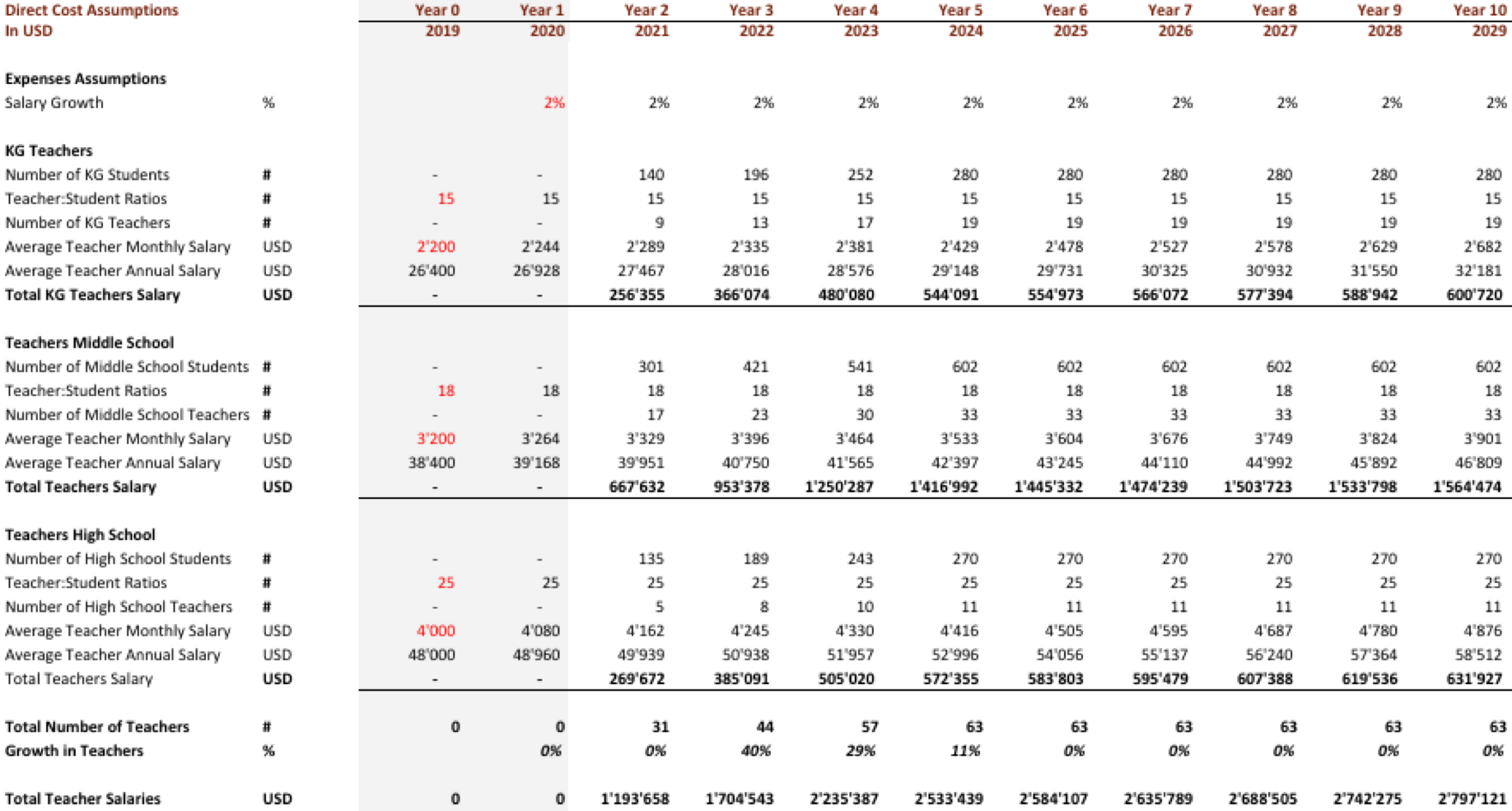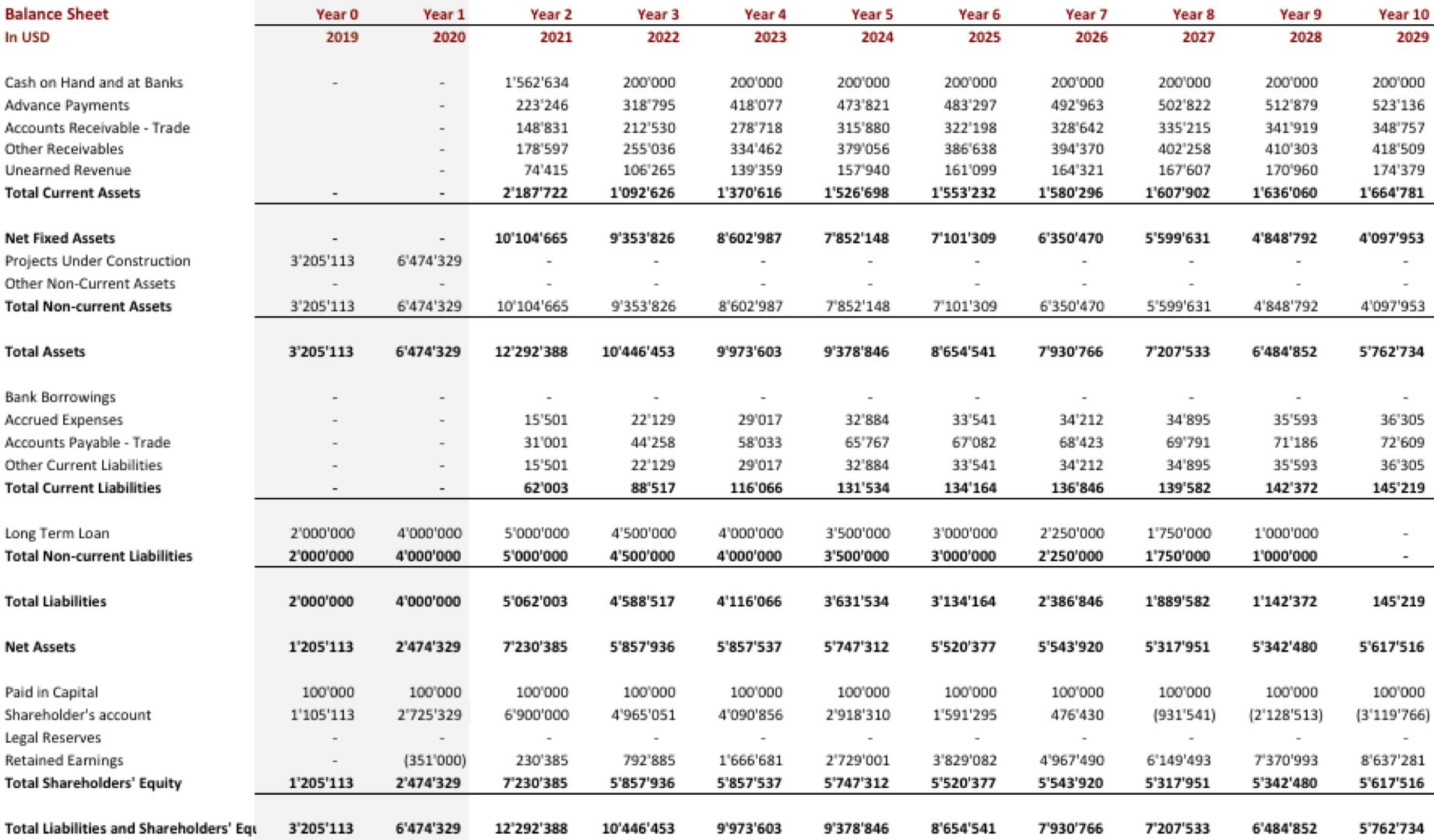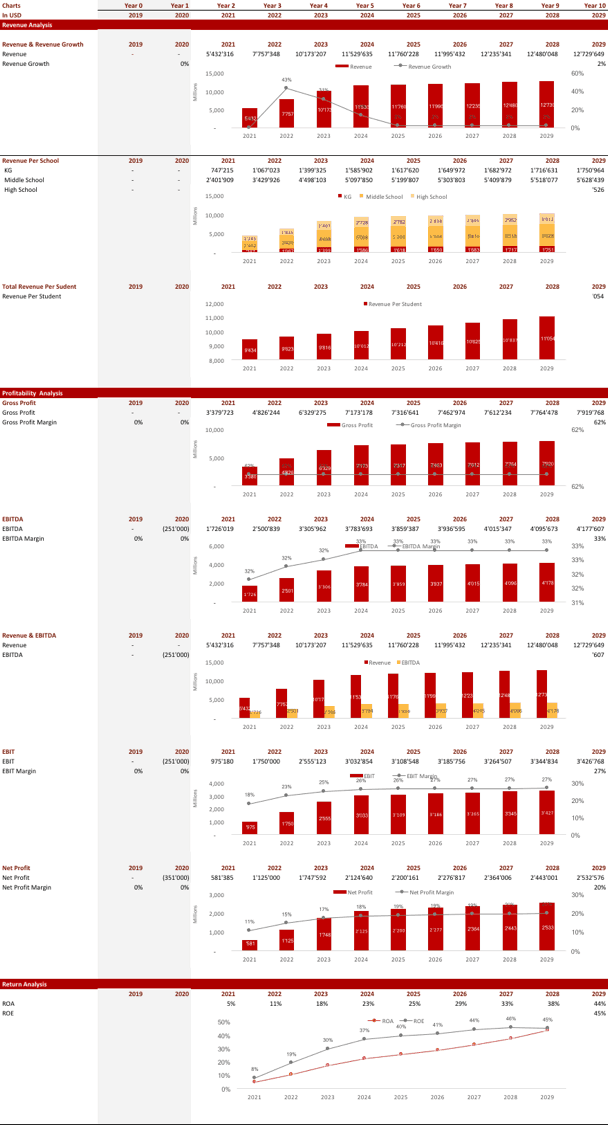 This financial model is available in two versions (1) a Demo Version in PDF and the Full Model in Excel where all cells can be manipulated without any limitations.
Filetypes:
.pdf PDF Acrobat Reader
.xlsx Microsoft Excel
Users who purchased Private School Financial Model, also purchased:
Reviews
I appreciated the follow up email from eFinancial which provided links to how to use the financial model. One helpful link was to "Financial Modeling Excel – Best Practices." I'd like to use those best practices to frame this review.
The second worksheet in the model contains definitions for the acronyms it uses – an excellent idea. Unfortunately, two of the definitions were reversed (EBITDA and EBIT) but that was easily corrected.
The logic of the model is fairly straightforward if you have some background in accounting. If not, I recommend that the user review the basics of accounting to understand the various financial schedules that the model produces.
The model is also fairly simple, with many of the details of revenue and expense handled with summary inputs. If you have looked at the general ledger of a private school, you will notice that there are many more entries than are contained in this model, so the user needs to be prepared to do some pre-work to develop the basis for the many assumptions that the model uses for revenues, costs, capex, etc.
Because the worksheets are laid out in the same way (that is, years are in horizontal rows, details for each of the financial schedules are grouped in order vertically. The program is also careful to note the units for all calculated values at the start of the row.
From this point onward, the private school financial model begins to deviate from best practices. The assumptions are spread out over more than one worksheet, and a few assumptions are hard-coded into calculation cells. This makes tracing the calculation logic unnecessarily difficult. I believe the program could be improved by moving the assumptions out of the executive summary and combining them with the "school assumptions" worksheet or into a separate worksheet.
Row F420 in School Assumptions (pre-operating expenses) appears to contain an incorrect formula. The next version should correct that. Also, "If" statements (or some other error trapping) should be added to cells that have divisors in case the user has a zero entry for a cell (e.g. having no students in the kindergarten results in an error in cell D42 of School Assumptions).
Finally, there are a few places where the terms are not the same in the different worksheets even though they refer to the same value. For example, COGS is used in the executive summary, but links to Direct Cost in the School Financials worksheet.
Overall, a fine product and I look forward to adapting it for my needs.
The model itself is well made but it is unnecessarily complex and makes assumptions that are unrealistic and difficult to understand. I cannot get my head around the fact that everything is linked to the area. This makes very little sense. It could have been much easier to model based on assumptions independent from the area without losing the usefulness or aesthetics of the model.
Thank you for your feedback. Please let me know which areas you find complex and unrealistic so I can explain to you. In regards to the area being the main driver of the model. It's because area is important factor to determine the capacity of students. There is also regulation and standards that correlate between the number of students and area. Those regulations schools must abide by them. Regards, Ahmed Magdeldin
Write a Review
Get these templates too for a discount!