An idea Andrew Carnegie, the American steel tycoon and one of the wealthiest businessmen in the 19th century, echoes when he said, "Ninety percent of all millionaires become so through owning real estate. More money has been made in real estate than in all industrial investments combined." The figure might not be exact in this day and age but take a closer look at Forbes' Top 50 Wealthiest in the World and you will still see real estate tycoons on the list. A piece of land is considered a valuable commodity. The great American writer Mark Twain shares one good idea when it comes to land, "Buy land, they aren't making it anymore."
How to value a piece of land?
After all, land is just earth, dirt, or soil so the question is how much is the land worth? Well, land has much more to offer than just what you can find on it. More importantly, it offers a location, access to local markets, and an opportunity to build something of value which people can use to start a business or build a home. Therefore, land can become very precious and this requires to understand the value of land in more detail.
One way to estimate the value of a piece of land is by means of price comparison with similar parcels of land. You can look into the selling prices of comparable pieces of lands in the property register. If needed, professional help from a real estate agent will be needed. This may seem simple on paper however there are factors that will affect prices. The most important factor is the location of the piece of land as in Real Estate the three most important determinants of prices are "Location, Location, Location". Other factors to consider in the analysis are the date of the sale of comparable land transactions, as the price might have been different a few years ago when the market was up (or down) and the size of the land parcel. Smaller parcels eventually are sold at a higher price (but it depends on the local market and demand/supply). Also, the completion of new roads, infrastructure projects, development of new landmarks can affect land prices.
Another way to estimate the land value is to look at the residual land value a property developer can afford to pay for a piece of land from his point of view. In the following, we are going to explain how to calculate residual land value.
Residual Land Value – How to Calculate?
The residual land value method is mostly used when development is particularly different from other development (or complex) and there are only a few comparable sites in the market. It is a valuation method based on the perspective of a real estate developer as a potential buyer of the land. The term "residual" is what remains after any and all costs associated with development, construction, marketing, selling, and after accounting for a profit margin for the developer is deducted. The analysis actually is very meaningful for landowners as they can figure out how much could a real estate developer could afford to pay for a piece of land after taking into account the selling price of the completed development, construction costs, marketing and selling costs, and his profit requirements.
Below graphic illustrates how residual land valuation works.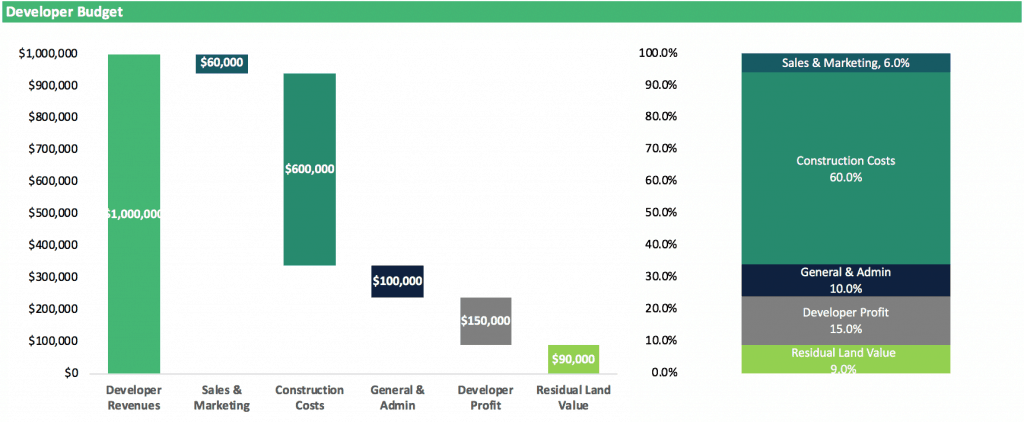 Let us review the thinking process of a real estate developer as the buyer of a parcel of land:
Developer Revenues: These are the total revenues obtained from the sale of developed real estate by the developer to end-buyers. E.g. these can be the sum of condominium sales, apartment sales, sale of a build-to-suit new office building or any other type of real estate constructed and sold on the developed piece of land. How can these revenues be estimated? You can gain more information by speaking to local real estate agents or look into prevalent and recent similar transactions, or asking prices within the development's location. In case the real estate would not be sold and rented after construction is complete, developer revenues can be estimated by the market value of the real estate. The way to do this is by estimating its rental value.
Sales & Marketing: The developer will have to spend money for sales & marketing of his product. This includes costs to develop marketing brochures, a website, mock-ups, banners, advertisement, broker commission fees, etc. These costs at the end of the day will have to be paid out of the real estate developer's revenues.
Construction Costs: Also known as build costs. These include all costs related to the construction of new buildings, infrastructure or any other enhancement made by the developer. Normally, construction costs can be broken down into three parts:
Hard costs are expenses directly related to the construction of the development such as clearing and rough grading of the property, material used and cost of labor.

Soft costs represent overhead expenses such as payments for architects, engineers, permits, and authorizations, licensing, project oversight and management, property taxes during the period of construction, etc.

Contingencies: Every real estate development project is at risk of exceeding the initial budget. Therefore, real estate developers will have to include a budget for contingencies – unforeseen costs which might realize due to project delays or unforeseen obstacles during the construction project.
Developer's Profit: This amount represents a developer's profit for taking on the project and carrying the risk. This can be stated in a lump sum dollar amount or a percentage of the project's value upon completion of a percentage of the total project cost. Normally a developer will have a minimum fixed profit figure in mind he minimal requires to provide motivation spending time and effort on a development project. For larger projects, the profit as a percentage of revenues normally should lie within the 10% – 20% range. Bear in mind, a developer's profit also varies by market segment. Projects such as developing condominiums, single-family houses for the lower to middle market will have different return requirement than developing a luxury project. Also developing commercial or industrial real estate will sell to a different market segment with different end-buyer characteristics therefore requiring different risks and returns (e.g. securing a single-tenant or end-buyer before the development actually starts reduces the risk significantly for the developer than when starting construction on good luck and facing the risk that the developed real estate cannot be sold afterward.
Residual Land Value: The residual land value now is the remaining budget left to pay for the land after deducting all costs and the profit margin for the developer. The calculation to derive at the Residual Land Value is as follows: Residual Land Value = Developer Revenues – Sales & Marketing – Construction Costs – General & Admin – Developer Profit
Please note, the above analysis did not include interest expenses on purpose. Obtaining debt financing can vary from buyer to buyer depending if he is willing to bring in additional securities or not and his creditworthiness. Also in some countries, interest rates are very low and will not change the outcome of the analysis while in other countries interest rates are high and therefore impact profits for developers. The easy way to overcome this is to look at developer profit as required profit before paying interest and taxes. Only when the analysis needs to be more sophisticated it is recommended to also deduct interest costs to obtain more insights on how this affects the profit and residual land value.
Example Residual Land Value Calculation
To understand in more detail how to calculate residual land value, let us take a practical example using MS Excel by calculating the residual land value for a piece of land on which an apartment building could be developed.
Investment case: Two daughters in Canada have inherited a large piece of land from their parents. The piece of vacant land is located 1km near a city's central business district. They don't wish to develop this parcel themselves as the project is quite big, it would take too much time and they feel it is too risky for them to take on such a large project. Therefore, they wish to sell the piece of land to a reputable real estate developer who most likely would want to build several high-rise apartment buildings on that piece of land. It should be a good site for residential apartment buildings as such development would offer affordable residential housing close to nearby offices in the central business district. Since it is a highly desirable site, there is a high chance many developers will be interested in this project. In order to get a better view on a realistic asking price for the vacant piece of land, the two daughters decide to undertake a residual land valuation before they will proceed to put the land on the market through a real estate broker.
The development scenario for this piece of land foresees to potentially build several high-rise buildings with totaling 1,000 apartment units. The estimated average sales price of each apartment unit will be $200,000. The development will take 2 years to build and sell. The developer's profit will be 18% of the Gross Development Value (GDV). Below, the two daughters have come up with a budget on how much the revenues, costs and required profits for a developer will be. They calculate that the residual land value would be $40.4m.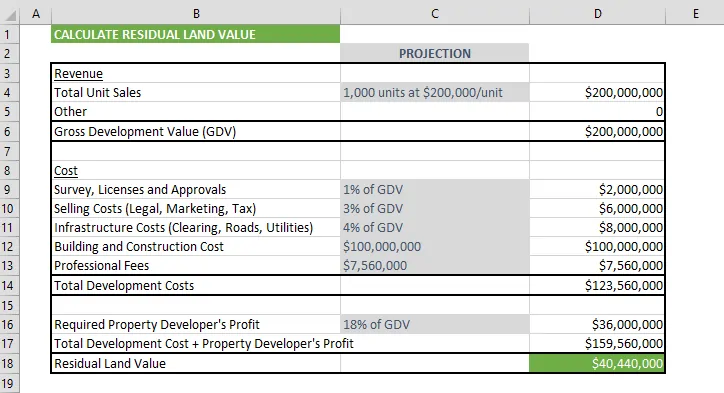 The $40.4m is the calculated amount a developer should be able to afford to pay for the land. However, this is not the final amount this land will transact. It just serves as a basis and starting point for price negotiation. Some developers will require a lower profit margin while others will require a higher profit margin. Residual land value is a "back of the envelope" analysis which is subject to ongoing fine-tuning and optimization. However, it serves as a starting point whenever considering selling a piece of land.
Please note, a residual land valuation can (or even most likely will) be performed also by each developer bidding on this project. It's a valuation method that is not too difficult to perform and be easily understood by landowners and developers.
Merits of the residual land valuation method
Overall the residual land valuation method offers the following merits:
Real Estate Developer Perspective
Helpful when comparable land prices are not conclusive / not available
Easy to understand, quick to perform
A valuable addition to other land valuation methods
Limitations of residual land valuations
There are several issues to be mindful when a developer calculates the residual land value.
One, the method does not consider the time value of money. Developments will take years to be completed and perhaps will take longer than projected. The number of years will eventually erode the developer's profit margin.
Second, small errors in estimating the input values in the development costs can lead to large variations in the land value. This means the analysis is only meaningful if the assumptions used for the analysis are correct. Many times, it's not that easy to get all cost assumptions right and therefore this can impact the quality of this analysis.
Third, apart from developing e.g. apartments, there might be different use scenarios possible for the land. E.g. if the land can be re-zoned to allow higher building heights, commercial instead of residential use, the whole calculation can become overthrown. Therefore, it's important to be aware that also buyers are creative people who might have the possibility to change the likely use case scenario in their favor. To counter this, it can be worthwhile to run different calculations for further possible development scenarios for a piece of land.
Therefore, the two valuation methods, 1) comparison of similar land prices and 2) residual land valuation, are not mutually exclusive and it is nearly always beneficial to use the results of both methods. Important factors to be considered are the nature of the site, length of time for the due diligence, length of time for the construction, and the desired development to name a few.
Conclusion
Residual land value is primarily used when developing a piece of land and sell it afterward appears as the most realistic scenario. Residual land valuation is mostly done prior to selling a piece of land to determine whether the land purchase and the development will be profitable and to figure out the maximum asking price for the land the market can absorb. Doing this valuation ensures that any buyer still can make a profit when developing the land and he does not run into any loss. Therefore, the residual land value consideration offers tremendous help to come up with a realistic asking price for the land.
The Residual Land Valuation method can be a valuable analysis both for landowners and property developers. The method allows determining the land value by working through the budget of a real estate developer and by figuring out how much he can afford to pay for a piece of land. This allows landowners to come up with a realistic value for the land.
Financial Model Templates
If you're looking for a financial model template that you can use as a base to calculate the residual land value, please try downloading the following template: Residual Land Value Calculator.
You can also try to download other real estate financial model templates that you can use to determine the value of land as well as its potential to gather revenues.
A spreadsheet or a real estate financial model will help you to quickly and accurately calculate the residual land value as well as provide you with more insights.