The spreadsheet is one of the best tools to help build a financial plan especially when planning a budget. One of the most popular spreadsheet programs is MS Excel which is very convenient due to its numerous functions and features that compliments the process of calculation as well as data visualization. It is highly flexible which enables its users to customize their spreadsheets however they want and it also allows transparency for those who take over someone else's worksheet. What's more, is that it can handle complex calculations by simply inputting your assumptions and case scenarios to conduct an analysis. Creating a budget planner spreadsheet in Excel is undeniably the best way to prepare your budget plan.
Simple 3 Steps to Build a Budget Planner Spreadsheet
Here is a simple step by step guide which you can refer to when you're planning to create your very own budget plan for your business. First and foremost, it is very important that you have MS Excel installed on your pc or laptop. Though you can also use other programs that allow you to build a spreadsheet, this guide is created based on the process when using Excel.
Step 1: Prepare the needed data to calculate or determine your budget plans such as income and expenses. You can either choose to conduct a weekly budget or a monthly budget and sometimes, an annual budget. Though most of the times, it is better to conduct a monthly budget annually to get a better track of record of all your financing.
Step 2: Iterate the sources of income and expenses and fill in the necessary formula to calculate the total of each element. You can use the function SUM (number1,…) in Excel. See below for an example.
Step 3: Next step would be to determine how much you will save after tracking every cash inflow and outflow of your budget. Simply get the difference between the total for Income and Expenses. You can further furnish your spreadsheet by properly organizing each cell and elements of the budget plan. You can even further branch out for every source of income as well as expenses to get a precise calculation for every component to track more precisely. It is solely up to you on how complex your budget planner spreadsheet should be. There are many features that you can make use of in Excel so feel free to play around such as adding a color-coding (conditional formatting) for the rise and fall of your savings or creating a graph for your monthly income and expenses. Your spreadsheet will look like below now.
Looking for Budget Plan Templates for Business?
Though this is simple enough to create on your own, you can also make use of ready-made budget planner templates that you can download online. As an example, you can copy the above Monthly Budget Plan Template to get a simple looking budget planner template spreadsheet.
This is a Free Budget Planner Excel Template for a Goods Manufacturing or Trading Company. The budget planner allows to…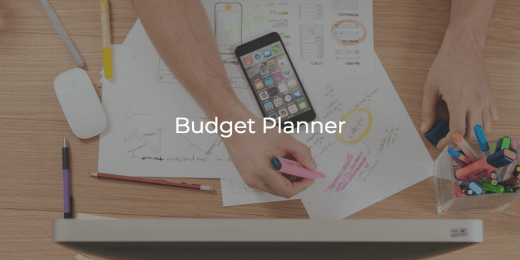 This Free Budget Planner Template in Excel offers a simple framework to prepare a yearly budget.
A budget plan is of course not only a tool for personal planning but also to take control of the financing for businesses. Usually, a comprehensive budget is built to get a formal statement of the management's expectations about the revenues, expenses, and other financial transactions for the incoming period. At the beginning of the period, building a budget plan is standard. At the end of the period, it will serve as a controlling tool to help the management measure the performance of the actual result against the forecasted budget plan so that in the future performance, it can be further improved. Basically, it serves as a set of projected financial reports that we know as the Income Statement, Cash Flow Statement, and the Balance Sheet.
It is critical to take note that with the aid of today's technology, budgeting can be used as a very effective tool for the evaluation of "what-if" scenarios. This way, the company is better able to come up with the best plan or strategy against different scenarios through multiple simulations. This can be done by financial forecasting which helps provide the necessary data to analyze the business financing.
Though the process of building a budget planner spreadsheet for personal purposes is simple, it is much more complex when it comes to running a business. The process will require the necessary know-how to ensure that the assumptions will make sense as well as will be as realistic as possible.
If you're looking for budget plan templates that you can use as a base to start with or simply to use as a reference, you can check out our list of industry-specific financial model templates which is specifically designed to build a budget plan for the specific business case.
These templates are created by financial modeling experts with substantial experience and know-how. You can also ask for assistance to finish your own financial models as well as to request for custom models for specific business models so that you won't have to spend too much time in finishing your own financial modeling tasks. These templates are available to download wherever you are in the globe such as in the US, Canada, Japan, Switzerland, Egypt, and many more.