A budget is defined as a plan that represents how much money an entity will potentially earn and how much they will need or be able to spend. Basically, a budget's main objective is to provide a concrete and measurable estimate of the receipt and allocation of resources such as cash. There are several types of budgets for planning purposes and these are typically categorized according to the timeframe that it covers.
Long-term Plan – typically forecasts financial statements out 5 to 10 years into the future. It usually evolved from "strategic plans," which define the overall mission and goals for a business.
Short-term Plan – typically forecasts a shorter term of financial statements for 6 months to a year. It is usually done on a monthly or quarterly basis where it covers and updates yearly as to avoid taking risks such as in the longer term.
Short term budget plans are more ideal for personal budgeting as well as startup businesses or small-time businesses. The following are the benefits of building monthly budget plans:
Be able to manage cash effectively
Be able to allocate resources wisely and profit oriented
Bet able to clear financial objectives faster
Be able to monitor the business' performance easier
Be able to come up with intelligent decisions for improvement
Be able to prepare for future expenses and other circumstances that need financing
By doing a monthly budget, there's little risk involved since you won't have to consider the time value of money due to the plan being only for a shorter term as well as the estimate is closer to realistic results. If you're planning to create a budget plan and don't know how to build one, you can download and use monthly budget templates instead.
Building a Budget Spreadsheet Template
It's always a good idea to start a modeling project with the end in mind. The outputs that you want to show in the model are the following:
Cash required for asset purchases over the budget period (for the cash flow statement)
Revenue and Expenses for the budget period (for the income statement)
Written-down value of assets for the budget (for the balance sheet)
When building a budget spreadsheet template that you can use whenever you need to, here are some tips that we think are helpful for you.
Start building your budget spreadsheet template in Excel. Excel is a great tool due to its flexibility and built-in functions that are useful for financial modeling. It is also one of the most common tools that financial modelers use to build their own templates as well as financial models.
Make your template simple but effective. Basically, you want your template to be easy to use by any kind of users as well as easy to understand by any kind of readers. But of course, you must also ensure that the template is effective and reached its purpose which is to represent a budget plan.
Focus on the Profit and Loss statement or P&L to build your budget spreadsheet template. This is because to prepare a budget, your aim is to monitor the expected income and expenses (annually or shorter) or basically, your operational plans so that you can monitor your business' outcomes against the prepared budget.
Provide transparency on all assumptions. Therefore, you need to identify and document all assumptions made for the budget period as to explain the projected results.
Build it in a way which allows to compare actual vs. budget figures. This is so that once you update your budget plan, you will be able to track and check if you meet the goals you were aiming for when you first prepared the budget.
It is important to compare the actual vs. budgeted figures as well as explain the difference between them. If your template allows you to compare the actual vs. budgeted figures, you'll be able to determine and analyze the variances as well as determine if such variances are something you can avoid in the future or not. Such process of comparing the actual results to the budgeted figures and determining the reasons for the variance is called the Budget to Actual Variance Analysis.
Below is a screenshot of a good budget spreadsheet template showing the budget to actual comparison: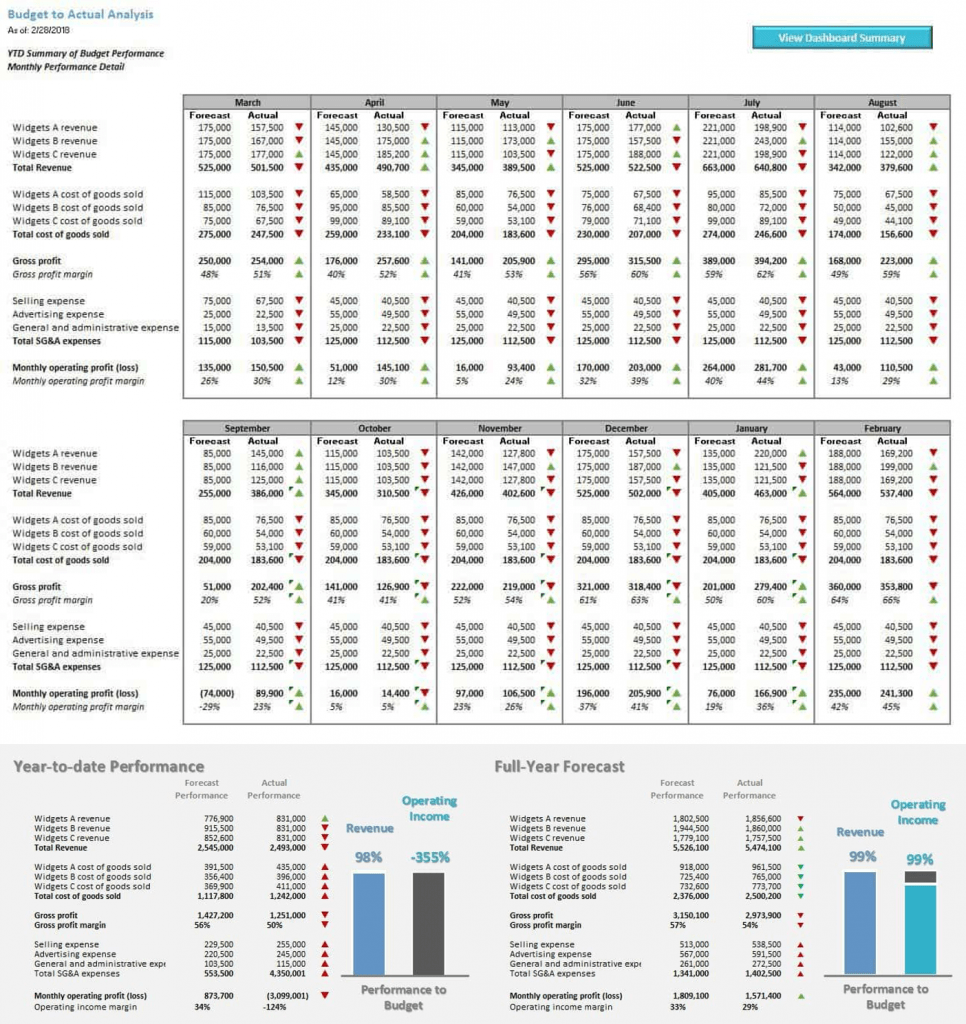 The screenshot of monthly budget-to-actual spreadsheet template shown above is one of our best budget-to-actual comparison Excel templates. The template features an easy to use dashboard as well as panels that can analyze and follow adjustments for your fiscal year. To download the template above, you can get it here: Budget to Actual Comparison Model Template.
Monthly Budget Excel Spreadsheet Templates
With today's technology, the task of building a monthly budget plan became easier without having to spend too much resources, especially, time. By simply downloading monthly budget Excel spreadsheet template or budget spreadsheet templates, you can create a monthly budget plan for your business. You can acquire a copy here: Budgeting Model Templates to use as a base to start with.
These templates are specially tailored for industry-specific businesses as well as other personal use cases, filled with the know-how of financial modeling experts. These are also used by different kind of users such as entrepreneurs, executives, CFO's, etc., from different countries such as USA, UK, Germany, France, Switzerland, and many more who were in need of help with their financial modeling tasks.
From Personal Financial Plan Template, Monthly Budget Excel Spreadsheet Templates, Budget Spreadsheet Templates, to Business Monthly Budget Template, you can choose whichever fits the criteria you're looking for. Start budgeting now and take advantage of this very convenient ready-made budget plan for you to use as a base when creating a budget plan for yourself or your business.