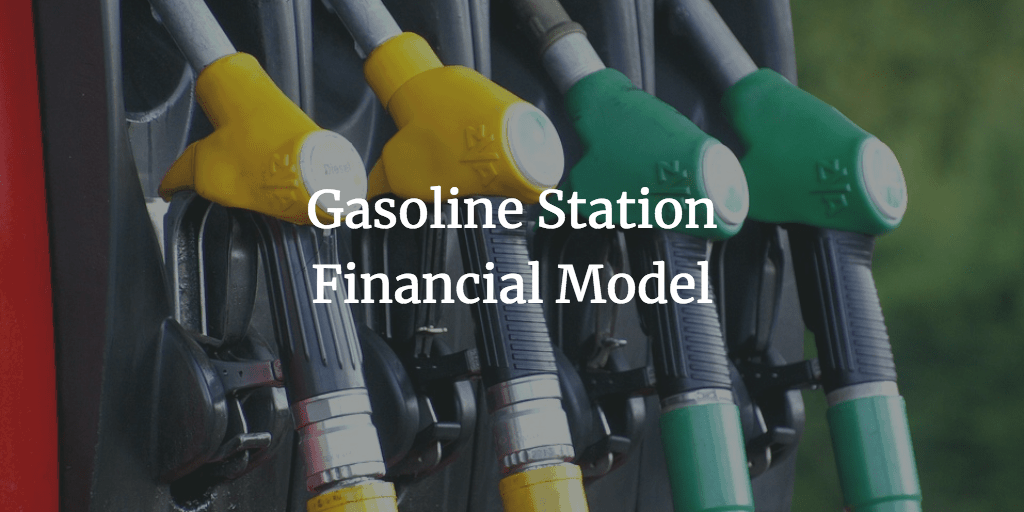 Car Services, Cleaning, Financial Model, Gas Stations, Service Businesses
Break-Even, Budgeting, Cash Flow Analysis, DCF Model, Excel, Financial Feasibility, Forecast, Forecasting, IRR (Internal Rate of Return), NPV (Net Present Value), Sensitivity Analysis, Startup Financial Models, Three Statement Model | Three Financial Statements, Uses and Sources of Funds
This financial feasibility model template in Excel allows you to determine the financial feasibility of a new gas station project and figure out the financing structure.
The financial model includes revenues from various sources including different types of gas sold, a supermarket, a repair shop and a car wash station. Sales revenues are linked to the amount of gas sold wich allows to run different scenarios to build a better understanding on the business case. Profit on gas sales is calculated by using the spread on a per gallon/liter basis between gasoline purchases and sales. The assumptions are then used in a condensed version to build up the expected financial statements such as income statement, balance sheet, and cash flow statement.
An overview of the financial model template is provided here:
The highlights of the financial model template are the following:
Detailed operating model for gasoline sales volumes by gas type
Rent/Build Scenario – Gasoline station can either be bought (CAPEX expense required) or rented (rent expenses)
Revenues for a supermarket, repair shop or car wash station are linked to the gasoline sales (which is an indicator of the traffic the gasoline station receives)
Debt schedule with 3 layers of financial debt
Three Statement Model with projections for the Income Statement, Balance Sheet and Cash Flow Statement
Forecast of the main financial ratios
Free Cash Flow forecast
NPV and IRR calculation (levered and unlevered)
Uses and sources of Funds table
Return calculation for two types of investors (Founders and Investors)
IRR
This financial model template allows you to obtain a detailed understanding about the economics of your gas station business and investment case.
The financial model is available in two versions in Excel and as PDF Previews:
Light Version:
5 Year Forecast only
No sensitivity tables
Full Version
10 Year Forecast
Monthly Forecast and Budgets for the first 3 years
Break-even analysis
Sensitivity tables, Easy Scaling Factors for Key Value Drivers and Tornado Diagram