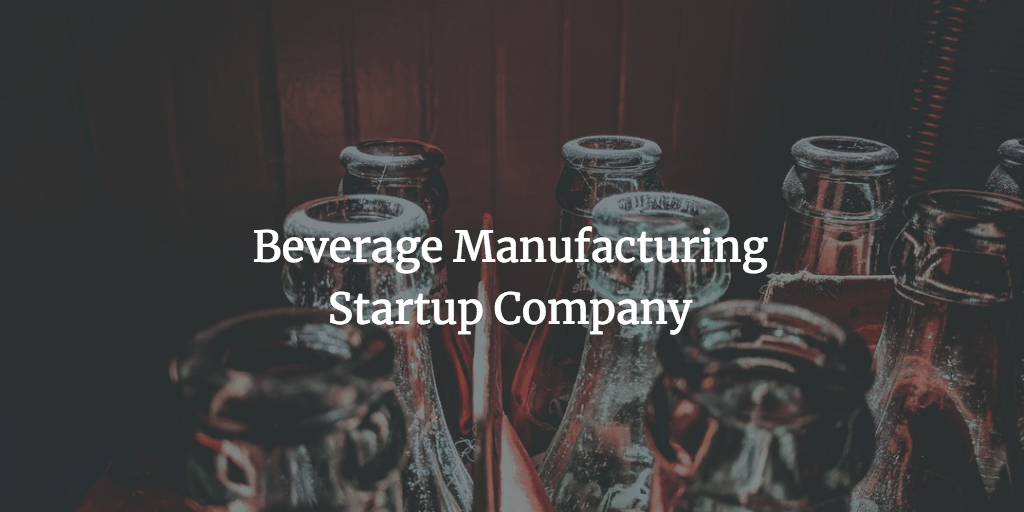 This financial model template assists founders of Beverage Startup Companies to determine their financing needs and raise capital when talking to investors.
The financial model is made to derive financial projections for a Beverage Manufacturing Startup company which purchases several ingredients and additives and processes them via their own mixture and production badges. The model allows to increase the yearly production badges, their cycle times, personnel and infrastructure (new tanks) as you go and calculates the resulting increase in direct costs and other operating costs. Revenues are derived based on a three-tier distribution model where the product is sold to either distributors, retailers or directly to end-consumers assuming different pricing structures for each tier. The model then forecasts the foreseeable Income Statement, Balance Sheet and Cash Flow Statement, as well as the Free Cash Flows for the Firm and for Equity Investors. Furthermore, depending on the equity stakes offered to investors and the amount they have to fund, investor profits and returns (IRR) are calculated for up to 10 different investors.
The highlights of this financial model template are the following
Detailed operating model based on bottom-up assumption as per costs per liters or costs per gallons
Three-tier pricing model (different prices per product and per distribution channels such as selling to distributors, retailers, and to end-consumer
Projected Financial Statements (Income Statement, Balance Sheet, Cash Flow Statement)
IRR Calculation (Unlevered IRR and Levered IRR)
Calculation of funding required
Investor Funding Model with calculation of profits and returns (IRR) for up to 10 different investors based on their specific cash flow forecasts.
This financial model is especially useful when looking to raise financing from investors for a Beverage Startup company. Here a walkthrough of the model:
The model (current version 4.0) is available in two versions, a PDF Demo Version and a full version in Microsoft Excel where all cells are editable. The model has been updated in verion 4.0 to include up to 10 different investors (version only 2 in the previous version.
This model comes as Excel .xlsx file without any macros.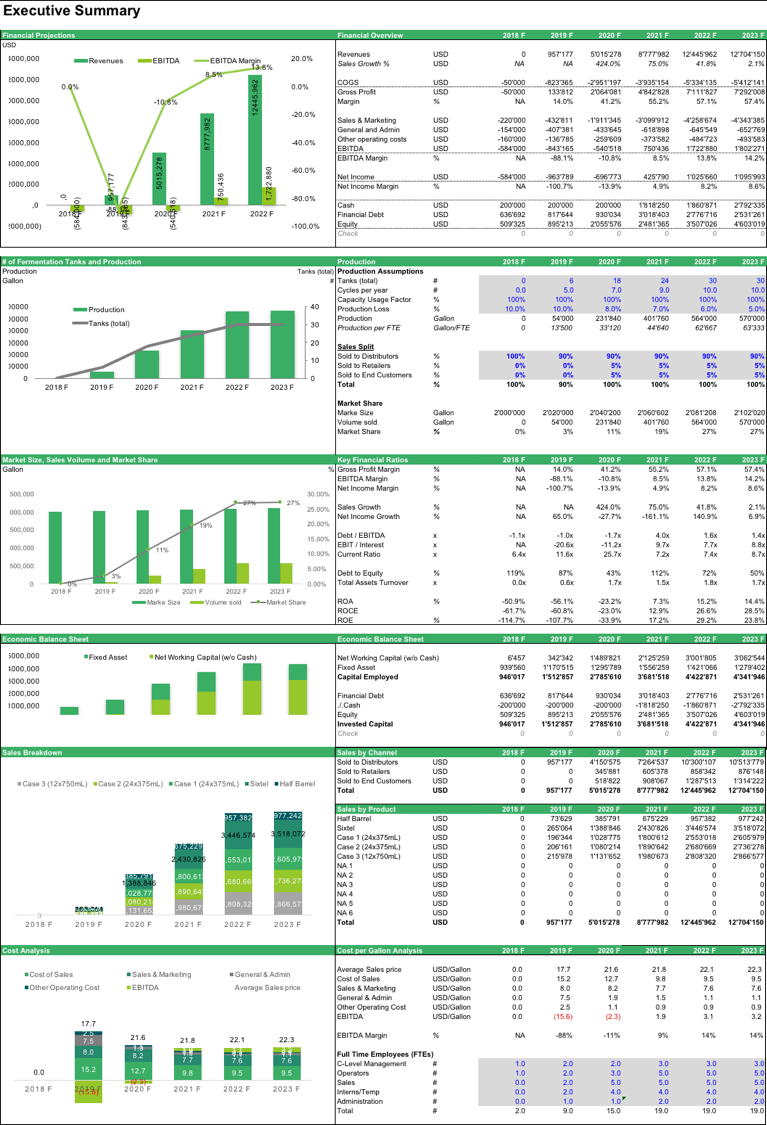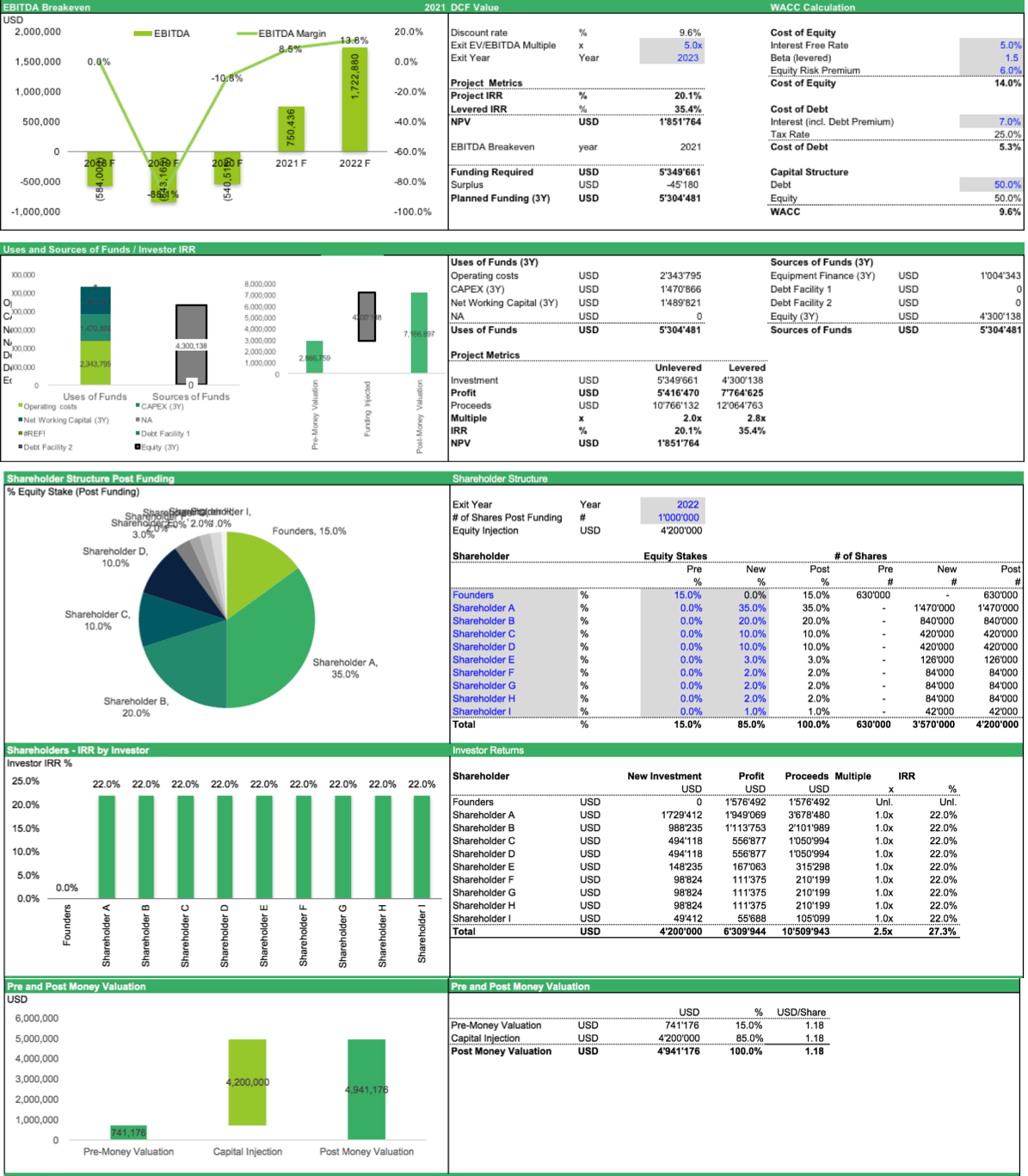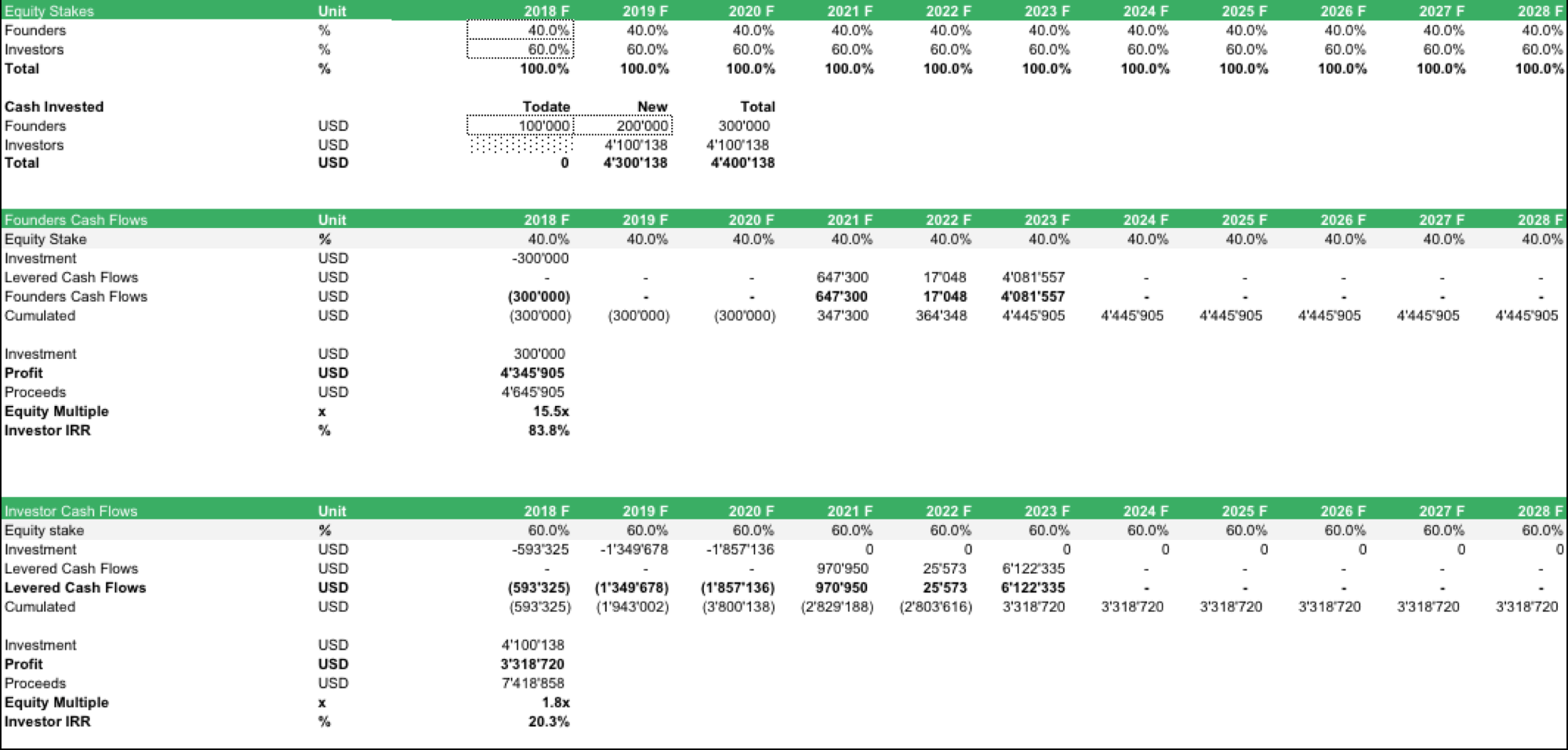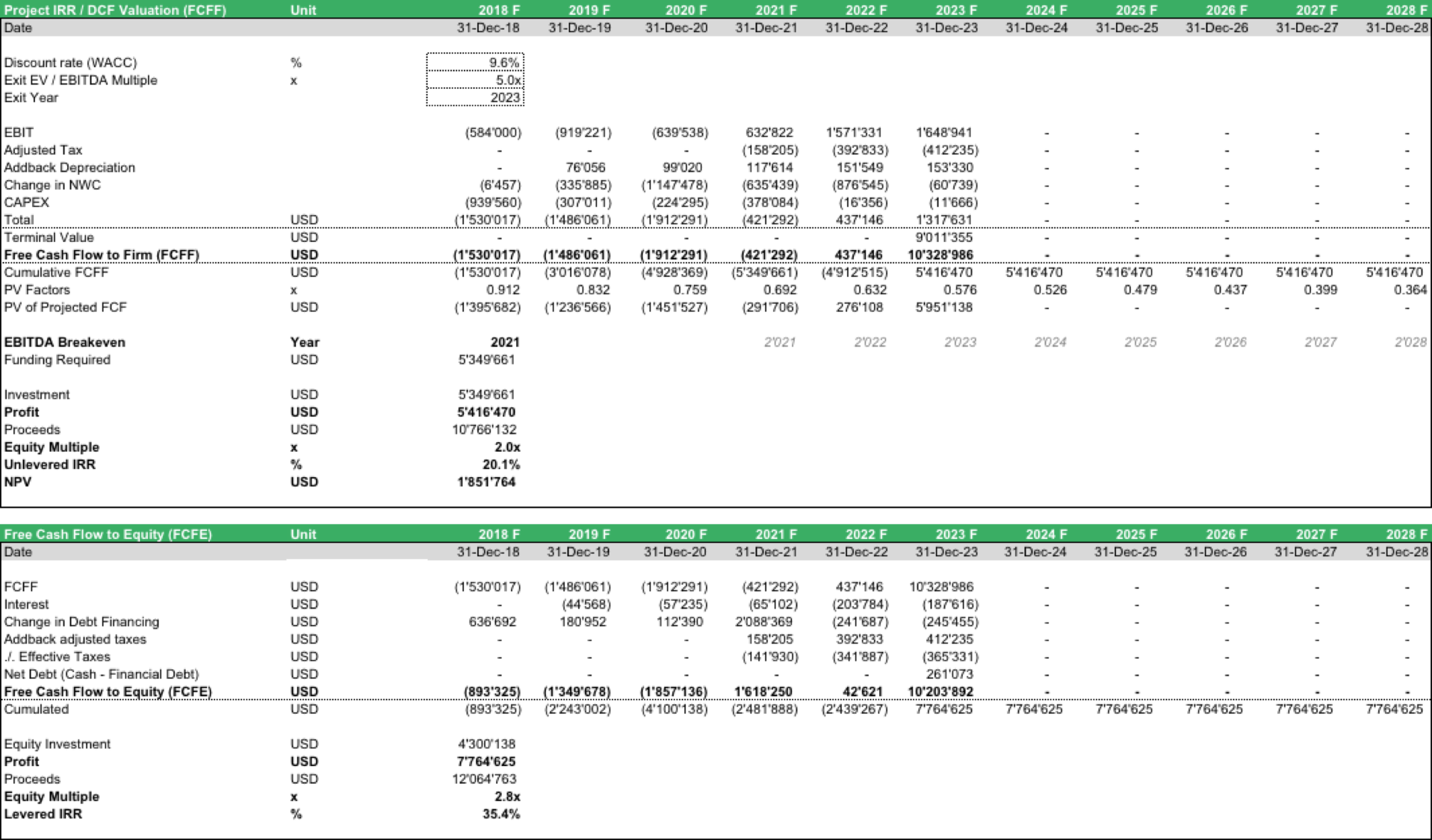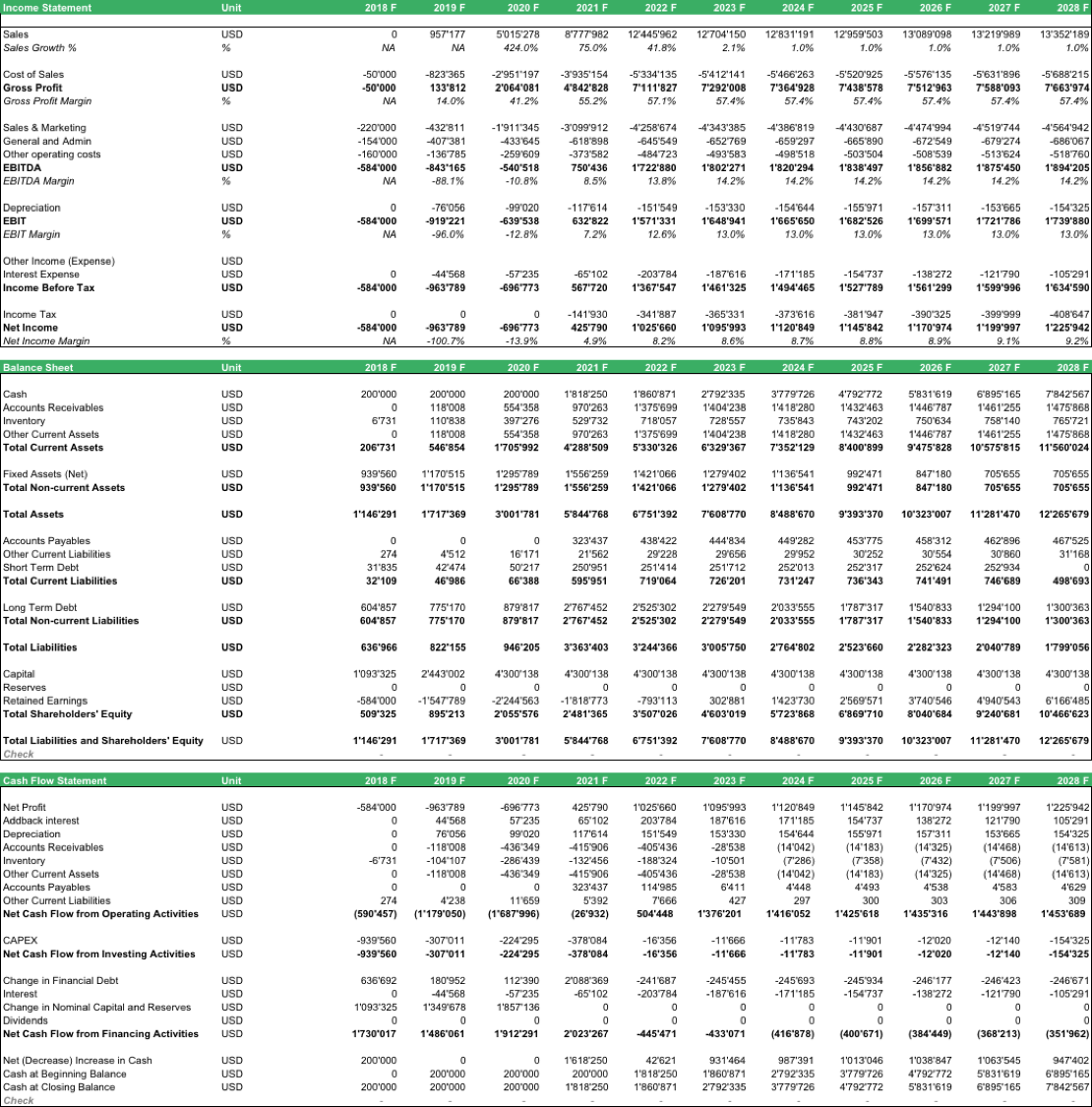 Reviews
The model I received seems to have a more elaborate equity stakes section after the FCFF and FCFE sections but the video above, I can only assume, refers to an earlier version. Could you please send the relevant updated video covering the different sections in this version? Thank you.
We will replace the video at some point. This model is not very complicated and all formulas are disclosed. You can simply go through the formulas in Excel and check how they are linked to understand the logic. Keep in mind, this is a template only and you might prefer to do things differently
Hi, I received a circular reference error when I changed the starting year to 2021 instead of the default 2018 that came with the model. I assume this the natural thing to do in 2021 – unless I am missing something.
Please help as I should not need to troubleshoot this type of error out of the box. Thank you.
Hi Kelly, as mentioned, you will need to update the exit year as well. Kindly change it from 2023 to 2026 so that your investment case reflects a standard holding period of 5 years. If the model results in an error, very often it can mean that the underlying assumptions are not consistent. That is all.
Have not purchased this model yet. Nevertheless, after comparing it with the manufacturing models, it seems more updated and detailed. it is also essentially for a startup whereas the manufacturing model has a historical and projections setup. Finally, the manufacturing model seems to be designed for the sanitary/ceramics industry, whereas the beverage manufacturing model seems to be modelled after a beer manufacturer.
Write a Review