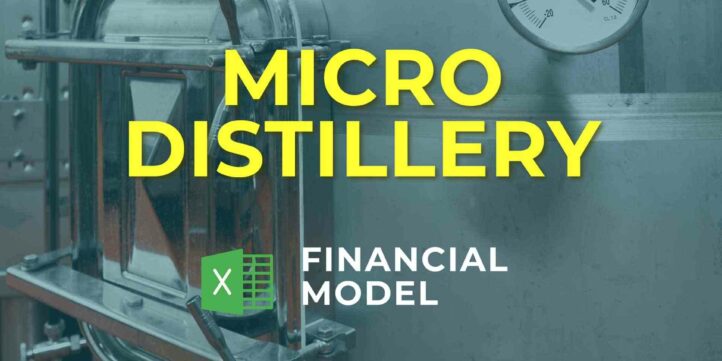 F&B (Food & Beverages), Financial Model, Manufacturing
Break-Even, Budget, Budgeting, Business Valuation, Cap Table, Cash Flow Analysis, Cash Flow Projections, Cost Calculation, Dashboard, DCF Model, Debt Amortization, Excel, Finacial Projection, Financial Feasibility, Financial Model, Financial Modeling, Free Financial Model Templates, NPV (Net Present Value), Pro-Forma, Startup Financial Models, Terminal Value, Three Statement Model | Three Financial Statements
NOTE: Single-User pertains to a limited Single User License where the template can only be used by one single user; while Multi-User is a license for users sharing the template with up to 20 members. Please refer to Terms of Use and License and Permitted Use for clarification.
MICRO DISTILLERY FINANCIAL PROJECTION KEY FEATURES
Video tutorial:
5 years forecast horizon
Generate fully integrated Micro Distillery Finance Projection for 5 years (on a monthly basis). Automatic aggregation of annual summaries on outputs tabs.
Defensible
You will be able to defend the model to CEO or investors, regardless you are CFO or a startup founder, as the entire Micro Distillery Finance Projection is built on the logic pertinent to marketplaces. You just need to make sure your assumptions are reasonable and the model will do the rest.
Complete
Everything you need is a Micro Distillery Financial Projection Template Excel has been considered and built-in.
Every revenue stream you might charge is included. Scale expenses with the automated forecast. KPIs, charts, and summary pages included.
Plan for Future Growth
Cash Flow Statement By Month can help you plan for future growth and expansion. No matter you're extending your company with new employees and need to take into account increased staff expenses. Or to scale production to keep up with increased sales, future projections help you see accurately where you're running — and how you'll get there. Forecasting is also a well-known goal-setting framework to help you plan out the financial steps your company has to take to reach targets. There's power in Cashflow Forecast and the insight they can provide your business. Fortunately, this competitive advantage comes with little effort when you use the Cash Flow Forecast.
We do the math
Startup Financial Model has all the features above ready with no formula writing, no formatting, no programming, no charting, and no expensive external consultants!
Graphical visualization in a convenient dashboard all in one
All necessary reports and calculations, including variable data for your easement, are displayed on a convenient 3 Way Forecast Model dashboard tab. You do not need to move between sheets to compare important data – everything is visible immediately.
REPORTS and INPUTS
Top Revenue
The Top revenue tab in the Financial Projection Template shows off the financial information regarding each of your offerings. In particular, with the help of this Micro Distillery Financial Projection Excel, you can obtain an annual breakdown of your revenue streams, including the revenue depth and revenue bridge.
Financial KPIs
With the assistance of the financial key performance markers (KPIs), you can follow your organization's performance and improve its financial wellbeing. This Micro Distillery Five Year Financial Projection Template permits demonstrating the key performance pointers as graphs.
Sources and Uses
The sources and uses statement presented in this Micro Distillery Financial Model Excel Template show where a company is making money and spending those funds.
Cash Flow KPIs
Cash balance. The cash balance of the Finance Projection shows the total amount of cash in a financial record of the association. Any association needs to hold accessible for a later enough proportion of cash to meet current responsibilities.
Top Expenses
It is very important for a start-up and existing company to monitor, plan, and manage its costs and expenses to maintain a good profitability level.
For this purpose, it is necessary to analyze the highest costs and always work on their optimization. In our Financial Projection Model Template, we have created a Top expense report that helps users with this task. It summarizes the four biggest expense categories and the rest of the expenses as the 'other', so the users can easily monitor these expenses and track the tendencies related to their increase or decrease from year to year.
Burn and Runway
The cash consumption rate produced by the Financial Model In Excel Template shows the distinction between the cash inflows and cash outpourings of the organization. It is basic to screen this metric since it shows how long the organization will last with its present funding level. Business proprietors can likewise observe an away from how different business systems change the cash consumption rate.