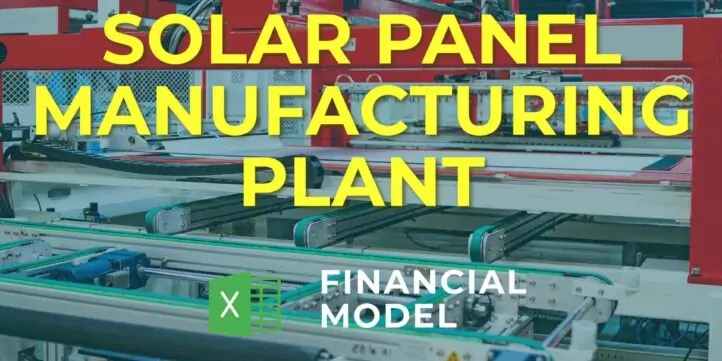 Financial Model, Manufacturing, Renewable Energy, Solar
5-year financial projections, Break-Even, Budget, Budgeting, Business Valuation, Cap Table, Cash Flow Analysis, Cash Flow Projections, Cost Projections, Dashboard, DCF Model, Economic Indicators, Excel, Finacial Projection, Financial Analysis, Financial Feasibility, Financial Model, Financial Modeling, Financial Planning, Financial Projection, Financial Projections, Financial Ratios, Financial Reporting, Financial Statements, Financing, Forecast, Forecasting, Free Financial Model Templates, Investor Cash Flows, Investors, KPIs (Key Performance Indicators), Loans, Post Money Valuation, Pre Money Valuation, Pro-Forma, Profitability Analysis, Project Finance, Startup Financial Models, Three Statement Model | Three Financial Statements, Uses and Sources of Funds, Valuation, WACC (Weighted Average Cost of Capital)
NOTE: Single-User pertains to a limited Single User License where the template can only be used by one single user; while Multi-User is a license for users sharing the template with up to 20 members. Please refer to Terms of Use and License and Permitted Use for clarification.
SOLAR PANEL MANUFACTURING PLANT PRO FORMA TEMPLATE EXCEL KEY FEATURES
Video tutorial:
Integrated Model to convince Investors
3 Way Forecast Model includes and connects everything (assumptions, calculations, outputs) and presents it in an investor-friendly, deal-proven way.
Manage surplus cash
Most companies don't have excess cash in the bank. It is a well-known situation. But managing surplus cash for reinvestment in new market opportunities, or debt repayments can be essential to keeping stay in the business. Managers are entirely ready to plan for what to do with the cash surplus if they have the forecast of when and where the business will have surplus cash in the bank account. Cashflow Forecast will provide supplementary guidance on what to do with a cash surplus.
Saves you time
Allows you to spend less time on Cash Flow Forecast and more time on your products, customers, and business development
Integrated
The entire Solar Panel Manufacturing Plant Pro Forma is integrated. If you make a change in one sheet, every dependent tab will update automatically. If you decide to scale down or up your assumptions, automation will scale too. Now you will know and understand how decisions impact your business.
Structured
You want a Solar Panel Manufacturing Plant 3 Way Forecast Excel Template to be as easy to understand as possible. You also want to make it easy for others to be able to audit if needed.
We make this 3 Way Financial Model Template a simple as possible.
Complete
Everything you need in a Solar Panel Manufacturing Plant Financial Projection has been considered and built-in.
Every revenue stream you might charge is included. Scale expenses with the automated forecast. KPIs, charts, and summary pages included.
REPORTS and INPUTS
Valuation
This Solar Panel Manufacturing Plant Three Statement Financial Model Template contains a valuation analysis template that will permit clients to play out a Discounted Cash Flow valuation (DCF). It will likewise assist clients with dissecting financial measurements as remaining value, substitution costs, market comparables, ongoing exchange comparables, and so forth
Profitability KPIs
The Solar Panel Manufacturing Plant Profit Loss Projection contains all performance estimations that identify with pre-created templates and financial reports. It also has pre-amassed proformas for Statement Of Profit And Loss Proforma, Balance Sheet, and Cash Flow Forecast, which you can use both for financial planning and presentations for investors. With these reports, you can without a very remarkable stretch screen your association's Cash Flows, revenues, costs, and profitability, including profitability edges, liquidity assessment, sources and uses, and others. The model processes profitability proportions and other performance estimations, e.g., customer making sure about costs, and KPI estimations, if applicable.
Financial Statements
Our Solar Panel Manufacturing Plant Finance Projection has a pre-built integrated financial statement structure that contains all the primary financial statements (Balance sheet, Profit And Loss Pro Forma, and Startup Cash Flow Projection) and creates financial forecasts for the next five years automatically.
This integrated financial statement structure has pre-built proformas, financial and managerial reports, and financial ratios. Users can choose the presentation of financial information in GAAP or IFRS format for their convenience.
Top Expenses
In the Top expenses part of our Solar Panel Manufacturing Plant Finance Projection, you can follow your more critical expenses separated into four classifications. The model additionally has an 'other' classification, and you can grow or change this table as indicated by your necessities. You can mirror your organization's recorded information or make a Financial Model In Excel for the five years.
Sources and Uses
The statement of the sources and uses of the Five Year Financial Projection Template gives users a summary of where capital will come from (the 'Sources') and how this capital will be spent (the 'Uses'). The statement is structured in the way that the total amounts of the sources and uses accounts should equal each other.
The sources and uses statement is critical for the situations when the company considers recapitalization, restructuring, or mergers & acquisitions (M&A) procedures.
Benchmarks
A benchmarking concentrate as the segment of the Financial Model In Excel is for the most part used to evaluate a business' performance by focusing on in any event one explicit pointers and differentiating them and relative markers of various associations in the business. In respect of the financial benchmarking study, these pointers could be profit margins, cost margins, cost per unit, productivity margins, or others. Later the association's performance markers should be stood out from that of various associations inside a comparable industry.