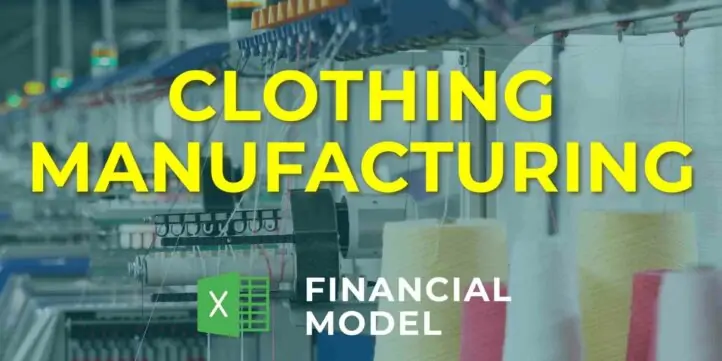 Financial Model, FMCG (Fast-Moving Consumer Goods), Manufacturing, Retail
5-year financial projections, Break-Even, Budget, Budgeting, Business Valuation, Cap Table, Cash Flow Analysis, Cash Flow Projections, Cost Calculation, Cost Projections, Dashboard, DCF Model, Excel, Finacial Projection, Financial Analysis, Financial Feasibility, Financial Model, Financial Modeling, Financial Planning, Financial Projection, Financial Projections, Financial Reporting, Financial Statements, Forecast, Forecasting, Free Financial Model Templates, Income Statement, Investor Cash Flows, Investors, Pre Money Valuation, Pro-Forma, Profitability Analysis, Revenue Projections, Terminal Value, Uses and Sources of Funds, Venture Capital
NOTE: Single-User pertains to a limited Single User License where the template can only be used by one single user; while Multi-User is a license for users sharing the template with up to 20 members. Please refer to Terms of Use and License and Permitted Use for clarification.
CLOTHING MANUFACTURING FINANCIAL MODEL EXCEL SPREADSHEET KEY FEATURES
Video tutorial:
Identify cash gaps and surpluses before they happen.
Forecasting your future cash balance helps you see well in advance when you may have a cash deficit that could hurt your business. Cash Flow Statement For 5 Years will give you enough time to take action to prevent a crisis. It will enable you to access better loan rates or speed up incoming payments to bridge the gap. On the other side, if you know ahead of time that the large lump of cash will lay in your bank account within the next three months. In this case, you might need to explore options to reinvest it in your business to drive growth.
Structured
You want a Clothing Manufacturing Financial Projection Template Excel to be as easy to understand as possible. You also want to make it easy for others to be able to audit if needed.
We make this Financial Model Excel a simple as possible.
Saves you time
Excel Pro Forma Template allows you to spend less time on finances and more time on your products, customers, and business development
Easy to follow
Clear and transparent Clothing Manufacturing Profit Loss Projection structure (15+ separate tabs, each focusing on a specific planning category, color-coded => input, calculation, and report sheets).
Simple-to-use
A very sophisticated Clothing Manufacturing Finance Projection, whatever size and stage of development your business is. Minimal previous planning experience and very basic knowledge of Excel is required: however, fully sufficient to get quick and reliable results.
Integrated
The entire Clothing Manufacturing Cashflow Projection is integrated. If you make a change in one sheet, every dependent tab will update automatically. If you decide to scale down or up your assumptions, automation will scale too. Now you will know and understand how decisions impact your business.
REPORTS and INPUTS
Financial KPIs
The Clothing Manufacturing 3 Way Financial Model has key financial pointers (KPIs) that show sales and profitability performance: revenue growth rate, gross margin, and EBITDA margin. It moreover has KPIs related to cash streams and raising investment: the cash utilization rate, runway, and funding need. You can pick the KPIs appropriate to your association and industry, and screen your association's performance. For example, SaaS associations usually screen and manage customer lifetime value (LTV), customer making sure about costs (CAC), LTV/CAC proportion, and the upset rate. For SaaS businesses, these KPIs are fundamental.
Financial Statements
P&L Projection. Our P&L Projection has a Profit and Loss Statement template that helps to track revenue and expenses. It allows users to forecast profits and losses for the next 6 or 12 months. It helps to examine the company's revenue, cost of sales, operating expenses, tax expenses, gross profit, net profit, and industry averages.
Profitability KPIs
Net profit margin. Net profit margin is a business metric of the Financial Projection Excel that shows how efficient your company is at generating profit compared to its revenue. In other words, this net profit margin metric tells users how each dollar translates into profits. The Net profit margin metric is an excellent way to forecast and manage the long-term growth of a business, i.e., how the income exceeds the business's costs.
Top Revenue
At the point when the organization's administration starts to make a Cash Flow Format In Excel, revenue is the most urgent part in the 3 Way Forecast. Revenue is one of the fundamental drivers of the venture's value in the Cash Flow Proforma. That is the reason financial examiners should give unique consideration to planning and concocting the best strategy to approach modeling future revenue streams. Revenue gauges ought to likewise have assumptions about the growth rate dependent on recorded financial information. Clients can discover all the segments of savvy financial planning of the revenue streams in our Clothing Manufacturing Financial Model Excel.
Loan opt-in
Calculating the necessary payments related to the obtained loan or mortgage is essential, especially for start-ups. At the same time, many companies may find this calculation to be a difficult task. In this case, our Cash Flow Proforma has a loan amortization schedule with an amortization calculator that will help to plan and list these loan payments.
Benchmarks
A benchmarking concentrate as the component of the Pro Forma is generally used to assess a business's performance by zeroing in on at least one specific pointers and contrasting them and comparative markers of different organizations in the business. In regard to the financial benchmarking study, these pointers could be profit margins, cost margins, cost per unit, productivity margins, or others. Later the organization's performance markers should be contrasted with that of different organizations inside a similar industry