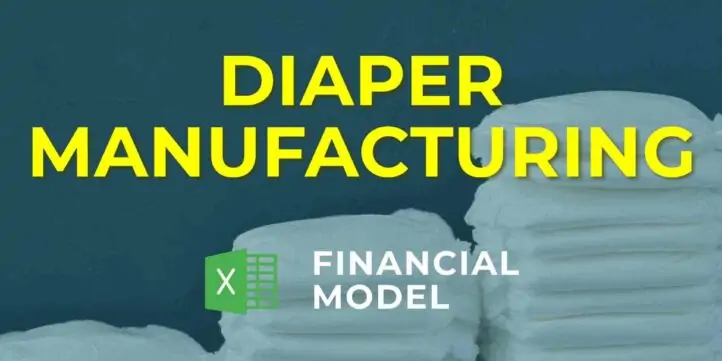 Financial Model, FMCG (Fast-Moving Consumer Goods), Manufacturing
5-year financial projections, Budgeting, Business Valuation, Cap Table, Cash Flow Analysis, Cash Flow Projections, Dashboard, DCF Model, Excel, Finacial Projection, Financial Feasibility, Financial Model, Financial Planning, Financial Projection, Financial Projections, Financial Reporting, Financial Statements, Financing, Forecast, Forecasting, Income Statement, Post Money Valuation, Property Valuation, Startup Financial Models, Terminal Value, Three Statement Model | Three Financial Statements, Uses and Sources of Funds, Valuation
NOTE: Single-User pertains to a limited Single User License where the template can only be used by one single user; while Multi-User is a license for users sharing the template with up to 20 members. Please refer to Terms of Use and License and Permitted Use for clarification.
DIAPER MANUFACTURING FINANCIAL PROJECTION TEMPLATE EXCEL KEY FEATURES
Video tutorial:
Integrated
The entire Diaper Manufacturing Three Statement Financial Model Template is integrated. If you make a change in one sheet, every dependent tab will update automatically. If you decide to scale down or up your assumptions, automation will scale too. Now you will know and understand how decisions impact your business.
External stakeholders, such as banks, may require a regular forecast.
If the business has a bank loan, the bank will ask for a Diaper Manufacturing Profit Loss Projection regularly.
Investors ready
Print-ready (including a Profit And Loss Statement, a Projected Cashflow Statement, a balance sheet, and a complete set of financial ratios).
Get a robust, powerful financial model which is fully expandable
This well-tested, robust and powerful Diaper Manufacturing Startup Financial Model is your solid foundation to plan Diaper Manufacturing business model. Advanced users are free to expand and tailor all sheets as desired, to handle specific requirements, or to get into greater detail.
Identify potential shortfalls in cash balances in advance.
The Diaper Manufacturing Finance Projection works like an 'early warning system.' It is, by far, the most significant reason for a Pro Forma Cash Flow Projection.
Get it Right the First Time
Funding is a binary event: either you succeed or you fail. If you fail, most investors won't give you a second chance. Learn about the pros and cons of Diaper Manufacturing Financial Projection Model Excel.
REPORTS and INPUTS
Financial KPIs
The Diaper Manufacturing Cash Flow Format In Excel has key financial pointers (KPIs) that show sales and profitability performance: revenue growth rate, gross margin, and EBITDA margin. It likewise has KPIs identified with cash streams and raising investment: the cash consumption rate, runway, and funding need. You can pick the KPIs pertinent to your organization and industry, and screen your organization's performance. For instance, SaaS organizations commonly screen and oversee client lifetime value (LTV), client securing costs (CAC), LTV/CAC proportion, and the agitate rate. For SaaS businesses, these KPIs are vital.
Burn and Runway
The cash burn rate is one of the tabs of the Excel Pro Forma your future investors may be very interested in. This metrics shows the time left to a complete cash burn. Also, this template shows a cash burn ratio. The calculation is based on your average annual cash balance and average monthly operating cash outflows.
Cap Table
The Financial Model Excel Spreadsheet, capitalization table, or 'cap table', lists a company's securities that include common stock, preferred stock, options, warrants, etc. It also shows who owns those securities. Business owners should keep this information organized and up-to-date to make wise decisions regarding fundraising, employee options, and acquisition offers.
Dashboard
This Diaper Manufacturing Financial Model Excel Template has an all-in-one dashboard. This tab is a snapshot of a business's start-up metrics at a particular point in time. You can see your core start-up financials, revenue breakdown by years, Cash Flow Pro Forma data, profitability forecasts, and cumulative cash flow on this dashboard in the form of charts and graphs.
Top Revenue
The top line and bottom line are two of the most important lines on a company's Pro Forma P&L Statement. Investors and analysts pay special attention to the company's revenue and profits and carefully monitor any changes regarding these financial metrics from quarter to quarter and year to year.
The top line of the Profit And Loss Projection refers to a company's revenues or gross sales. Therefore, when somebody says that the company has 'top-line growth,' it means that the company is experiencing an increase in gross sales or revenues, which should positively impact other company's financials and overall performance.
Costs
A Diaper Manufacturing Excel Pro Forma is an important financial tool that enables users to identify actual and forecasted expenditures, as well as financial resources needed to cover these costs. With a well-developed cost budget, you can see the areas where you can save money and the areas of high priority. As a part of a business plan, the cost budget supports the process of pitching to investors and loan applications.