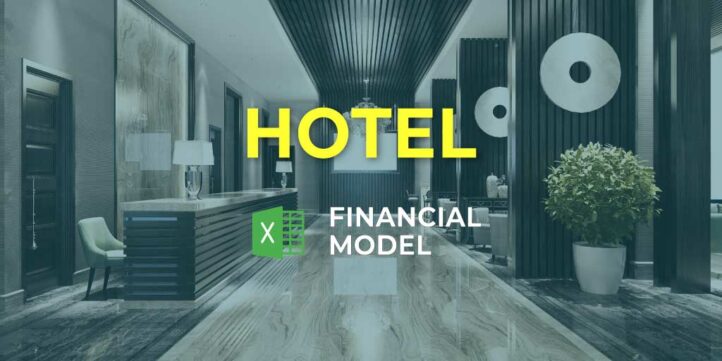 Financial Model, Hospitality, Hotel
5-year financial projections, Break-Even, Budgeting, Business Valuation, Cap Table, Cash Flow Analysis, Cash Flow Projections, Cost Projections, Dashboard, DCF Model, Debt Amortization, Debt Schedule, Excel, Financial Feasibility, Financial Model, Financial Modeling, Financial Planning, Financial Projections, Financial Reporting, Financial Statements, Financing, Forecast, Forecasting, Free Financial Model Templates, Investor Cash Flows, KPIs (Key Performance Indicators), NPV (Net Present Value), Post Money Valuation, Pre Money Valuation, Price Per Room, Pro-Forma, Profitability Analysis, Revenue Projections, Startup Financial Models, Three Statement Model | Three Financial Statements, Uses and Sources of Funds, Valuation, WACC (Weighted Average Cost of Capital)
NOTE: Single-User pertains to a limited Single User License where the template can only be used by one single user; while Multi-User is a license for users sharing the template with up to 20 members. Please refer to Terms of Use and License and Permitted Use for clarification.
HOTEL PRO FORMA TEMPLATE KEY FEATURES
Video tutorial:
It is part of the reports set you need.
It doesn't matter you are worried about cash or not, setting up, and managing a Hotel Financial Projection Template should be a cornerstone of your reporting set. It's the main report of your business that must have in place to grow sustainably. Before you rush into rent more office space or making a new hire, you should always run a Statement Of Cash Flows scenario. You can model how that action would impact your cash balance in the nearest future. Knowing whether or not plans are possible is crucial to minimizing risk.
Run different scenarios
A Cash Flow Statement Forecast shows you what your cash balance will look like taking into account the numbers you put into the template. It means you can play with the various variables that impact your cash flow forecast, i.e., wages, sales inflow, supplier payments, taxes, and so on. By adjusting the input amounts, you will be able to see what impact they will have on your businesses' cash flow and when this impact is likely to occur. A well-known example of this is the ability to forecast the effect a new member of staff might have on your cash flow over different periods. Increase the wage costs and see what happens to your cash flow. Running different scenarios in your Projected Cash Flow Statement can have several benefits.
Save time and money
Via Pro Forma you can without effort and special education get all the necessary calculations and you will not need to spend money on expensive financial consultants. Your task is building a strategy, evolution, and creativity, and we have already done the routine calculations instead of you.
Simple and Incredibly Practical
Simple-to-use yet very sophisticated Hotel Pro Forma tool. Whatever size and stage of development your business is, with minimal planning experience and very basic knowledge of Excel you can get complete and reliable results. Additionally, you will receive uncompromised after-sales service and access to valuable tutorial videos and blog posts.
Plan for Future Growth
Projected Cashflow Statement can help you plan for future growth and expansion. No matter you're extending your company with new employees and need to take into account increased staff expenses. Or to scale production to keep up with increased sales, future projections help you see accurately where you're running — and how you'll get there. Forecasting is also a well-known goal-setting framework to help you plan out the financial steps your company has to take to reach targets. There's power in Projected Cash Flow Statement Format and the insight they can provide your business. Fortunately, this competitive advantage comes with little effort when you use the Cash Flow Statement.
Investors ready
Print-ready (including a p&l proforma, a Cash Flow Statement, a balance sheet, and a complete set of financial ratios).
REPORTS and INPUTS
Profitability KPIs
EBIT. Earnings before interest and tax (EBIT) is a financial metric that subtracts the cost of sales and other operating expenses from revenues.
Liquidity KPIs
Current Ratio. The current ratio is a liquidity ratio that helps users measure a company's ability to meet short-term obligations that should be paid within a year. This financial metric tells investors how a company can maximize the current assets on its balance sheet to cover its current debts.
Cash Flow KPIs
Cash balance. The cash balance shows the total amount of money in the financial account of the company. Any company needs to hold in reserve enough amount of cash to meet current obligations.
All in One Place
Get a sophisticated but easy-to-use Pro Forma Budget that is fully expandable. Our robust and powerful Hotel 3 Way Financial Model Template will be your roadmap for many different business models. If you have financial experience, you can expand and tailor all sheets as desired.
Burn and Runway
Our Hotel Pro Forma automatically creates cash runway and cash burn analysis based on the forecasted revenues and expenses that, in their turn, show net loss, net profit, cash on hand, and breakeven analysis. You can also forecast funding requirements using a set of parameters around funding (e.g., equity, debt, grants) and expected runway to raise (for example, 18 months of forecasted expenses).
Cap Table
The Cap table in our Hotel Cash Flow Proforma Template is integrated into the cash flows. It maps the funding rounds to the financial instruments, such as equity or convertible notes. The Cap table also shows the impact of the company's decisions on share ownership and dilution.
Financial KPIs
In the Pro Forma Budget, you can visually track your key financial indicators (KPIs) for 24 months and up to five years.
The model all KPIs you might need for your company:
– EBITDA/EBIT shows your company's operational performance;
– CASH FLOWS show your company's inflows and outflows;
– CASH BALANCE this is the forecast of cash in hand you will have.
File types:
Excel – Single-User: .xlsx
Excel – Multi-User: .xlsx
Free Demo – .xlsx