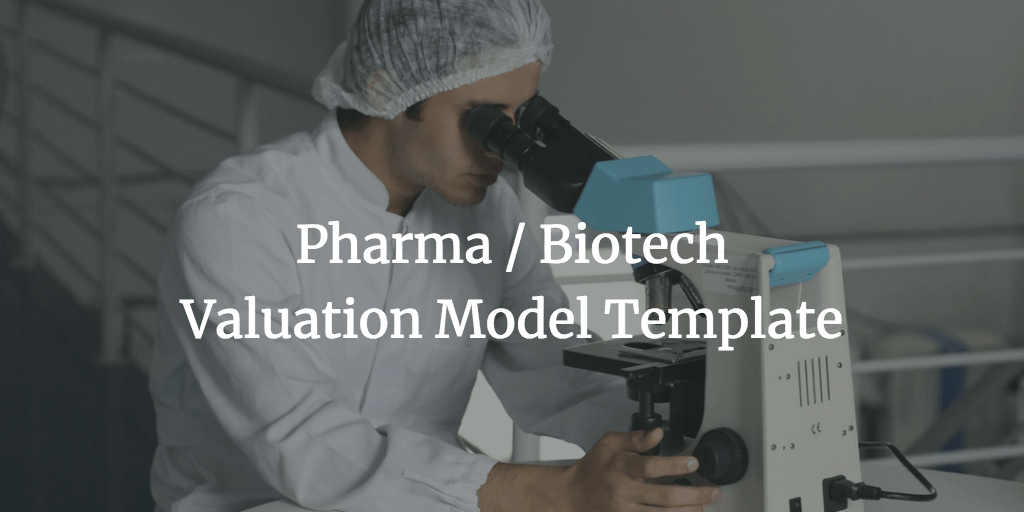 Financial Model, Life Science
10-year financial projections, 5-year financial projections, Budgeting, Business Valuation, Cash Flow Analysis, Cash Flow Projections, Dashboard, DCF Model, Excel, Financial Projections, Financing, Forecast, Forecasting, IRR (Internal Rate of Return), NPV (Net Present Value), Risk-Adjusted NPV, Startup Financial Models, Three Statement Model | Three Financial Statements, Uses and Sources of Funds, Valuation
The Pharma-Biotech Valuation Model Template calculates the risk-adjusted DCF (Discounted Cash Flow) Value of a Pharma or Biotech Company. This Excel spreadsheet template contains a great set of useful tools to better understand the value of a Pharma or Biotech company.
Typically, Pharma or Biotech companies have several products – such as drugs, vaccines, substances, medicines, or similar products – in their pipeline at various stages of development. Therefore, each product is subject to different development risks validation through clinical studies, and approval by the appropriate authorities is required. The risk will be captured in the success probability factor for each product in this biotech valuation model. The model is suitable for Biotech Startup Valuation or the Valuation of established Pharmaceutical companies. The forecast horizon covers 25 years.
The model is intended to serve the following use cases:
Risk-Adjusted Biotech Valuation (rNP)
Biotech Startup valuation
Pharma Financial Model
Fundraising – Calculation of required Funding
Investment case evaluation
This video provides an overview of this Pharma-Biotech valuation model template:
Some highlights of this spreadsheet model template:
Biotech Startup Valuation – rNPV: The model template can also be used for Biotech Startup valuation as it is able to capture the development risk at the product level.
Probability adjustments: Financial forecasts are probability adjusted at the product level to capture the development risk during clinical trials.
Include/Exclude: Each product can be included/excluded in the consolidation as needed which allows simulating a variety of different development scenarios and their financial consequences.
Product Comparisons: The Excel spreadsheet template calculates all the relevant metrics at the product level and allows a comparison of those metrics across the company's product portfolio.
Required Funding: The Excel model also allows to calculate the required funding and simulates the calculated returns from a financial investor point of view during a fund-raising exercise. The model can also capture several layers of debt financing.
Investor Returns: A shareholder and investment participation structure is applied to the Cash Flows to Equity Shareholders. This allows forecasting Pro-forma cash flows per shareholder and their expected returns (via the Internal Rate of Return, IRR) until exit.
Venture Capital Valuation: Another data point of interest is to value a Biotech Startup Company based on the Venture Capital Valuation method which discounts the value at the exit to today.
Financial Feasibility Metrics: The model calculates important financial feasibility metrics such as IRR, Payback Period on a product level and at a consolidated level.
Market Size estimations: For each product, it is also foreseen to estimate the market sizes. Each product targets a specific market, therefore some sort of analysis will be needed to understand the Total Addressable Market (TAM), the Serviceable Available Market (SAM), and the Serviceable Obtainable Market (SOM) Size.
Monthly Budget (PREMIUM Version only): The yearly budget for the first two years can be broken down by month for the first two years.
Licensing or Manufacturing: The product can either be manufactured and sold or licensed to somebody else
The Pharma-Biotech valuation template is an ideal Excel spreadsheet model to better understand the value composition of your pharmaceutical business. You can analyze each product in detail, their financial prospects, returns and combine products into a consolidated forecast as you like. This financial model template allows you to run a variety of simulations by including products in the consolidated forecast or removing them (ON/OFF Switch), adjusting their probabilities, timing, revenue, cost, and investment assumptions.
The highlights of this financial model template are the following:
General assumption sheet which captures

Currency
Inflation rate
Depreciation periods, Interest rates, taxes
Net Working Capital Assumptions
Funding assumptions
Overhead expenses
New Product Rollout Assumptions
Terminal Value, Discount Rate, and investment period assumptions
Shareholder assumptions

Product portfolio: 10-20 products (number of products dependent on the model version). Assumptions used in the model are the following ones:

Product Stages
Probabilities
Market Size estimation
Timing assumptions
Bottom-up revenue estimation based on the number of clients and average price
Two Periods: Patent and Post-Patent period
Monetization model: Product sale or Licensing per product
License rate assumption
Cost assumptions
R&D development expenses
Accounting treatment of R&D expenses (expensed or capitalized)
CAPEX

Financial Forecast Worksheet per Product

Timeline, Probability Forecasts
Fixed Asset Schedules
Profit and cash flow forecast (probability adjusted per product)
Risk-adjusted DCF Valuation per Product
Financial Feasibility Metrics per Product
Funding required per product

Financial Forecast for Overhead
Consolidated Forecast for the Company

Consolidation of the probability-weighted revenues, costs, profits, and cash flows
Three Statement Model with forecasted Income Statement, Balance Sheet and Cash Flow statement
Forecasted Financial Ratios
Debt schedules
Free Cash Flow Forecast
Consolidated Risk-Adjusted DCF Valuation
Consolidated Financial Metrics and Funding Required
Investor Cash Flow Forecast

Summary Sheet

Summary of Financial Statement Forecasts
Various Charts and Tables
Breakdowns of Revenues and EBITDA
Breakdown of the Company's risk-adjusted DCF Valuation by product
Market size summary
Investor return comparison
Monthly Budget Sheet:

Monthly Budget Allocation (Premium Version only) for the first two years

Sheet with instructions on how to use the model
Terms and Abbreviations
We hope this Pharma-Biotech valuation model template provides an essential tool when it comes down to value a Pharma or Biotech Startup company.
This model is aimed at advanced users, familiar with MS Excel and Life Science Valuation Methods.
The current model version is 2.0 and it is available in two fully editable Excel versions and PDF Demo versions:
Premium Version (20 products, 10 shareholders, Monthly Budget sheet)
Basic Version (only 10 products, 5 shareholders, without Monthly Budget Sheet)
PDF Demo Versions which outline the exact model structure
File types: .xlsx and .pdf
Reviews
Seems excellent and sufficiently clear even for a non technical (financial speaking) user.
Only a remark so far: the list of candidate or actual drugs. Additional couple of lines and spreadsheet shall suffice.
Write a Review