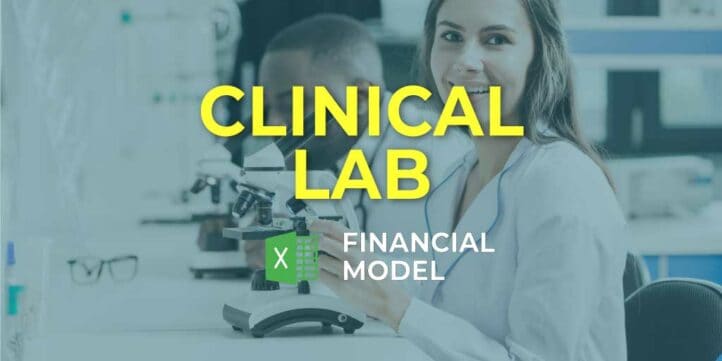 Clinics, Financial Model, Health Care, Hospitals, Laboratories
5-year financial projections, Amortization, Break-Even, Business Valuation, Cap Table, Cash Flow Projections, Cost Calculation, Cost Projections, DCF Model, Debt Amortization, Economic Indicators, Excel, Financial Model, Financial Planning, Financial Projections, Financial Reporting, Financial Statements, Forecast, Forecasting, Free Financial Model Templates, Loans, NPV (Net Present Value), Pro-Forma, Revenue Projections, Startup Financial Models, Terminal Value, Three Statement Model | Three Financial Statements, Uses and Sources of Funds, Valuation
NOTE: Single-User pertains to a limited Single User License where the template can only be used by one single user; while Multi-User is a license for users sharing the template with up to 20 members. Please refer to Terms of Use and License and Permitted Use for clarification.
CLINICAL LAB PRO FORMA BUDGET KEY FEATURES
Video tutorial:
Get Investors to Notice
Most entrepreneurs can't get investors to return their calls. With the Clinical Lab Profit Loss Projection, you will secure meetings with potential investors easily.
Better decision making
Make better operational decisions with the help of creating Statement Of Cash Flows scenarios in your Excel Template. Perhaps you have to choose between new staff members or investment in equipment, and you are wondering which decision to chose. Variants forecasting will give you the information you need to make these decisions with confidence that you know what impact they will have on your cash balance.
Convince investors and lenders
Enhance your pitches and impress potential financiers with a Financial Projection Model Excel delivering the right information and expected financial and operational metrics. Facilitate your negotiations with investors for successful funding. Raise money more quickly and refocus on your core business.
Simple and Incredibly Practical
Simple-to-use yet very sophisticated Clinical Lab Pro Forma Template. Whatever size and stage of development your business is, with minimal planning experience and very basic knowledge of Excel you can get complete and reliable results.
5 years forecast horizon
Generate fully-integrated Clinical Lab Pro Forma Budget for 5 years (on a monthly basis). Automatic aggregation of annual summaries on outputs tabs.
Currency for inputs and denomination
In Financial Projection Template Excel define any currency code or symbol and preferred denomination (e.g. 000s) to reflect your preferences.
REPORTS and INPUTS
Break Even
The break even point excel (BEA) is a useful financial tool that helps companies study the relationship between fixed and variable costs and revenue. This analysis calculates the break-even point (BEP), indicating when an investment in the start-up will generate a positive return.
Our Clinical Lab Budget Financial Model represents the break even formula excel graphically and as a mathematical calculation. It calculates the required sales volume at a certain sales price that will cover its overall costs.
Benchmarks
Our Cash Flow Proforma Template has the proforma for industry benchmark analysis. Industry benchmarks, including the financial benchmarks, show users the comparison of performance indicators, e.g., financial indicators, with similar performance indicators of the other companies in the same industry.
All in One Place
This Clinical Lab Three Statement Financial Model will give the entrepreneurs financial assumptions regarding costs and income that can be brought together to get the business's full picture.
Burn and Runway
This Clinical Lab Pro Forma Projection automatically calculates the cash burn rate based on the inputs from other spreadsheets, in particular, from the startup cash flow projection.
Valuation
With our Clinical Lab Financial Model In Excel Template, you will get proformas for valuation analysis. You will be able to perform a Discounted Cash Flow (DCF) valuation analysis and other valuations you may need.
Performance KPIs
Cost of acquiring new customers. The cost of acquiring new customers is a critical financial metric for start-ups, and it should be in our Clinical Lab Financial Model In Excel. The cost of acquiring new customers is the total cost of the marketing divided by the customers' number during the year.
Loan opt-in
Our Clinical Lab Pro Forma Budget has a loan amortization schedule that will help users track everything related to their loans. You can find this template in the 'Capital' tab.
The loan amortization schedule has proformas with pre-built formulas for internal calculations of the loans, interest, and equity.
File types:
Excel – Single-User: .xlsx
Excel – Multi-User: .xlsx
Free Demo – .xlsx