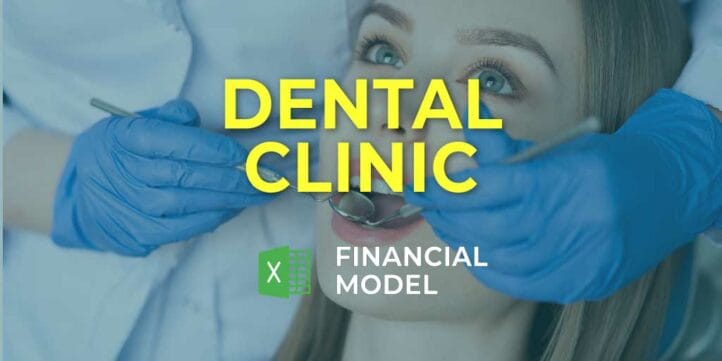 Clinics, Financial Model, Health Care, Hospitals
5-year financial projections, Break-Even, Budgeting, Business Valuation, Cap Table, Cash Flow Analysis, Cash Flow Projections, Cost Calculation, Cost Projections, Dashboard, DCF Model, Debt Amortization, Excel, Financial Feasibility, Financial Model, Financial Modeling, Financial Planning, Financial Projections, Financial Reporting, Financial Statements, Forecast, Forecasting, Free Financial Model Templates, Pre Money Valuation, Pro-Forma, Profitability Analysis, Revenue Projections, Startup Financial Models, Terminal Value, Three Statement Model | Three Financial Statements, Uses and Sources of Funds, Valuation
NOTE: Single-User pertains to a limited Single User License where the template can only be used by one single user; while Multi-User is a license for users sharing the template with up to 20 members. Please refer to Terms of Use and License and Permitted Use for clarification.
DENTAL PRACTICE THREE STATEMENT FINANCIAL MODEL TEMPLATE KEY FEATURES
Video tutorial:
Key Metrics Analysis
Creates 5-year Dental Practice Cash Flow Proforma Template, proforma, financial statements, and financial ratios in GAAP or IFRS formats on the fly.
Plan for Future Growth
Cash Flow Statement Forecast can help you plan for future growth and expansion. No matter you're extending your company with new employees and need to take into account increased staff expenses. Or to scale production to keep up with increased sales, future projections help you see accurately where you're running — and how you'll get there. Forecasting is also a well-known goal-setting framework to help you plan out the financial steps your company has to take to reach targets. There's power in Cash Flow Pro Forma and the insight they can provide your business. Fortunately, this competitive advantage comes with little effort when you use the Cash Flow Forecast.
Track your spending and staying within budget
Have you written a vague idea of cash inflows and cash outflows on the back of a napkin? All is well and good. Looking at the profit and loss statement proforma will give you a snapshot of the past business performance, but it won't show the future in terms of the Cash Flow Statement Proforma. With a cash flow forecast, you can plan future cash inflows and cash outflows and compare them to the budget, which can be invaluable information.
Spot problems with customer payments
Preparing the Cash Flow Statement For 5 Years encourages the business to look at how quickly customers are paying their debts. Identify unpaid invoices and take necessary actions to make them pay.
Manage surplus cash
Most companies don't have excess cash in the bank. It is a well-known situation. But managing surplus cash for reinvestment in new market opportunities, or debt repayments can be essential to keeping stay in the business. Managers are entirely ready to plan for what to do with the cash surplus if they have the forecast of when and where the business will have surplus cash in the bank account. Cash Flow Statement Forecast will provide supplementary guidance on what to do with a cash surplus.
Graphical visualization in a convenient dashboard all in one
All necessary reports and calculations, including variable data for your easement, are displayed on a convenient Finance Projection dashboard tab. You do not need to move between sheets to compare important data – everything is visible immediately.
REPORTS and INPUTS
Performance KPIs
Payback period. The cost of acquiring new customers should be compared to the profits that these customers generate. When these two numbers are divided, the result is called a payback period.
Burn and Runway
This Dental Practice Five Year Financial Projection Template automatically calculates the cash burn rate based on the inputs from other spreadsheets, in particular, from the projected cash flow statement.
Loan opt-in
The start-ups and growing companies need to monitor and manage their loan repayment schedules. Usually, such schedules reflect the company's loan line-by-line breakdown with information about their amounts, maturity terms, and others.
This loan repayment schedule is an important part of a company's cash flow analysis. Also, interest expense in the debt schedule impacts the company's cash flow pro forma, and the closing debt balance flows onto the balance sheet. Moreover, the principal repayments flow through the cash flow forecast as a part of the company's financing activities.
Top Expenses
The Top expenses tab of the Dental Practice Financial Projection Excel reflects your company's annual expenses, both total and grouped by four categories.
This Cash Flow Format In Excel provides an overview of annual expenses on customer acquisition, COSS placeholders, wages & salaries, fixed and variable expenses, and all other expenses.
Profitability KPIs
EBITDA. Earnings before interest, tax, depreciation, and amortization (EBITDA) is the primary measure of a company's operating performance.
Costs
Start-up costs are an essential part of any Cash Flow Proforma Template. They begin to accrue before actual operations start, so it is crucial to monitor them early to avoid overspendings and underfunding. Our Dental Practice Financial Model Excel Template has the proforma for start-up costs that show both funding and expenses. You can use this proforma to monitor your expenses and create cost budgets.
Benchmarks
The financial benchmarking study tab in this Excel Financial Model will help the companies assess their key performance indicators and compare them with other companies' KPIs.
The term 'benchmarking' means the process of comparing the business, financial or other metrics of your company to that of other firms within the same industry. It is essential to use other businesses' best practices in the same industry as a 'benchmark' to improve your own company's standards.
As a result of the benchmarking study, companies can learn how to operate in a certain industry more efficiently. This benefit makes the financial benchmarking study an essential planning tool for start-ups.
File types:
Excel – Single-User: .xlsx
Excel – Multi-User: .xlsx
Free Demo – .xlsx