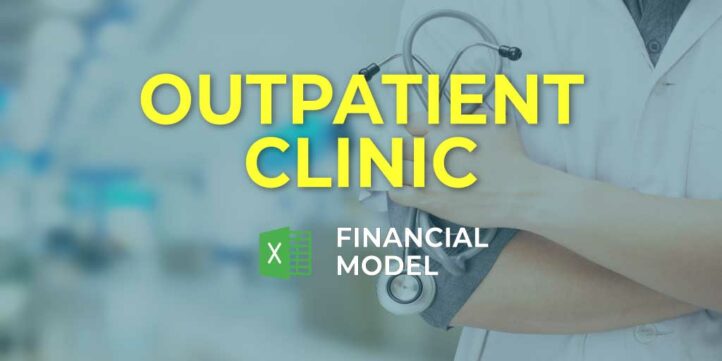 Clinics, Financial Model, Health Care, Hospitals, Service Businesses
5-year financial projections, Break-Even, Business Valuation, Cap Table, Cash Flow Analysis, Cash Flow Projections, Cost Calculation, Cost Projections, DCF Model, Debt Amortization, Debt Schedule, Economic Indicators, Employee Performance, Excel, Financial Feasibility, Financial Model, Financial Planning, Financial Projections, Financial Reporting, Financial Statements, Forecast, Forecasting, Free Financial Model Templates, Investor Cash Flows, KPIs (Key Performance Indicators), Pro-Forma, Revenue Projections, Sensitivity Analysis, Startup Financial Models, Three Statement Model | Three Financial Statements, Uses and Sources of Funds, Valuation, WACC (Weighted Average Cost of Capital)
NOTE: Single-User pertains to a limited Single User License where the template can only be used by one single user; while Multi-User is a license for users sharing the template with up to 20 members. Please refer to Terms of Use and License and Permitted Use for clarification.
OUTPATIENT CLINIC CASHFLOW PROJECTION KEY FEATURES
Video tutorial:
Update anytime
You can easily adjust inputs at the launch stage and throughout the further activities of your business to refine your Outpatient Clinic Profit Loss Projection.
Convenient, All-In-One Dashboard
Includes all required forecasting reports, including assumptions, pro forma profit and loss, projected cash flow statement format, balance sheets, performance reviews and summaries for months and years (incl. numerous graphs and KPIs).
Avoid Cash Flow Shortfalls
Unexpected Cash Flow Statement Proforma shortfalls can cause significant damage to your business, and it may take months to recover. Negative Cash Flow can appear if you don't continuously track the incoming cash and outgoing of your business. Fortunately, you can solve Projected Cashflow Statement shortfalls with a bit of effort. Forecasting your Cash Flow Statement For 5 Years will help you identify — and plan for — market fluctuations, sales seasonality, and other cases that can lead to unpredictable Cashflow Forecast. Startup Cash Flow Statement can even help you visualize Cash Flow Statement Projection trends with the help of automatically generated charts and graphs.
Build your plan and pitch for funding
Impress bankers and investors with a proven, solid outpatient clinic financial model that impresses every time.
Easy to follow
Clear and transparent Outpatient Clinic Pro Forma Budget structure (15+ separate tabs, each focusing on a specific planning category, colour coded => input, calculation and report sheets).
Get a Robust, Powerful and Flexible Financial Model
This well-tested, robust and powerful Outpatient Clinic Pro Forma Template is your solid foundation to plan a business model. Advanced users are free to expand and tailor all sheets as desired, to handle specific requirements or to get into greater detail.
REPORTS and INPUTS
Benchmarks
The financial benchmarking study tab in this Five Year Financial Projection Template will help the companies assess their key performance indicators and compare them with other companies' KPIs.
The term 'benchmarking' means the process of comparing the business, financial or other metrics of your company to that of other firms within the same industry. It is essential to use other businesses' best practices in the same industry as a 'benchmark' to improve your own company's standards.
As a result of the benchmarking study, companies can learn how to operate in a certain industry more efficiently. This benefit makes the financial benchmarking study an essential planning tool for start-ups.
Profitability KPIs
Growth of net income. Many financial metrics can be calculated from the Outpatient Clinic 3 Way Financial Model Template. Entrepreneurs want to see the growth of their company, and the growth of net income is one of the essential metrics that shows that the company is growing and developing. This metric means that the sales are growing and costs are managed wisely, and, respectively, the pro forma income statement for startup shows the net income growth.
Performance KPIs
Return on equity. The return on equity financial metric can be calculated based on the information both from the Balance Sheet and pro forma profit and loss. It measures the correspondence of earnings to the equity, i.e., the amount of money used to get profits.
Valuation
With our pre-built valuation template in the Outpatient Clinic Financial Model, you will receive all the data your investors might need.
The weighted average cost of capital (WACC) will show your stakeholders the minimum return on enterprise funds invested in its activities capital. Free cash flow valuation will show a cash flow available to all investors, including shareholders and creditors. Discounted cash flow will reflect the value of future cash flows in relation to the current time.
Liquidity KPIs
Quick Ratio or Acid-Test Ratio. The quick ratio or acid-test ratio uses a firm's balance sheet data to analyze if it has sufficient short-term assets to cover its short-term liabilities. This metric ignores less liquid assets like such as inventory.
All in One Place
This Outpatient Clinic Financial Projection Template Excel is key for investors. You will need a Pro Forma Template Excel to validate how much money you need to start-up with and how much your investor can make on this investment. Remember that investors are not tolerant to start-ups that do not have a business plan or a Financial Projection Model Excel.
Sources and Uses
The sources and uses of funds proforma in this Outpatient Clinic Profit Loss Projection tell stakeholders the sources where a company obtains its money and how it spends it.
File types:
Excel – Single-User: .xlsx
Excel – Multi-User: .xlsx
Free Demo – .xlsx
Reviews
I like the "feel" of the program but not so much the content input. Expenses were not articulated enough; narrow range and not easy to use or input. Model was not as intuitive as I would have liked.
Write a Review