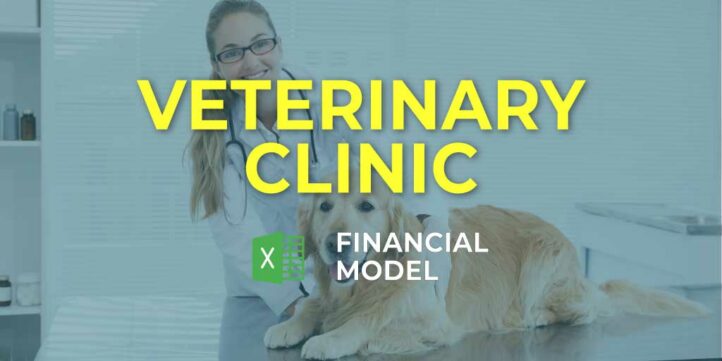 Clinics, Financial Model, Health Care, Hospitals
5-year financial projections, Break-Even, Budget, Budgeting, Business Valuation, Cap Table, Cash Flow Analysis, Cash Flow Projections, Cost Calculation, Cost Projections, Debt Amortization, Debt Schedule, Excel, Financial Feasibility, Financial Model, Financial Planning, Financial Projections, Financial Reporting, Financial Statements, Forecast, Forecasting, Free Financial Model Templates, KPIs (Key Performance Indicators), Pro-Forma, Revenue Projections, Startup Financial Models, Terminal Value, Three Statement Model | Three Financial Statements, Uses and Sources of Funds, Valuation
NOTE: Single-User pertains to a limited Single User License where the template can only be used by one single user; while Multi-User is a license for users sharing the template with up to 20 members. Please refer to Terms of Use and License and Permitted Use for clarification.
VETERINARY FINANCIAL PROJECTION TEMPLATE EXCEL KEY FEATURES
Video tutorial:
Simple and Incredibly Practical
Simple-to-use yet very sophisticated Veterinary Cashflow Projection. Whatever size and stage of development your business is, with minimal planning experience and very basic knowledge of Excel you can get complete and reliable results.
Avoid Cash Flow Shortfalls
Unexpected Cashflow Forecast shortfalls can cause significant damage to your business, and it may take months to recover. Negative Cash Flow can appear if you don't continuously track the incoming cash and outgoing of your business. Fortunately, you can solve Cash Flow Statement Proforma shortfalls with a bit of effort. Forecasting your Statement Of Cash Flows will help you identify — and plan for — market fluctuations, sales seasonality, and other cases that can lead to unpredictable Cash Flow Statement. Startup Cash Flow Projection can even help you visualize Cash Flow Statement Proforma trends with the help of automatically generated charts and graphs.
Currency for inputs and denomination
In Cash Flow Format In Excel define any currency code or symbol and preferred denomination (e.g. 000s) to reflect your preferences.
Easy to follow
Clear and transparent Veterinary Three Statement Financial Model structure (15+ separate tabs, each focusing on a specific planning category, colour coded => input, calculation and report sheets).
Generate growth inspiration
By running various scenarios and looking at the effects they could have on your cash balance, you will begin to see which options are best for your business. Ones that are possible, and what is involved in making them work. Organic growth isn't the only option – there are growing funding options becoming available, and Cash Flow Statement Projection could be a way of looking at the impact an injection of cash could have on your business and its growth plans.
Build your plan and pitch for funding
Impress bankers and investors with a proven, solid veterinary financial model that impresses every time.
REPORTS and INPUTS
Cap Table
The Cap table template in our Veterinary Financial Model In Excel Template includes four rounds of financing, and it shows how the shares issued to new investors impact the investment income. After each round of financing, the Cap table shows users the ownership structure and the percentage of changes, i.e., the dilution.
CAPEX
Detailed capital expenditure (i.e., CAPEX ) planning and automatic calculation of depreciation is an essential part of any Financial Model. Our CAPEX calculation template allows users to apply straight-line or double-declining balance depreciation for financial planning purposes.
Costs
Our Veterinary Cash Flow Proforma has a well-developed methodology for creating a cost budget. You can plan and forecast your costs from operations and other expenses for up to 72 months. The cost budget has a detailed hiring plan while also automatically handling the expenses' accounting treatment. You can set salaries, job positions, and the time of hiring.
Moreover, the model allows users to calculate hiring as the company scales automatically. Pre-built expense forecasting curves enable users to set how an expense changes over time. These pre-built options include % of revenues, % of salaries, % of any revenue category, growth (or decline) rates that stay the same or change over time, ongoing expenses, expenses that periodically reoccur, expenses that regularly change, and many more. Costs can be allocated to key expense areas and labeled for accounting treatment as SG&A, COGS, or CAPEX.
Burn and Runway
The cash burn rate shows the difference between the cash inflows and cash outflows of the company. It is essential to monitor this metric because it shows how long the company will last with its current funding level. Business owners can also see a clear picture of how various business strategies change the cash burn rate.
Top Revenue
The top line and bottom line are two of the most important lines on a company's profit and loss pro forma. Investors and analysts pay special attention to the company's revenue and profits and carefully monitor any changes regarding these financial metrics from quarter to quarter and year to year.
The top line of the pro forma profit and loss statement refers to a company's revenues or gross sales. Therefore, when somebody says that the company has 'top-line growth,' it means that the company is experiencing an increase in gross sales or revenues, which should positively impact other company's financials and overall performance.
Cash Flow KPIs
Cash conversion cycle (CCC). The cash conversion cycle (CCC) is a financial metric that expresses the time it takes for a company to convert its resources in the form of inventory and other resources into cash flows. The cash conversion cycle is also called the Net Operating Cycle.
CCC measures how long each dollar that the company inputted is tied up in the production and sales process before it gets converted into cash.
The cash conversion cycl metric accounts for various factors, such as how much time it takes to sell inventory, how much time it takes to collect accounts receivable, and how much time it takes to pay obligations.
Operational KPIs
Our Veterinary Startup Financial Model has various operational performance graphs that will help business owners manage their business' finances and measure their overall performance. These operational performance graphs also help in making wise business decisions that consider the company's financial capability.
The financial graphs in this Veterinary Three Statement Financial Model help measure the company's financial health showing the operating cash flows' analysis, return on investment, debt to equity ratio, liquidity ratios, and other relevant financial information. Business owners can use these operational performance graphs both for internal and external purposes.
In particular, they can use these graphs to assess the company's overall financial performance or for the assessment of the project's financial feasibility. Such an approach will improve the financial management efficiency of the company. Business owners can also use these charts and graphs for the presentations for potential investors and bankers. The operational performance graphs have all the necessary pre-built formulas, and they are fully formatted. So, the users can just print out them and bring for the meeting with investors.
File types:
Excel – Single-User: .xlsx
Excel – Multi-User: .xlsx
Free Demo – .xlsx