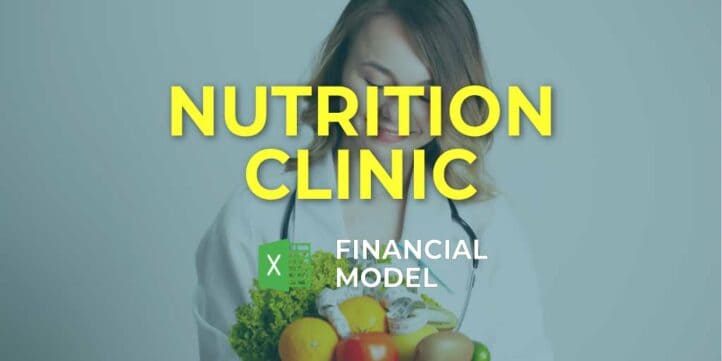 Clinics, Financial Model, Health Care, Hospitals
5-year financial projections, Amortization, Break-Even, Cap Table, Cash Flow Projections, Cost Calculation, Cost Projections, DCF Model, Debt Amortization, Debt Schedule, Economic Indicators, Employee Performance, Excel, Financial Feasibility, Financial Model, Financial Planning, Financial Projections, Financial Reporting, Financial Statements, Forecast, Forecasting, Free Financial Model Templates, Investor Cash Flows, KPIs (Key Performance Indicators), NPV (Net Present Value), Pro-Forma, Profitability Analysis, Revenue Projections, Startup Financial Models, Terminal Value, Three Statement Model | Three Financial Statements, Uses and Sources of Funds, Valuation, WACC (Weighted Average Cost of Capital)
NOTE: Single-User pertains to a limited Single User License where the template can only be used by one single user; while Multi-User is a license for users sharing the template with up to 20 members. Please refer to Terms of Use and License and Permitted Use for clarification.
NUTRITIONIST THREE STATEMENT FINANCIAL MODEL KEY FEATURES
Video tutorial:
Get it Right the First Time
Funding is a binary event: either you succeed or you fail. If you fail, most investors won't give you a second chance. Learn about the pros and cons with Nutritionist Financial Projection Template.
Save Time and Money
Nutritionist Financial Model Excel allows you to start planning with minimum fuss and maximum of help. No writing formulas, no formatting, no programming, no charting, and no expensive external consultants. Plan the growth of your business instead of fiddling around with expensive techy things.
Avoid Cash Flow Shortfalls
Unexpected Projected Cash Flow Statement shortfalls can cause significant damage to your business, and it may take months to recover. Negative Cash Flow can appear if you don't continuously track the incoming cash and outgoing of your business. Fortunately, you can solve Startup Cash Flow Projection shortfalls with a bit of effort. Forecasting your Projected Cash Flow Statement will help you identify — and plan for — market fluctuations, sales seasonality, and other cases that can lead to unpredictable Projected Cashflow Statement. Cash Flow Statement For 5 Years can even help you visualize Cash Flow Statement By Month trends with the help of automatically generated charts and graphs.
Print-ready Reports
Solid package of print-ready reports, including a income statement projection, projected cash flow statement, a balance sheet, and a complete set of financial ratios.
Simple-to-use
A very sophisticated Nutritionist Financial Model, whatever size and stage of development your business is. Minimal previous planning experience and very basic knowledge of Excel is required: however, fully sufficient to get quick and reliable results.
Gaining trust from stakeholders
Investors and financing providers tend to think in terms of the big picture. They want the c-level of the companies they invest in to do the same to ensure they maintain a clear idea of the future. Providing stakeholders with a monthly cash flow projection will demonstrate a level of awareness that leads to confidence and trust and will make it easier to raise more investment.
REPORTS and INPUTS
Burn and Runway
Our Nutritionist Finance Projection automatically creates cash runway and cash burn analysis based on the forecasted revenues and expenses that, in their turn, show net loss, net profit, cash on hand, and break even analysis. You can also forecast funding requirements using a set of parameters around funding (e.g., equity, debt, grants) and expected runway to raise (for example, 18 months of forecasted expenses).
Loan opt-in
Similar to the amortization of the Nutritionist Financial Projection Model assets, a loan amortization reflects the spreading out the repayment of a loan for a certain period that covers several reporting periods. The process of loan amortization includes a series of fixed payments over time. Usually, companies make these payments on a monthly basis, but there may also be quarterly or annual payments.
Profitability KPIs
Growth of net income. Many financial metrics can be calculated from the Nutritionist Finance Projection. Entrepreneurs want to see the growth of their company, and the growth of net income is one of the essential metrics that shows that the company is growing and developing. This metric means that the sales are growing and costs are managed wisely, and, respectively, the profit and loss projection shows the net income growth.
Top Revenue
The Top revenue tab in the Five Year Financial Projection Template shows off the financial information regarding each of your offerings. In particular, with the help of this Nutritionist Three Statement Financial Model Template, you can obtain an annual breakdown of your revenue streams, including the revenue depth and revenue bridge.
Cap Table
Our Nutritionist 3 Way Forecasthas a cap table proforma on a separate Excel spreadsheet. It shows the ownership breakdown of your start-up at different periods. A cap table tells investors how much money they will make if they decide to exit.
Cash Flow KPIs
Cash conversion cycle (CCC). The cash conversion cycle (CCC) is a financial metric that expresses the time it takes for a company to convert its resources in the form of inventory and other resources into cash flows. The cash conversion cycle is also called the Net Operating Cycle.
CCC measures how long each dollar that the company inputted is tied up in the production and sales process before it gets converted into cash.
The cash conversion cycl metric accounts for various factors, such as how much time it takes to sell inventory, how much time it takes to collect accounts receivable, and how much time it takes to pay obligations.
Valuation
This Budget Financial Model has a valuation report template that will allow users to perform a Discounted Cash Flow valuation with just a few rate inputs in the Cost of Capital.
File types:
Excel – Single-User: .xlsx
Excel – Multi-User: .xlsx
Free Demo – .xlsx