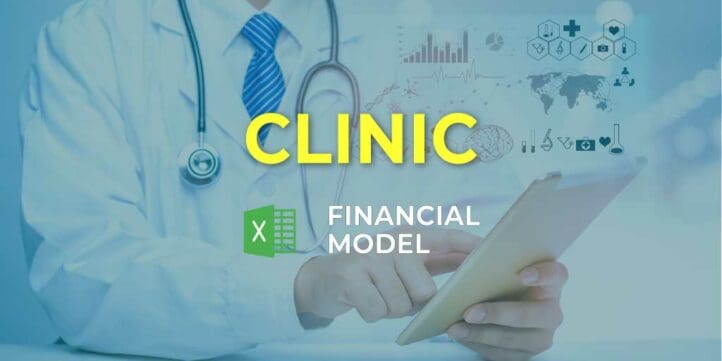 Clinics, Financial Model, Health Care, Hospitals
5-year financial projections, Break-Even, Budgeting, Business Valuation, Cap Table, Cash Flow Analysis, Cash Flow Projections, Cost Calculation, Cost Projections, Customer Lifetime Value, DCF Model, Debt Amortization, Debt Schedule, Excel, Financial Feasibility, Financial Model, Financial Modeling, Financial Planning, Financial Projection, Financial Projections, Financial Reporting, Financial Statements, Forecast, Forecasting, Free Financial Model Templates, Investor Cash Flows, Pre Money Valuation, Pro-Forma, Profitability Analysis, Revenue Projections, Startup Financial Models, Three Statement Model | Three Financial Statements, Valuation
NOTE: Single-User pertains to a limited Single User License where the template can only be used by one single user; while Multi-User is a license for users sharing the template with up to 20 members. Please refer to Terms of Use and License and Permitted Use for clarification.
CLINIC 3 WAY FINANCIAL MODEL KEY FEATURES
Video tutorial:
Simple-to-use
A very sophisticated Clinic Financial Projection Template Excel, whatever size and stage of development your business is. Minimal previous planning experience and very basic knowledge of Excel is required: however, fully sufficient to get quick and reliable results.
Build your plan and pitch for funding
Impress bankers and investors with a proven, strategic Clinic Three Way Financial Model that impresses every time.
Saves you time
Allows you to spend less time on Startup Cash Flow Statement and more time on your products, customers and business development
Great Value for Money
Use a robust and proven Clinic Cash Flow Proforma based on years of experience at an affordable price. This excel financial model template has a one-off payment and absolutely no hidden fees or monthly payments.
Saves you time
Pro Forma Template Excel allows you to spend less time on finances and more time on your products, customers and business development
Get a Robust, Powerful and Flexible Financial Model
This well-tested, robust and powerful Clinic Pro Forma Projection is your solid foundation to plan a business model. Advanced users are free to expand and tailor all sheets as desired, to handle specific requirements or to get into greater detail.
REPORTS and INPUTS
Liquidity KPIs
Quick Ratio or Acid-Test Ratio. The quick ratio or acid-test ratio uses a firm's balance sheet data to analyze if it has sufficient short-term assets to cover its short-term liabilities. This metric ignores less liquid assets like such as inventory.
Valuation
Our Clinic Financial Model Excel has two integrated valuation methods. It has a discounted cash flow (DCF) and the weighted average cost of capital (WACC) calculations to show a company's forecasted financial performance.
Burn and Runway
This Clinic Financial Model In Excel automatically calculates the cash burn rate based on the inputs from other spreadsheets, in particular, from the statement of cash flows.
Dashboard
Our Clinic Cash Flow Proforma has an integrated all-in-one dashboard. This dashboard consists of cash flow statement forecast, Balance Sheet, and cash flow forecast, and users can perform the monthly or annual breakdown for these statements. Users can also obtain information from the dashboard, both in the form of figures and charts.
Financial Statements
The Clinic Financial Projection Model has a pre-built integrated financial statement structure. It has pre-built templates for the primary financial statements: Balance sheet, p&l projection, cash flow statement projection, and Statement of Shareholders' Capital. All these financial statements are precisely defined and interconnected with the inputs and other spreadsheets within the model.
Performance KPIs
Return on assets. The return on assets financial metric can be calculated based on the information from two main financial statements: Balance Sheet and pro forma profit and loss. Return on assets measures the accomplishment of earnings to the assets, i.e., the amount of money used to get those earnings.
Cash Flow KPIs
Cash conversion cycle (CCC). The cash conversion cycle (CCC) is a financial metric that expresses the time it takes for a company to convert its resources in the form of inventory and other resources into cash flows. The cash conversion cycle is also called the Net Operating Cycle.
CCC measures how long each dollar that the company inputted is tied up in the production and sales process before it gets converted into cash.
The cash conversion cycl metric accounts for various factors, such as how much time it takes to sell inventory, how much time it takes to collect accounts receivable, and how much time it takes to pay obligations.
File types:
Excel – Single-User: .xlsx
Excel – Multi-User: .xlsx
Free Demo – .xlsx