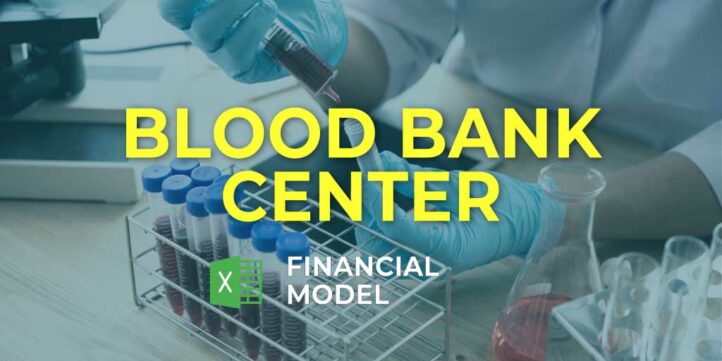 Clinics, Financial Model, Health Care, Hospitals, Laboratories, Pharmacies & Drugstores
5-year financial projections, Business Valuation, Financial Model, Financial Modeling, Financial Projection, Financial Projections, Pro-Forma, Startup Financial Models, Three Statement Model | Three Financial Statements
NOTE: Single-User pertains to a limited Single User License where the template can only be used by one single user; while Multi-User is a license for users sharing the template with up to 20 members. Please refer to Terms of Use and License and Permitted Use for clarification.
BLOOD BANK CENTER P&L PROJECTION KEY FEATURES
Video tutorial:
Identify potential shortfalls in cash balances in advance.
The Blood Bank Center Cash Flow Proforma Template works like an 'early warning system.' It is, by far, the most significant reason for a Cash Flow Pro Forma.
Predict the Influence of Upcoming Changes
Does your company plan to purchase new equipment or to launch a new product? Cash Flow Projection enable you to obtain a complete picture of the effect that specific changes will have on your Startup Cash Flow Projection. When planning your finances in the Projected Cash Flow Statement Format, you will forecast cash inflows and outflows based on future invoices, bills due, and payroll. You can then create multiple 'what if' scenarios, such as buying new equipment to choose the best way for you. Forecasting shows you how the upcoming changes will affect your cash balance.
Investors ready
Print ready (including a pro forma income statement, a Cashflow Forecast, a balance sheet, and a complete set of financial ratios).
It is part of the reports set you need.
It doesn't matter you are worried about cash or not, setting up, and managing a Blood Bank Center Pro Forma should be a cornerstone of your reporting set. It's the main report of your business that must have in place to grow sustainably. Before you rush into rent more office space or making a new hire, you should always run a Cash Flow Statement scenario. You can model how that action would impact your cash balance in the nearest future. Knowing whether or not plans are possible is crucial to minimizing risk.
Avoid cash flow problems.
Cash flow, and especially Projected Cashflow Statement from operations, is the lifeblood of your business – do not ignore it! The level of cash flow in your company dictates the decisions you can make and how quickly you can grow your business. So you should monitor and manage cash flow regularly. Monthly cash flow forecasting will give you a current view of the cash inflows and outflows within your business and also what the next period looks like. Regular Cash Flow Forecast forecasting can highlight where cash gaps will be in the future and where there could be improvements made. Most importantly, a Startup Cash Flow Projection will give you a good idea of the health of your business cash flow at a glance. Finding potential cash flow gaps ahead of time can save you and your business both time and money. You can make decisions and take actions before things get too bad, ensuring your Cash Flow Statement Forecast is maintained, based on your forecasts.
Gaining trust from stakeholders
Investors and financing providers tend to think in terms of the big picture. They want the c-level of the companies they invest in to do the same to ensure they maintain a clear idea of the future. Providing stakeholders with a monthly cash flow statement proforma will demonstrate a level of awareness that leads to confidence and trust and will make it easier to raise more investment.
REPORTS and INPUTS
Operational KPIs
Our Blood Bank Center Excel Pro Forma Template has convenient, informative, and easy-to-use operational performance graphs. Here you may visually track your company's key operational performance indicators (KPIs) in the form of charts. These operational performance graphs show the stakeholders the financial information related to the company's liquidity, revenues, expenses, cash flows, and other financial metrics. This financial information in the form of graphs will help a business owner to create presentations for banks and investors with minimum efforts.
Valuation
This Financial Projection Model has a valuation report template that will allow users to perform a Discounted Cash Flow valuation with just a few rate inputs in the Cost of Capital.
Top Revenue
This Three Statement Financial Model Template has a tab for a detailed analysis of the company's revenue streams. With this template, users can analyze the revenue streams by each product or service category separately.
All in One Place
This Blood Bank Center Startup Financial Model reflects all the main aspects of your business. It will be a roadmap that enables entrepreneurs to understand their business and their perspectives. As a start-up Three Way Financial Model, it will help understand cash flows and determine the cash burn rate. This is very important for any business because it shows how long money will last and which milestones the business owner can achieve with these expenditures.
Dashboard
Our Financial Projection Model Template has an all-in-one dashboard. This dashboard is a useful financial planning tool that helps financial professionals create fast, reliable, and transparent financial reports to the management and other company's stakeholders.
With this financial dashboard's help, users can assess the company's financial data, drill into financial details, or validate figures fast and easy. Our specialists understand that the company's financial management, especially the start-up's management, is under pressure to deliver fast decisions and results. This all-in-one financial dashboard is an effective financial tool that will help with these tasks.
With this dashboard, you will get data at your fingertips. You will be able to perform financial analysis, assess key performance indicators (KPIs), and other financial information you may need to generate actionable insights and make wise financial decisions.
Profitability KPIs
EBITDA. Earnings before interest, tax, depreciation, and amortization (EBITDA) measures a company's operating performance based on the Income Statement figures. It is calculated by deduction from the earnings such expenses as interest, taxes, depreciation, and amortization. The formula is: EBITDA = Revenue – Expenses (excluding interest, taxes, depreciation, and amortization).
Liquidity KPIs
Accounts receivable turnover (ART). In the 3 Way Forecast, the accounts receivables turnover ratio (ART) calculates a metric that assesses a company's effectiveness in collecting its receivables. This ratio shows how successful the company is in managing its debts.
File types:
Excel – Single-User: .xlsx
Excel – Multi-User: .xlsx
Free Demo – .xlsx