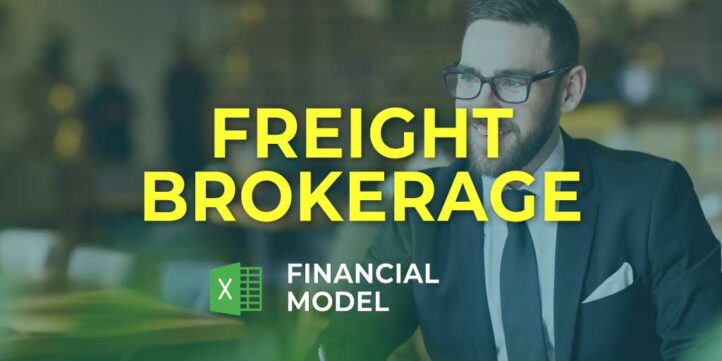 Airlines, Airports, Car Services, Financial Model, Ports, Professional Services & Advisory, Service Businesses, Shipping, Transport, Travel Services, Trucking
5-year financial projections, Business Valuation, Financial Model, Financial Modeling, Financial Projection, Financial Projections, Free Financial Model Templates, Pro-Forma, Startup Financial Models, Three Statement Model | Three Financial Statements
NOTE: Single-User pertains to a limited Single User License where the template can only be used by one single user; while Multi-User is a license for users sharing the template with up to 20 members. Please refer to Terms of Use and License and Permitted Use for clarification.
FREIGHT BROKERAGE EXCEL PRO FORMA TEMPLATE KEY FEATURES
Avoid cash flow problems.
Cash flow, and especially Cashflow Forecast from operations, is the lifeblood of your business – do not ignore it! The level of cash flow in your company dictates the decisions you can make and how quickly you can grow your business. So you should monitor and manage cash flow regularly. Monthly cash flow forecasting will give you a current view of the cash inflows and outflows within your business and also what the next period looks like. Regular Pro Forma Cash Flow Projection forecasting can highlight where cash gaps will be in the future and where there could be improvements made. Most importantly, a Cash Flow Statement By Month will give you a good idea of the health of your business cash flow at a glance. Finding potential cash flow gaps ahead of time can save you and your business both time and money. You can make decisions and take actions before things get too bad, ensuring your Statement Of Cash Flows is maintained, based on your forecasts.
Simple-to-use
A very sophisticated Freight Brokerage Financial Projection Template, whatever size and stage of development your business is. Minimal previous planning experience and very basic knowledge of Excel is required: however, fully sufficient to get quick and reliable results.
5 years forecast horizon
Generate fully-integrated Freight Brokerage 3 Way Forecast Model for 5 years (on a monthly basis). Automatic aggregation of annual summaries on outputs tabs.
Better decision making
Make better operational decisions with the help of creating Statement Of Cash Flows scenarios in your Excel Template. Perhaps you have to choose between new staff members or investment in equipment, and you are wondering which decision to chose. Variants forecasting will give you the information you need to make these decisions with confidence that you know what impact they will have on your cash balance.
Prove You Can Pay Back the Loan You Requested
When you apply for a business loan, bankers will study your Cash Flow Statement in an attempt to answer this question: Can this business pay back the loan? Requesting a loan without showing your Cash Flow Statement Projection for paying it back is a common way to land in the rejection pile. It is exceptionally accurate if your current cash flow won't cover all of your monthly operating expenses — plus your loan payment. Don't fall into this kind of situation. Use Cash Flow Pro Forma to strengthen your case by showing the banker exactly how you plan to use the loan and when you will start repaying the debt. This type of forecasting helps you create a road map that can impress a lender with the confidence they need to approve your loan.
Great Value for Money
Use a robust and proven Freight Brokerage Excel Financial Model Template based on years of experience at an affordable price. This five-year financial projection template has a one-off payment and absolutely no hidden fees or monthly payments.
REPORTS and INPUTS
Top Revenue
When the company's management starts to make a Budget Spreadsheet, revenue is the most crucial component in the Five Year Financial Projection Template. Revenue is one of the main drivers of the enterprise's value in the Finance Projection. That is why financial analysts must pay special attention to planning and devising the best strategy to approach modeling future revenue streams.
Revenue forecasts should also have assumptions about the growth rate based on historical financial data. Users can find all the components of wise financial planning of the revenue streams in our Freight Brokerage Budget Spreadsheet.
CAPEX
A capital expenditure (CAPEX) reflects the company's investment in a business. Such an investment can be made in a piece of manufacturing equipment, an office supply, a vehicle, or others.
A CAPEX is typically steered towards the goal of rolling out a new product line or expanding a company's existing operations. The company does not report the money spent on CAPEX purchases directly in the profit and loss statement. It reflects these expenses as an asset in the balance sheets and, at the same time, deducts a part of this amount in the form of depreciation expenses for several years.
Liquidity KPIs
Current Ratio. The current ratio is a liquidity ratio that helps users measure a company's ability to meet short-term obligations that should be paid within a year. This financial metric tells investors how a company can maximize the current assets on its balance sheet to cover its current debts.
Performance KPIs
Cost of acquiring new customers. The cost of acquiring new customers is a critical financial metric for start-ups, and it should be in our Freight Brokerage Financial Model In Excel. The cost of acquiring new customers is the total cost of the marketing divided by the customers' number during the year.
Financial KPIs
A Freight Brokerage Cash Flow Format In Excel outputs include both company and sector-specific key performance indicators KPIs. These KPIs include profitability metrics, cash flow metrics, and liquidity metrics. It also has KPIs crucial for the attraction of investments.
Top Expenses
In the Top expenses section of our Freight Brokerage Cash Flow Proforma Template, you can track your more significant expenses divided into four categories. The model also has an 'other' category, and you can expand or change this table according to your needs.
You can reflect your company's historical data or make a Cash Flow Proforma Template for the five years.
Burn and Runway
The cash burn rate is one of the tabs your future investors may be very interested in. This metrics shows the time left to a complete cash burn. Also, this template shows a cash burn ratio. The calculation is based on your average annual cash balance and average monthly operating cash outflows.
File types:
Excel – Single-User: .xlsx
Excel – Multi-User: .xlsx
Free Demo – .xlsx