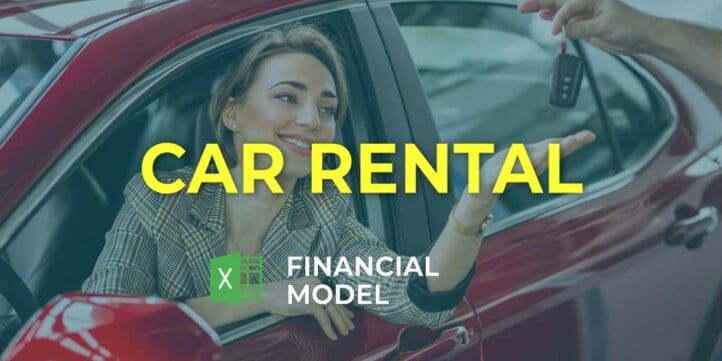 Car Dealer, Car Services, Financial Model, Service Businesses, Taxi Businesses, Transport, Travel Services
5-year financial projections, Business Valuation, Financial Model, Financial Modeling, Financial Projection, Financial Projections, Pro-Forma, Startup Financial Models, Three Statement Model | Three Financial Statements
NOTE: Single-User pertains to a limited Single User License where the template can only be used by one single user; while Multi-User is a license for users sharing the template with up to 20 members. Please refer to Terms of Use and License and Permitted Use for clarification.
CAR RENTAL FINANCIAL PROJECTION MODEL EXCEL KEY FEATURES
Video tutorial:
5 years forecast horizon
Generate fully-integrated Car Rental Financial Projection Model for 5 years (on a monthly basis). Automatic aggregation of annual summaries on outputs tabs.
Better decision making
Make better operational decisions with the help of creating Cash Flow Statement By Month scenarios in your Excel Template. Perhaps you have to choose between new staff members or investment in equipment, and you are wondering which decision to chose. Variants forecasting will give you the information you need to make these decisions with confidence that you know what impact they will have on your cash balance.
Predict the Influence of Upcoming Changes
Does your company plan to purchase new equipment or to launch a new product? Cashflow Forecast enables you to obtain a complete picture of the effect that specific changes will have on your Cash Flow Projection. When planning your finances in the Cash Flow Projection, you will forecast cash inflows and outflows based on future invoices, bills due, and payroll. You can then create multiple 'what if' scenarios, such as buying new equipment to choose the best way for you. Forecasting shows you how the upcoming changes will affect your cash balance.
Investors ready
Print-ready (including a proforma income statement, a Cash Flow Projection, a balance sheet, and a complete set of financial ratios).
Works for startups
Profit Loss Projection creates a financial summary formatted for your pitch deck
Simple and Incredibly Practical
Simple-to-use yet very sophisticated Car Rental 3 Way Forecast Model. Whatever size and stage of development your business is, with minimal planning experience and very basic knowledge of Excel you can get complete and reliable results.
REPORTS and INPUTS
Dashboard
This Car Rental Finance Projection has an all-in-one dashboard. This tab is a snapshot of a business's start-up metrics at a particular point in time. You can see your core start-up financials, revenue breakdown by years, cash flow statement forecast data, profitability forecasts, and cumulative cash flow on this dashboard in the form of charts and graphs.
Sources and Uses
The Sources and Uses statement in our Car Rental Pro Forma shows users that financial planning does not have to be complicated. This statement shows the company's stakeholders, e.g., lenders, how much financing the company needs, and how it plans to get it. There may be cases when the company does not need more funding. It wants to show its current investors that it has additional or alternative funding sources it can attract in case of unexpected events. These additional sources of funding may be interesting for banks, for example.
While putting together the Sources and Uses statement, companies and especially start-ups can include alternative funding sources, such as crowdfunding campaigns.
Another part of the Sources and Uses statement is the ways the company plans to use obtained funds. The total figure in this section should balance with the figure if the 'Sources' section, i.e., both parts of the Sources and Uses section, should balance.
Cap Table
Our Car Rental 3 Way Forecast Excel Template has a cap table proforma on a separate Excel spreadsheet. It shows the ownership breakdown of your start-up at different periods. A cap table tells investors how much money they will make if they decide to exit.
All in One Place
Get a robust and expandable Car Rental Three Statement Financial Model Template. You can say that the Financial Projection Model Template is robust if it does not break down when you change your assumptions inside the Excel Financial Model. To make our Excel Financial Model Template robust and expandable, we have modeled as many scenarios as possible.
We have also foreseen that each business is unique, and users can add, delete, or adjust any financial information in the template.
Benchmarks
Our Pro Forma Budget has the proforma for industry benchmark analysis. Industry benchmarks, including the financial benchmarks, show users the comparison of performance indicators, e.g., financial indicators, with similar performance indicators of the other companies in the same industry.
Performance KPIs
Sales growth is year-to-date. Every entrepreneur wants to see the company grow month-over-month. In some industries, sales depend on the season or other external factors. The sales growth year-to-date metric shows the pace at which the company's sales revenue increases or decreases.
Users can monitor sales volumes over various periods – daily, weekly, monthly, or yearly. Sales growth metric helps to manage sales growth goals in the form of a percentage of last month's sales volume or others. If the company has several sales teams, the management can monitor this metric for each team separately. It will help to monitor better each team's achievements.
Top Revenue
This Excel Financial Model has a tab for a detailed analysis of the company's revenue streams. With this template, users can analyze the revenue streams by each product or service category separately.
File types:
Excel – Single-User: .xlsx
Excel – Multi-User: .xlsx
Free Demo – .xlsx