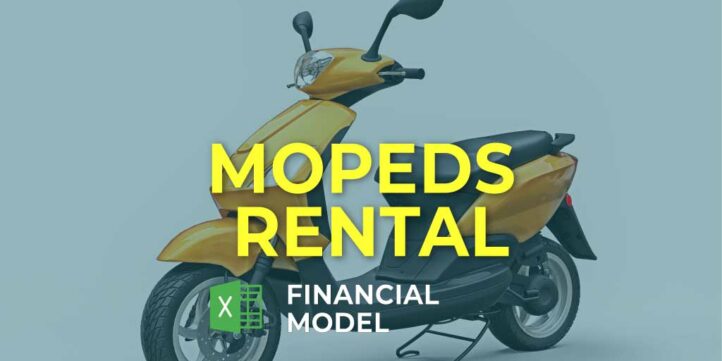 Car Services, Distribution, Equipment Rental, Financial Model, Service Businesses, Transport, Travel Services
5-year financial projections, Business Valuation, Financial Model, Financial Modeling, Financial Projection, Financial Projections, Free Financial Model Templates, Pro-Forma, Startup Financial Models, Three Statement Model | Three Financial Statements
NOTE: Single-User pertains to a limited Single User License where the template can only be used by one single user; while Multi-User is a license for users sharing the template with up to 20 members. Please refer to Terms of Use and License and Permitted Use for clarification.
MOPEDS RENTAL FINANCIAL PROJECTION TEMPLATE KEY FEATURES
Video tutorial:
Identify cash gaps and surpluses before they happen.
Forecasting your future cash balance helps you see well in advance when you may have a cash deficit that could hurt your business. Cash Flow Projection will give you enough time to take action to prevent a crisis. It will enable you to access better loan rates or speed up incoming payments to bridge the gap. On the other side, if you know ahead of time that the large lump of cash will lay in your bank account within the next three months. In this case, you might need to explore options to reinvest it in your business to drive growth.
We do the math
Financial Projection Excel has all the required features ready with no formula writing, no formatting, no programming, no charting, and no expensive external consultants! Concentrate on the task of planning rather than programming.
Easy to follow
Clear and transparent Mopeds Rental 3 Way Financial Model Template structure (15+ separate tabs, each focusing on a specific planning category, color-coded => input, calculation, and report sheets).
Spot problems with customer payments
Preparing the Startup Cash Flow Projection encourages the business to look at how quickly customers are paying their debts. Identify unpaid invoices and take necessary actions to make them pay.
Get it Right the First Time
Funding is a binary event: either you succeed or you fail. If you fail, most investors won't give you a second chance. Learn about the pros and cons with Mopeds Rental 3 Way Financial Model Template.
Build your plan and pitch for funding
Impress bankers and investors with a proven, strategic Mopeds Rental Financial Projection Model Excel that impresses every time.
REPORTS and INPUTS
Operational KPIs
Our Mopeds Rental Pro Forma Projection has various operational performance graphs that will help business owners manage their business' finances and measure their overall performance. These operational performance graphs also help in making wise business decisions that consider the company's financial capability.
The financial graphs in this Mopeds Rental 3 Way Financial Model Template help measure the company's financial health showing the operating cash flows' analysis, return on investment, debt to equity ratio, liquidity ratios, and other relevant financial information. Business owners can use these operational performance graphs both for internal and external purposes.
In particular, they can use these graphs to assess the company's overall financial performance or for the assessment of the project's financial feasibility. Such an approach will improve the financial management efficiency of the company. Business owners can also use these charts and graphs for presentations for potential investors and bankers. The operational performance graphs have all the necessary pre-built formulas, and they are fully formatted. So, the users can just print out them and bring them to the meeting with investors.
All in One Place
Our integrated Mopeds Rental Financial Model includes and connects everything you need for investors' meetings. It has financial assumptions, proformas, calculations, cash flow forecasts, and other templates. Moreover, our Financial Model Excel Template presents it in an investor-friendly way.
Financial Statements
The Mopeds Rental Three Way Financial Model has a pre-built integrated financial statement structure. It has pre-built templates for the primary financial statements: Balance sheet, pro forma income statement, cash flow statement projection, and Statement of Shareholders' Capital. All these financial statements are precisely defined and interconnected with the inputs and other spreadsheets within the model.
Sources and Uses
The Sources and Uses statement in our Mopeds Rental Pro Forma shows users that financial planning does not have to be complicated. This statement shows the company's stakeholders, e.g., lenders, how much financing the company needs, and how it plans to get it. There may be cases when the company does not need more funding. It wants to show its current investors that it has additional or alternative funding sources it can attract in case of unexpected events. These additional sources of funding may be interesting for banks, for example.
While putting together the Sources and Uses statement, companies and especially start-ups can include alternative funding sources, such as crowdfunding campaigns.
Another part of the Sources and Uses statement is the ways the company plans to use obtained funds. The total figure in this section should balance with the figure if the 'Sources' section, i.e., both parts of the Sources and Uses section, should balance.
Benchmarks
A benchmarking study as the element of the Pro Forma Budget is usually used to evaluate a business's performance by focusing on one or more particular indicators and comparing them with similar indicators of other companies in the industry.
In respect of the financial benchmarking study, these indicators could be profit margins, cost margins, cost per unit, productivity margins, or others. Later the company's performance indicators should be compared to that of other companies within the same industry.
Benchmarking is a useful strategic management tool, which is essential for start-ups. Companies can evaluate any economic, business, or financial metric or process and compare them to the processes of 'best practice' companies within the same field or industry.
Costs
A Mopeds Rental Pro Forma Projection is an important financial tool that enables users to identify actual and forecasted expenditures, as well as financial resources needed to cover these costs. With a well-developed cost budget, you can see the areas where you can save money and the areas of high priority. As a part of a business plan, the cost budget supports the process of pitching to investors and loan applications.
Top Revenue
This Five Year Financial Projection Template has a tab for a detailed analysis of the company's revenue streams. With this template, users can analyze the revenue streams by each product or service category separately.
File types:
Excel – Single-User: .xlsx
Excel – Multi-User: .xlsx
Free Demo – .xlsx