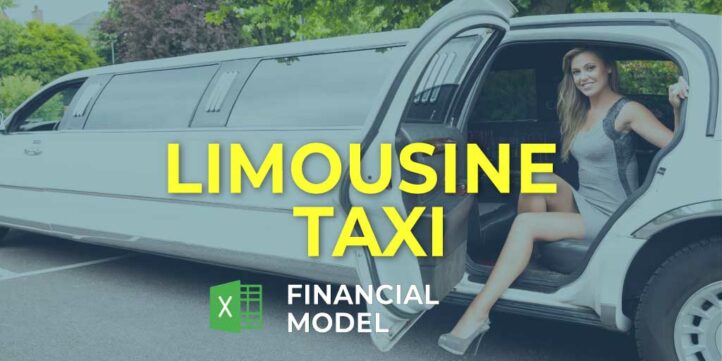 Car Services, Financial Model, Service Businesses, Taxi Businesses, Transport
5-year financial projections, Business Valuation, Financial Model, Financial Modeling, Financial Projection, Financial Projections, Pro-Forma, Startup Financial Models, Three Statement Model | Three Financial Statements
NOTE: Single-User pertains to a limited Single User License where the template can only be used by one single user; while Multi-User is a license for users sharing the template with up to 20 members. Please refer to Terms of Use and License and Permitted Use for clarification.
LIMOUSINE TAXI 3 WAY FORECAST MODEL KEY FEATURES
Video tutorial:
Update anytime
You can easily adjust inputs at the launch stage and throughout the further activities of your business to refine your Limousine Taxi Pro Forma Template.
Convenient, All-In-One Dashboard
Includes all required forecasting reports, including assumptions, profit and loss projection, projected cash flow statement, balance sheets, performance reviews and summaries for months and years (incl. numerous graphs and KPIs).
Convince investors and lenders
Enhance your pitches and impress potential financiers with a Budget Financial Model delivering the right information and expected financial and operational metrics. Facilitate your negotiations with investors for successful funding. Raise money more quickly and refocus on your core business.
Better decision making
Make better operational decisions with the help of creating Pro Forma Cash Flow Projection scenarios in your Excel Template. Perhaps you have to choose between new staff members or investment in equipment, and you are wondering which decision to chose. Variants forecasting will give you the information you need to make these decisions with confidence that you know what impact they will have on your cash balance.
External stakeholders, such as banks, may require a regular forecast.
If the business has a bank loan, the bank will ask for a Limousine Taxi Financial Model Excel regularly.
All necessary reports
When creating a Limousine Taxi 3 Way Forecast, you will not need to independently prepare financial reports and study the requirements for them. Our Excel template contains all the necessary reports and calculations that correspond with the lenders demand.
REPORTS and INPUTS
Operational KPIs
Our Limousine Taxi Profit Loss Projection has convenient, informative, and easy-to-use operational performance graphs. Here you may visually track your company's key operational performance indicators (KPIs) in the form of charts. These operational performance graphs show the stakeholders the financial information related to the company's liquidity, revenues, expenses, cash flows, and other financial metrics. This financial information in the form of graphs will help a business owner to create presentations for banks and investors with minimum effort.
Liquidity KPIs
Accounts receivable turnover (ART). In the Cash Flow Proforma Template, the accounts receivables turnover ratio (ART) calculates a metric that assesses a company's effectiveness in collecting its receivables. This ratio shows how successful the company is in managing its debts.
Profitability KPIs
EBITDA. Earnings before interest, tax, depreciation, and amortization (EBITDA) measures a company's operating performance based on the Income Statement figures. It is calculated by deduction from the earnings such expenses as interest, taxes, depreciation, and amortization. The formula is: EBITDA = Revenue – Expenses (excluding interest, taxes, depreciation, and amortization).
Costs
Start-up costs are an essential part of any Three Statement Financial Model. They begin to accrue before actual operations start, so it is crucial to monitor them early to avoid overspendings and underfunding. Our Limousine Taxi Financial Projection has the proforma for start-up costs that show both funding and expenses. You can use this proforma to monitor your expenses and create cost budgets.
All in One Place
Our integrated Limousine Taxi Three Statement Financial Model Template includes and connects everything you need for investors' meeting. It has financial assumptions, proformas, calculations, cash flow forecasts, and other templates. Moreover, our Three Way Financial Model presents it in an investor-friendly way.
Performance KPIs
Return on capital. The return on capital reflects the correspondence of the Balance Sheet and Income Statement. Return on capital measures the accomplishment of earnings to the capital employed.
Companies with good financial management have good returns.
Top Revenue
The top line and bottom line are two of the most important lines on a company's profit and loss proforma. Investors and analysts pay special attention to the company's revenue and profits and carefully monitor any changes regarding these financial metrics from quarter to quarter and year to year.
The top line of the p&l projection refers to a company's revenues or gross sales. Therefore, when somebody says that the company has 'top-line growth,' it means that the company is experiencing an increase in gross sales or revenues, which should positively impact other company's financials and overall performance.
File types:
Excel – Single-User: .xlsx
Excel – Multi-User: .xlsx
Free Demo – .xlsx