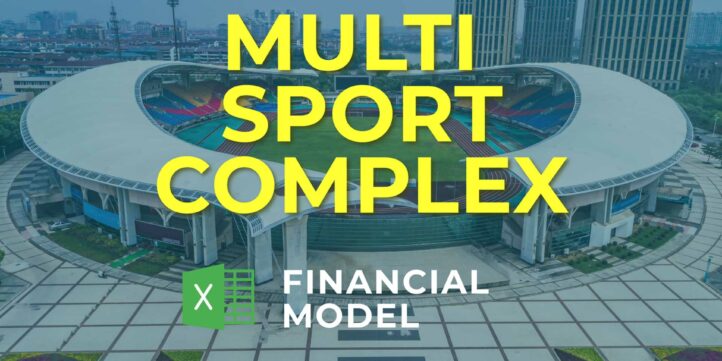 Commercial Properties, Entertainment, Financial Model, Infrastructure, Sports & Fitness, Theaters & Stadiums, Tourism & Attractions
5-year financial projections, Business Valuation, Finacial Projection, Financial Model, Financial Modeling, Financial Projection, Financial Projections, Financial Statements, Startup Financial Models, Three Statement Model | Three Financial Statements, Valuation
NOTE: Single-User pertains to a limited Single User License where the template can only be used by one single user; while Multi-User is a license for users sharing the template with up to 20 members. Please refer to Terms of Use and License and Permitted Use for clarification.
MULTI SPORT COMPLEX FINANCIAL MODEL KEY FEATURES
Video tutorial:
Update anytime
With Financial Model Excel Template you can easily adjust inputs at the launch stage and throughout the further activities of your store to refine your forecast.
Convince investors and lenders
Enhance your pitches and impress potential financiers with a Financial Projection Model Excel delivering the right information and expected financial and operational metrics. Facilitate your negotiations with investors for successful funding. Raise money more quickly and refocus on your core business.
Structured
You want a Multi Sport Complex Excel Pro Forma to be as easy to understand as possible. You also want to make it easy for others to be able to audit if needed.
We make this 3 Way Forecast a simple as possible.
Integrated
The entire Multi Sport Complex Financial Projection is integrated. If you make a change in one sheet, every dependent tab will update automatically. If you decide to scale down or up your assumptions, automation will scale too. Now you will know and understand how decisions impact your business.
External stakeholders, such as banks, may require a regular forecast.
If the business has a bank loan, the bank will ask for a Multi Sport Complex Five Year Financial Projection Template regularly.
Predict the Influence of Upcoming Changes
Does your company plan to purchase new equipment or to launch a new product? Cash Flow Statement Forecast enable you to obtain a complete picture of the effect that specific changes will have on your Cash Flow Statement Forecast. When planning your finances in the Cash Flow Statement Projection, you will forecast cash inflows and outflows based on future invoices, bills due, and payroll. You can then create multiple 'what if' scenarios, such as buying new equipment to choose the best way for you. Forecasting shows you how the upcoming changes will affect your cash balance.
REPORTS and INPUTS
Top Revenue
The top line and essential concern are two of the principle lines on an association's Projected P&L Statement. Investors and specialists give remarkable thought to the association's revenue and profits and circumspectly screen any progressions as for these financial estimations from quarter to quarter and year to year.
The top line of the Pro Forma Profit And Loss insinuates an association's revenues or gross sales. Thusly, when somebody says that the association has 'top-line growth,' it suggests that the association is experiencing an extension in gross sales or revenues, which should decidedly influence other association's financials and by and large performance.
CAPEX
Capital expenditures, or CapEx, calculations reflect the company's spendings to buy various assets that will bring long-term value to the company. CapEx is typically related to buildings, property, plant, and equipment (PPEs).
Our Multi Sport Complex Financial Model In Excel has a pre-built tab for CapEX calculations that will help users determine the company's growth and expansion plans that require significant spendings on equipment and other assets. It is important for business owners and financial specialists to understand the relationship between the company's CapEx, deprecation, and financial statement.
Benchmarks
The financial benchmarking study tab in this Budget Financial Model will assist the organizations with evaluating their key performance markers and contrast them and other organizations' KPIs.
The term 'benchmarking' signifies the process of looking at the business, financial or different measurements of your organization to that of different firms inside a similar industry. It is fundamental to utilize other businesses' prescribed procedures in a similar industry as a 'benchmark' to improve your own organization's principles.
Because of the benchmarking study, organizations can figure out how to operate in a specific industry all the more effectively. This advantage makes the financial benchmarking study a fundamental planning device for start-ups.
Sources and Uses
The sources and uses tab of the Pro Forma shows how the company manages its funds. It shows the primary funding sources to which the company has access. It also shows the company's spendings. The sources and uses statement is critical for start-ups.
Performance KPIs
Return on capital. The return on capital mirrors the correspondence of the Balance Sheet and Income Statement Projection. Return on capital estimates the achievement of earnings to the capital utilized.
Organizations with great financial administration have great returns.
Profitability KPIs
Gross profit margin. A gross profit margin of the of the Financial Model Excel Spreadsheet is a regularly utilized financial proportion that is one of the principal markers of an organization's financial wellbeing. It mirrors the contrast between the revenues and the expense of deals.