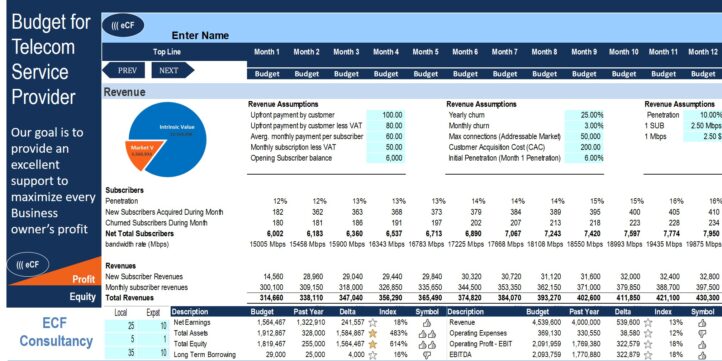 General overview
The template is a statement of estimated income and expenses based on future plans and objectives. In other words, it is a document that management makes to estimate the revenue and expenses for 1 year based on their goals for the business
It is is a planning tool that helps management in its attempts to cope with the uncertainty of the future, relying mainly on data from the past and present and analysis of trends for one year
This model is very simple to use by simply recording your revenue, cost of goods, and expenses under different categories in the green cells
The model follows best practice financial modeling principles and includes instructions and explanation
The template is a fully editable/customizable model
So a quick overview of the model, in the contents sheet you can see the structure of the model and by clicking on any of the headlines will automatically be redirected to the relevant sheet
Key inputs in the green tabs
Update the general info the orange tab
All cells in green are input cells
The green cells are in the green tabs
You will get the outcome in the dark blue tabs
You can read the instruction in the light blue tab
The key outcome in the dark blue tabs
The inputs in the green cells will dynamically flow into the following below:
-Profit and loss statement by month including 3 major components, gross profit, EBITDA, and net profit
-Balance sheet including total assets, total liability, and owners' equity
-Cash flow with 3 outputs such as operating cash flow, investing cash flow, and financing cash flow
-Ratios with 3 main components, such as solvency ratio, liquidity ratio, and profitability ratio
-Profit and loss, Balance sheet and Cash flow comparison vs previous year
-Valuation and analysis with 10 years projection
-Dashboard summary.
Conclusion and customization
Highly versatile, very sophisticated financial template and friendly user
If you have any inquiry, modification or to customize the model for your business please reach us through: [email protected]
This model template comes as a TRIAL or PREMIUM version in .pdf and .xlsx file type which can be opened using MS Excel and any PDF File Viewer.
Users who purchased Budget Template for Telecom Service Provider, also purchased:
Get these templates too for a discount!