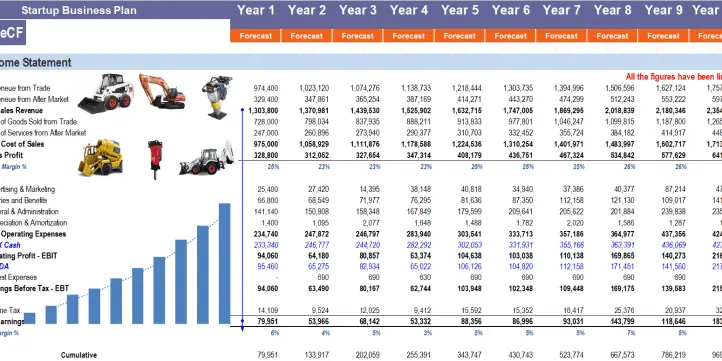 Agriculture, Construction, Financial Model, General Excel Financial Models, Mining & Resources
10-year financial projections, Budgeting, Business Valuation, Cash Flow Projections, CFO, Dashboard, DCF Model, Financial Planning, Financial Projections, Financial Reporting, Forecasting, Payback Period, Valuation
This model is a startup business plan for heavy machinery trading to support 3 main industries, construction, mining and agricultural.
It is a very practical model to measure financial performance over 10 years showing valuation and investment decisions.
This model is very simple to use by only filling the green cells as per the instruction sheet.
After you fill the green cells you will get the below:
-Income statement
-Balance sheet
-Cash flow
– Valuation
– Investment decision
– Sensitive tables
– Undiscounted payback period
– Discounted cash flow
– Ratios
– Dashboard
Please note that this model is very easy to customize it to your business.