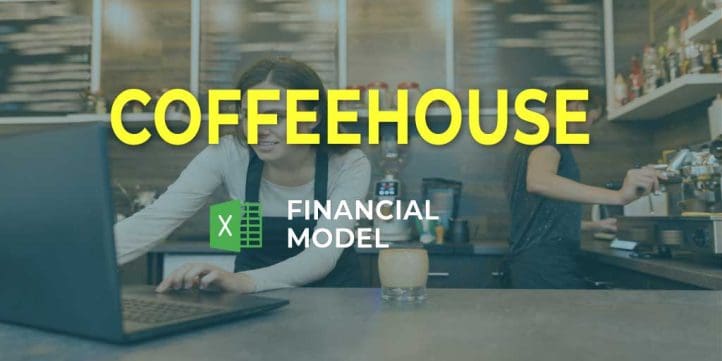 Cafes & Bars, F&B (Food & Beverages), Financial Model, Hospitality, Retail, Service Businesses
5-year financial projections, Business Valuation, Financial Model, Financial Modeling, Financial Projection, Financial Projections, Free Financial Model Templates, Pro-Forma, Startup Financial Models, Three Statement Model | Three Financial Statements
NOTE: Single-User pertains to a limited Single User License where the template can only be used by one single user; while Multi-User is a license for users sharing the template with up to 20 members. Please refer to Terms of Use and License and Permitted Use for clarification.
COFFEEHOUSE PRO FORMA BUDGET KEY FEATURES
Video tutorial:
Spot problems with customer payments
Preparing the Startup Cash Flow Projection encourages the business to look at how quickly customers are paying their debts. Identify unpaid invoices and take necessary actions to make them pay.
Update anytime
With Financial Model Excel Template you can easily adjust inputs at the launch stage and throughout the further activities of your store to refine your forecast.
Print-ready Reports
Solid package of print-ready reports, including a profit and loss proforma, cash flow statement for 5 years, a balance sheet, and a complete set of financial ratios.
Simple and Incredibly Practical
Simple-to-use yet very sophisticated Coffeehouse Financial Projection Model Excel tool. Whatever size and stage of development your business is, with minimal planning experience and very basic knowledge of Excel you can get complete and reliable results. Additionally, you will receive uncompromised after-sales service and access to valuable tutorial videos and blog posts.
Avoid Cash Flow Shortfalls
Unexpected Cashflow Forecast shortfalls can cause significant damage to your business, and it may take months to recover. Negative Cash Flow can appear if you don't continuously track the incoming cash and outgoing of your business. Fortunately, you can solve Cash Flow Statement By Month shortfalls with a bit of effort. Forecasting your Cash Flow Statement Forecast will help you identify — and plan for — market fluctuations, sales seasonality, and other cases that can lead to unpredictable Startup Cash Flow Statement. Cash Flow Statement Projection can even help you visualize Cash Flow Projection trends with the help of automatically generated charts and graphs.
Update anytime
You can easily adjust inputs at the launch stage and throughout the further activities of your business to refine your Coffeehouse Cashflow Projection.
REPORTS and INPUTS
Dashboard
A financial dashboard in this Coffeehouse 3 Way Forecast is a useful financial management tool. It helps track all your relevant finance key performance indicators (KPIs), assures effective cash management, and enables financial management to track expenses, sales, and profits in detail to meet and outperform a department or company's financial objectives.
Profitability KPIs
EBIT. Earnings before interest and tax (EBIT) is also known as operating income. It is a profitability measure that shows the difference between a company's revenues and operating expenses, including the cost of sales, interest on loans, and taxes. This calculation shows the company's ability to generate profits and, therefore, this metric is also named as operating earnings or operating profit.
All in One Place
We created the fully modular 3 Way Forecast that separates the financial core: financial statements, operating costs, hiring plan, cap table, valuation, and actuals reporting. It contains growth forecasts and revenue projections, and you can easily change or delete any input or projection.
The Excel Pro Forma structure allows extending it by adding additional details or financial forecasting methods for specific business types. All cells and formulas are completely open and unlocked so that you can edit or change anything in the Coffeehouse Three Statement Financial Model Template.
Operational KPIs
Our Coffeehouse Excel Pro Forma has various operational performance graphs that will help business owners manage their business' finances and measure their overall performance. These operational performance graphs also help in making wise business decisions that consider the company's financial capability.
The financial graphs in this Coffeehouse Budget Financial Model help measure the company's financial health showing the operating cash flows' analysis, return on investment, debt to equity ratio, liquidity ratios, and other relevant financial information. Business owners can use these operational performance graphs both for internal and external purposes.
In particular, they can use these graphs to assess the company's overall financial performance or for the assessment of the project's financial feasibility. Such an approach will improve the financial management efficiency of the company. Business owners can also use these charts and graphs for the presentations for potential investors and bankers. The operational performance graphs have all the necessary pre-built formulas, and they are fully formatted. So, the users can just print out them and bring for the meeting with investors.
Sources and Uses
The sources and uses of funds template shows how the company manages its funds. It shows the primary funding sources to which the company has access. It also shows the company's spendings. The sources and uses statement is critical for start-ups.
Benchmarks
The financial benchmarking study tab in this Financial Model Excel Spreadsheet will help the companies assess their key performance indicators and compare them with other companies' KPIs.
The term 'benchmarking' means the process of comparing the business, financial or other metrics of your company to that of other firms within the same industry. It is essential to use other businesses' best practices in the same industry as a 'benchmark' to improve your own company's standards.
As a result of the benchmarking study, companies can learn how to operate in a certain industry more efficiently. This benefit makes the financial benchmarking study an essential planning tool for start-ups.
Burn and Runway
Our Coffeehouse 3 Way Forecast Excel Template automatically creates cash runway and cash burn analysis based on the forecasted revenues and expenses that, in their turn, show net loss, net profit, cash on hand, and breakeven analysis. You can also forecast funding requirements using a set of parameters around funding (e.g., equity, debt, grants) and expected runway to raise (for example, 18 months of forecasted expenses).
File types:
Excel – Single-User: .xlsx
Excel – Multi-User: .xlsx
Free Demo – .xlsx