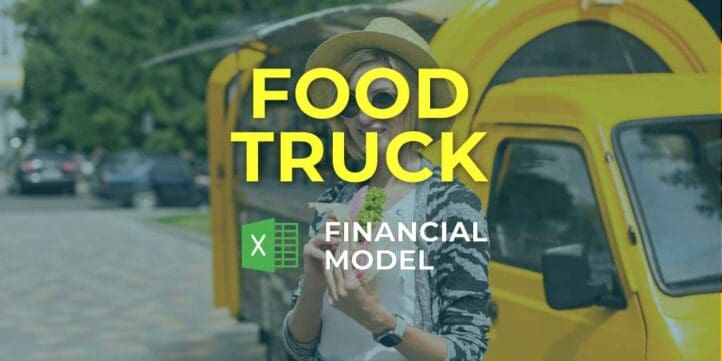 Financial Model, Food Truck, Hospitality, Kiosks, Retail
5-year financial projections, Break-Even, Budgeting, Business Valuation, Cap Table, Cash Flow Analysis, Cash Flow Projections, Cost Calculation, Cost Projections, Dashboard, DCF Model, Debt Schedule, Excel, Financial Feasibility, Financial Model, Financial Modeling, Financial Planning, Financial Projection, Financial Projections, Financial Reporting, Financial Statements, Forecast, Forecasting, Inventory, Loans, NPV (Net Present Value), Pre Money Valuation, Pro-Forma, Revenue Projections, Startup Financial Models, Three Statement Model | Three Financial Statements, Uses and Sources of Funds, Valuation, WACC (Weighted Average Cost of Capital)
NOTE: Single-User pertains to a limited Single User License where the template can only be used by one single user; while Multi-User is a license for users sharing the template with up to 20 members. Please refer to Terms of Use and License and Permitted Use for clarification.
FOOD TRUCK P&L PROJECTION KEY FEATURES
Video tutorial:
External stakeholders, such as banks, may require a regular forecast.
If the business has a bank loan, the bank will ask for a Food Truck Financial Model In Excel regularly.
Build your plan and pitch for funding
Impress bankers and investors with a proven, solid food truck financial model that impresses every time.
Avoid Cash Flow Shortfalls
Unexpected Cash Flow Statement By Month shortfalls can cause significant damage to your business, and it may take months to recover. Negative Cash Flow can appear if you don't continuously track the incoming cash and outgoing of your business. Fortunately, you can solve Pro Forma Cash Flow Projection shortfalls with a bit of effort. Forecasting your Startup Cash Flow Statement will help you identify — and plan for — market fluctuations, sales seasonality, and other cases that can lead to unpredictable Cash Flow Statement Forecast. Startup Cash Flow Projection can even help you visualize Startup Cash Flow Projection trends with the help of automatically generated charts and graphs.
Saves you time
Allows you to spend less time on Projected Cashflow Statement and more time on your products, customers, and business development
Manage surplus cash
Most companies don't have excess cash in the bank. It is a well-known situation. But managing surplus cash for reinvestment in new market opportunities, or debt repayments can be essential to keeping stay in the business. Managers are entirely ready to plan for what to do with the cash surplus if they have the forecast of when and where the business will have surplus cash in the bank account. Cash Flow Forecast will provide supplementary guidance on what to do with a cash surplus.
Get Investors to Notice
Most entrepreneurs can't get investors to return their calls. With the Food Truck Financial Model Excel Spreadsheet, you will secure meetings with potential investors easily.
REPORTS and INPUTS
Benchmarks
Our Five Year Financial Projection Template has the proforma for industry benchmark analysis. Industry benchmarks, including the financial benchmarks, show users the comparison of performance indicators, e.g., financial indicators, with similar performance indicators of the other companies in the same industry.
All in One Place
Our Food Truck 3 Way Forecast Excel Template has all financial reports crucial for start-ups and existing businesses. It has proformas for profit and loss projection, cash flow pro forma, and balance sheet. It also has templates for performance reviews and summaries on a monthly, quarterly, and annual basis.
Cap Table
The capitalization table template as a part of the Excel Financial Model is a useful tool for start-up companies and early-stage ventures that shows the detailed listing of the company's securities with the breakdown of investors' shares, value, and dilution over time.
Loan opt-in
A Food Truck Startup Financial Model consists of a table that provides the stakeholders with information about the periodic payments for an amortizing loan.
The loan amortization schedule includes information about the loan amount, interest rate, term to maturity, payment periods, and amortization method. In particular, loan amortization methods include the straight line, declining balance, annuity, bullet, balloon, and negative amortization.
Costs
Start-up costs are an essential part of any Financial Model In Excel Template. They begin to accrue before actual operations start, so it is crucial to monitor them early to avoid overspendings and underfunding. Our Food Truck Pro Forma Template Excel has the proforma for start-up costs that show both funding and expenses. You can use this proforma to monitor your expenses and create cost budgets.
Top Revenue
When the company's management starts to make a Financial Model Excel Spreadsheet, revenue is the most crucial component in the Pro Forma Template. Revenue is one of the main drivers of the enterprise's value in the Excel Pro Forma Template. That is why financial analysts must pay special attention to planning and devising the best strategy to approach modeling future revenue streams.
Revenue forecasts should also have assumptions about the growth rate based on historical financial data. Users can find all the components of wise financial planning of the revenue streams in our Food Truck Pro Forma.
Financial Statements
Our Food Truck Startup Financial Model has pre-built consolidated financial statements: p&l projection, Balance Sheet, and cash flow statement by month. These financial statements can be presented on a monthly, quarterly, and annual basis.
Users can also import existing financial statements and reports from Quickbooks, Xero, Freshbooks, and other accounting software to create rolling forecasts and to make actuals vs. forecasts comparisons.
File types:
Excel – Single-User: .xlsx
Excel – Multi-User: .xlsx
Free Demo – .xlsx