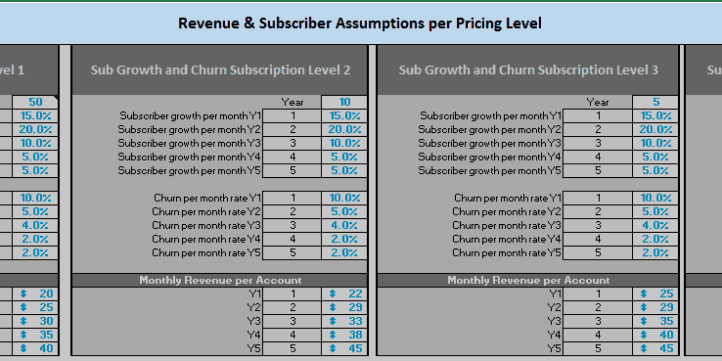 *Latest update: Changed expenses so they are a dollar amount entry instead of a %.
Added function for 4 pricing tiers with all separate assumptions on sub growth/churn/revenue per account. Updated charts/visuals.
This is a very clear, cut, and dry way to see recurring revenue and the associated costs you might have to attain such revenue. The usefulness of this model is to help you set targets and also plan out your costs as well as how much revenue you will require in order to make a given profit / cash flow position over time.
Dynamic annual churn rates can be adjusted as well as subscriber growth rates and average revenue per account per month.
A financing schedule has also been implemented to help visualize the impact debt will have as well as the running total of your bank based on operating cash flows.
An annual summary will populate dynamically on a separate tab.
Run rate valuation included.
CAC and CAC months to payback included.
Charts and graphs to highlight key details.
Users who purchased SaaS Financial Model (5 – Year) Up to 4 Pricing Tiers, also purchased:
Reviews
You must log in and be a buyer of this download to submit a review.