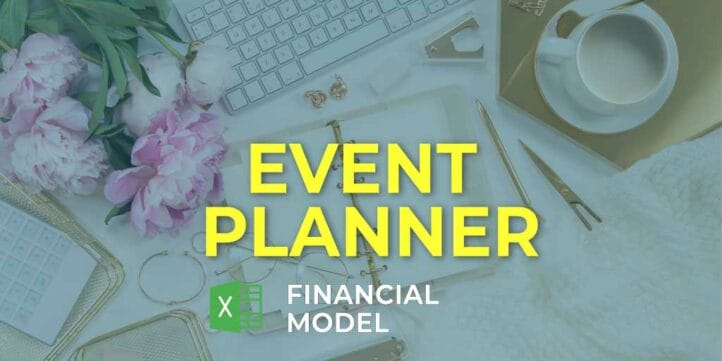 Event Organizers, Financial Model, Professional Services & Advisory, Service Businesses
5-year financial projections, Business Valuation, Financial Model, Financial Modeling, Financial Projection, Financial Projections, Pro-Forma, Startup Financial Models, Three Statement Model | Three Financial Statements
NOTE: Single-User pertains to a limited Single User License where the template can only be used by one single user; while Multi-User is a license for users sharing the template with up to 20 members. Please refer to Terms of Use and License and Permitted Use for clarification.
EVENT PLANNER PRO FORMA BUDGET KEY FEATURES
Video tutorial:
Currency for inputs and denomination
In Three Statement Financial Model define any currency code or symbol and preferred denomination (e.g. 000s) to reflect your preferences.
Get Investors to Notice
Most entrepreneurs can't get investors to return their calls. With the Event Planner Pro Forma, you will secure meetings with potential investors easily.
Run different scenarios
A Statement Of Cash Flows shows you what your cash balance will look like taking into account the numbers you put into the template. It means you can play with the various variables that impact your cash flow forecast, i.e., wages, sales inflow, supplier payments, taxes, and so on. By adjusting the input amounts, you will be able to see what impact they will have on your businesses' cash flow and when this impact is likely to occur. A well-known example of this is the ability to forecast the effect a new member of staff might have on your cash flow over different periods. Increase the wage costs and see what happens to your cash flow. Running different scenarios in your Startup Cash Flow Statement can have several benefits.
Get a robust, powerful financial model which is fully expandable
This well-tested, robust and powerful Event Planner Five Year Financial Projection Template is your solid foundation to plan event planner business model. Advanced users are free to expand and tailor all sheets as desired, to handle specific requirements or to get into greater detail.
Simple and Incredibly Practical
Simple-to-use yet very sophisticated Event Planner Financial Projection Template Excel tool. Whatever size and stage of development your business is, with minimal planning experience and very basic knowledge of Excel you can get complete and reliable results. Additionally, you will receive uncompromised after-sales service and access to valuable tutorial videos and blog posts.
Identify cash gaps and surpluses before they happen.
Forecasting your future cash balance helps you see well in advance when you may have a cash deficit that could hurt your business. Cash Flow Statement Proforma will give you enough time to take action to prevent a crisis. It will enable you to access better loan rates or speed up incoming payment to bridge the gap. On the other side, if you know ahead of time that the large lump of cash will lay in your bank account within the next three months. In this case, you might need to explore options to reinvest it in your business to drive growth.
REPORTS and INPUTS
Sources and Uses
The 3 Way Financial Model Sources and Uses (or so-called S&U) statement shows the stakeholders how the company plans to finance its project or overall business activities and where the capital will go.
The Sources and Uses of cash statement's primary rule is that the funds' sources must balance with the combined uses. This report can have a basic format, or you can extend it and change it in a way that fits best with your company's needs.
In the Sources part of the statement, the business owner should mention the funding sources on a line-by-line basis. Similarly, the Uses section should reflect on a line-by-line basis the company's plan on how to use these funds.
Ideally, the Sources and Uses section of this statement should match, or the Sources section should be bigger.
If the Sources section is bigger than the Uses section, it means that the company has more funds than it needs for the current business activities. In this case, the company may plan an extension of the business or other cash flow distribution ways.
Otherwise, if the Uses section is bigger than the Sources section, it means that the company requires additional equity.
Break Even
The Event Planner Excel Financial Model has an integrated template for the break-even analysis. The break even analysis calculation helps the company's management understand when the company is expected to become profitable. This 3 Way Forecast Model will automatically generate y break-even timing, break-even units, and break-even revenue of the company.
Benchmarks
Our 3 Way Forecast Model has the proforma for industry benchmark analysis. Industry benchmarks, including the financial benchmarks, show users the comparison of performance indicators, e.g., financial indicators, with similar performance indicators of the other companies in the same industry.
Cash Flow KPIs
Cash balance. The cash balance shows the total amount of money in the financial account of the company. Any company needs to hold in reserve enough amount of cash to meet current obligations.
Dashboard
Our Event Planner Finance Projection has a dashboard that summarizes information from the other spreadsheets of the Finance Projection. With this dashboard, you can set your key performance indicators (KPIs), and the dashboard will include them in the calculations and the information from the financial statements. You can create the dashboard with core financial information on a month-by-month basis and change it any time you need.
Liquidity KPIs
Accounts receivable turnover (ART). In the Pro Forma, the accounts receivables turnover ratio (ART) calculates a metric that assesses a company's effectiveness in collecting its receivables. This ratio shows how successful the company is in managing its debts.
Operational KPIs
Our Event Planner Financial Model has convenient, informative, and easy-to-use operational performance graphs. Here you may visually track your company's key operational performance indicators (KPIs) in the form of charts. These operational performance graphs show the stakeholders the financial information related to the company's liquidity, revenues, expenses, cash flows, and other financial metrics. This financial information in the form of graphs will help a business owner to create presentations for banks and investors with minimum effort.
File types:
Excel – Single-User: .xlsx
Excel – Multi-User: .xlsx
Free Demo – .xlsx