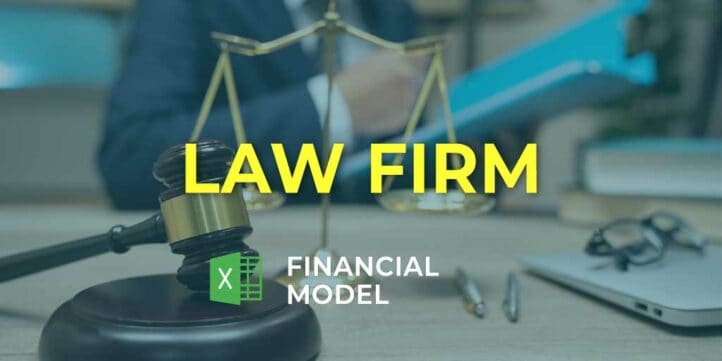 Financial Model, Financial Services, Professional Services & Advisory, Service Businesses
5-year financial projections, Business Valuation, Financial Model, Financial Modeling, Financial Projection, Financial Projections, Pro-Forma, Startup Financial Models, Three Statement Model | Three Financial Statements
NOTE: Single-User pertains to a limited Single User License where the template can only be used by one single user; while Multi-User is a license for users sharing the template with up to 20 members. Please refer to Terms of Use and License and Permitted Use for clarification.
LAW FIRM FINANCE PROJECTION KEY FEATURES
Video tutorial:
It is part of the reports set you need.
It doesn't matter you are worried about cash or not, setting up, and managing a Law Firm Finance Projection should be a cornerstone of your reporting set. It's the main report of your business that must have in place to grow sustainably. Before you rush into rent more office space or making a new hire, you should always run a Projected Cash Flow Statement Format scenario. You can model how that action would impact your cash balance in the nearest future. Knowing whether or not plans are possible is crucial to minimizing risk.
Easy to follow
Clear and transparent Law Firm Budget Spreadsheet structure (15+ separate tabs, each focusing on a specific planning category, color-coded => input, calculation, and report sheets).
Predict the Influence of Upcoming Changes
Does your company plan to purchase new equipment or to launch a new product? Projected Cash Flow Statement enables you to obtain a complete picture of the effect that specific changes will have on your Cash Flow Statement. When planning your finances in the Cash Flow Forecast, you will forecast cash inflows and outflows based on future invoices, bills due, and payroll. You can then create multiple 'what if' scenarios, such as buying new equipment to choose the best way for you. Forecasting shows you how the upcoming changes will affect your cash balance.
Simple and Incredibly Practical
Simple-to-use yet very sophisticated Law Firm Financial Model tool. Whatever size and stage of development your business is, with minimal planning experience and very basic knowledge of Excel you can get complete and reliable results. Additionally, you will receive uncompromised after-sales service and access to valuable tutorial videos and blog posts.
Graphical visualization in a convenient dashboard all in one
All necessary reports and calculations, including variable data for your easement, are displayed on a convenient Cash Flow Proforma Template dashboard tab. You do not need to move between sheets to compare important data – everything is visible immediately.
External stakeholders, such as banks, may require a regular forecast.
If the business has a bank loan, the bank will ask for a Law Firm Pro Forma Template Excel regularly.
REPORTS and INPUTS
Liquidity KPIs
Quick Ratio or Acid-Test Ratio. The quick ratio or acid-test ratio uses a firm's balance sheet data to analyze if it has sufficient short-term assets to cover its short-term liabilities. This metric ignores less liquid assets like such as inventory.
Dashboard
Our Law Firm Financial Projection has a dashboard that summarizes information from the other spreadsheets of the Five Year Financial Projection Template. With this dashboard, you can set your key performance indicators (KPIs), and the dashboard will include them in the calculations and the information from the financial statements. You can create the dashboard with core financial information on a month-by-month basis and change it any time you need.
Cash Flow KPIs
Cash conversion cycle (CCC). The cash conversion cycle (CCC) is a financial metric that expresses the time it takes for a company to convert its resources in the form of inventory and other resources into cash flows. The cash conversion cycle is also called the Net Operating Cycle.
CCC measures how long each dollar that the company inputted is tied up in the production and sales process before it gets converted into cash.
The cash conversion cycle metric accounts for various factors, such as how much time it takes to sell inventory, how much time it takes to collect accounts receivable, and how much time it takes to pay obligations.
Top Revenue
This Excel Pro Forma Template has a tab for a detailed analysis of the company's revenue streams. With this template, users can analyze the revenue streams by each product or service category separately.
Cap Table
A Cap table is a critical spreadsheet for any start-up company that shows all the company's shares, who owns them, and the investors' prices for these shares. The Financial Projection (cap table tab) also reflects each investor's percentage of ownership in the company and its dilution.
Operational KPIs
Our Law Firm Pro Forma Projection has convenient, informative, and easy-to-use operational performance graphs. Here you may visually track your company's key operational performance indicators (KPIs) in the form of charts. These operational performance graphs show the stakeholders the financial information related to the company's liquidity, revenues, expenses, cash flows, and other financial metrics. This financial information in the form of graphs will help a business owner to create presentations for banks and investors with minimum effort.
Burn and Runway
The cash burn rate is one of the tabs your future investors may be very interested in. This metrics shows the time left to a complete cash burn. Also, this template shows a cash burn ratio. The calculation is based on your average annual cash balance and average monthly operating cash outflows.
File types:
Excel – Single-User: .xlsx
Excel – Multi-User: .xlsx
Free Demo – .xlsx