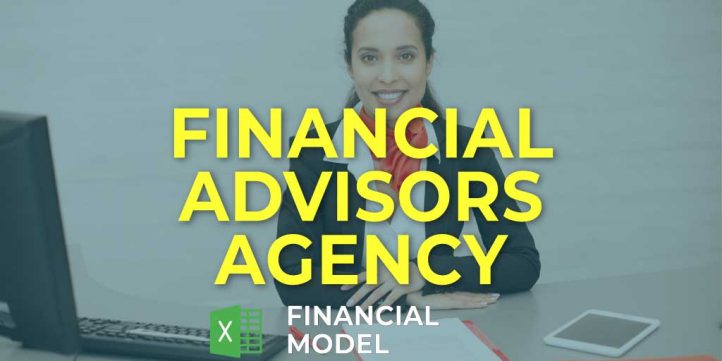 Accounting, Consulting, Financial Model, Financial Services, Personal Finance, Professional Services & Advisory, Service Businesses
5-year financial projections, Business Valuation, Financial Model, Financial Modeling, Financial Projection, Financial Projections, Pro-Forma, Startup Financial Models, Three Statement Model | Three Financial Statements
NOTE: Single-User pertains to a limited Single User License where the template can only be used by one single user; while Multi-User is a license for users sharing the template with up to 20 members. Please refer to Terms of Use and License and Permitted Use for clarification.
FINANCIAL ADVISORS AGENCY FINANCIAL MODEL EXCEL KEY FEATURES
Video tutorial:
Manage surplus cash
Most companies don't have excess cash in the bank. It is a well-known situation. But managing surplus cash for reinvestment in new market opportunities, or debt repayments can be essential to keeping stay in the business. Managers are entirely ready to plan for what to do with the cash surplus if they have the forecast of when and where the business will have surplus cash in the bank account. Pro Forma Cash Flow Projection will provide supplementary guidance on what to do with a cash surplus.
Plan for Future Growth
Projected Cash Flow Statement Format can help you plan for future growth and expansion. No matter you're extending your company with new employees and need to take into account increased staff expenses. Or to scale production to keep up with increased sales, future projections help you see accurately where you're running — and how you'll get there. Forecasting is also a well-known goal-setting framework to help you plan out the financial steps your company has to take to reach targets. There's power in Cash Flow Statement Proforma and the insight they can provide your business. Fortunately, this competitive advantage comes with little effort when you use the Cash Flow Statement Projection.
Manage accounts receivable.
By creating a cash flow statement proforma that takes invoices and bills into account, you'll be more easily able to identify who is systematically paying late. You could even go on to model different payment dates on overdue invoices to see the real effect of late payments on your cash flow.
Identify cash gaps and surpluses before they happen.
Forecasting your future cash balance helps you see well in advance when you may have a cash deficit that could hurt your business. Cash Flow Statement Projection will give you enough time to take action to prevent a crisis. It will enable you to access better loan rates or speed up incoming payment to bridge the gap. On the other side, if you know ahead of time that the large lump of cash will lay in your bank account within the next three months. In this case, you might need to explore options to reinvest it in your business to drive growth.
Predict the Influence of Upcoming Changes
Does your company plan to purchase new equipment or to launch a new product? Projected Cashflow Statement enable you to obtain a complete picture of the effect that specific changes will have on your Projected Cash Flow Statement. When planning your finances in the Cash Flow Statement For 5 Years, you will forecast cash inflows and outflows based on future invoices, bills due, and payroll. You can then create multiple 'what if' scenarios, such as buying new equipment to choose the best way for you. Forecasting shows you how the upcoming changes will affect your cash balance.
All necessary reports
When creating a Financial Advisors Agency Budget Financial Model, you will not need to independently prepare financial reports and study the requirements for them. Our Excel template contains all the necessary reports and calculations that correspond with the lenders demand.
REPORTS and INPUTS
Break Even
Our Financial Advisors Agency Pro Forma Template Excel has proforma for the excel break even formula. Companies use breakeven analysis to determine the price for their products or services that will generate enough revenue for the company to cover its costs.
Cash Flow KPIs
Cash balance. The cash balance shows the total amount of money in a financial account of the company. Any company needs to hold in reserve enough amount of cash to meet current obligations.
Profitability KPIs
Gross profit margin. A gross profit margin is a measure of a company's profitability, which is calculated by dividing gross profit by net sales.
Dashboard
The All-in-one dashboard in this Financial Advisors Agency Pro Forma Budget contains all core financial inputs and core start-up metrics critical for the companies' financial analysis. It reflects the financial data from a Balance Sheet, an pro forma p&l statement, and a cash flow projection. Moreover, users can obtain financial information in the form of graphs or charts.
Operational KPIs
Financial graphs and charts in this Financial Advisors Agency Financial Projection Model help the stakeholders visually track liquidity, budgets, expenses, cash flow, and many other company financial metrics. These graphs will also help a company's management avoid problems by reflecting its financial data in real-time, with a comprehensive financial information overview.
These operational performance graphs will help the business owners and financial managers ensure the best possible performance and financial health of their company because regular financial analytics procedures and the highest quality of financial data are the company's top priorities.
Our financial graphs will also help the company's financial specialists raise financial issues at the general meetings and deliver understandable financial information to other departments and external stakeholders.
Loan opt-in
A loan amortization schedule is a table that shows the company's stakeholders the details of the periodic payments for an amortizing loan. It reflects the principal of an amortizing loan that is paid down over the life of the loan. In most cases, such payments have equal amounts, and the company regularly makes them during a certain period.
A Financial Advisors Agency Cash Flow Proforma includes the pre-built amortization calculator, which reflects the initial amount, periodic terms, and interest rate of the loan. With this loan amortization schedule, the companies can better plan and track how much they still owe and how they plan to repay the loans.
All in One Place
This Financial Advisors Agency Pro Forma Template Excel is key for investors. You will need a Pro Forma Template to validate how much money you need to start-up with and how much your investor can make on this investment. Remember that investors are not tolerant to start-ups that do not have a business plan or a Financial Projection Excel.