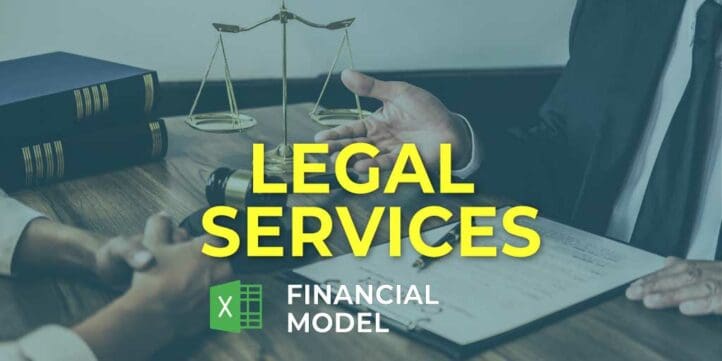 Asset Management, Banking, Financial Model, Financial Services, Insurance, Professional Services & Advisory, Service Businesses
5-year financial projections, Business Valuation, Financial Model, Financial Modeling, Financial Projection, Financial Projections, Pro-Forma, Startup Financial Models, Three Statement Model | Three Financial Statements
NOTE: Single-User pertains to a limited Single User License where the template can only be used by one single user; while Multi-User is a license for users sharing the template with up to 20 members. Please refer to Terms of Use and License and Permitted Use for clarification.
LEGAL SERVICES FINANCIAL MODEL EXCEL TEMPLATE KEY FEATURES
Video tutorial:
Graphical visualization in a convenient dashboard all in one
All necessary reports and calculations, including variable data for your easement, are displayed on a convenient Financial Model Excel Spreadsheet dashboard tab. You do not need to move between sheets to compare important data – everything is visible immediately.
Build your plan and pitch for funding
Impress bankers and investors with a proven, strategic Legal Services Financial Model Excel that impresses every time.
Manage accounts receivable.
By creating a cash flow statement for 5 years that takes invoices and bills into account, you'll be more easily able to identify who is systematically paying late. You could even go on to model different payment dates on overdue invoices to see the real effect of late payments on your cash flow.
Simple-to-use
A very sophisticated Legal Services Profit Loss Projection, whatever size and stage of development your business is. Minimal previous planning experience and very basic knowledge of Excel are required: however, fully sufficient to get quick and reliable results.
Spot problems with customer payments
Preparing the Cash Flow Statement Proforma encourages the business to look at how quickly customers are paying their debts. Identify unpaid invoices and take necessary actions to make them pay.
Gaining trust from stakeholders
Investors and financing providers tend to think in terms of the big picture. They want the c-level of the companies they invest in to do the same to ensure they maintain a clear idea of the future. Providing stakeholders with a monthly cash flow forecast will demonstrate a level of awareness that leads to confidence and trust and will make it easier to raise more investment.
REPORTS and INPUTS
Burn and Runway
The cash burn rate is one of the tabs your future investors may be very interested in. This metrics shows the time left to a complete cash burn. Also, this template shows a cash burn ratio. The calculation is based on your average annual cash balance and average monthly operating cash outflows.
Dashboard
This Legal Services Five Year Financial Projection Template has an all-in-one dashboard. This tab is a snapshot of a business's start-up metrics at a particular point in time. You can see your core start-up financials, revenue breakdown by years, startup cash flow projection data, profitability forecasts, and cumulative cash flow on this dashboard in the form of charts and graphs.
Sources and Uses
Sources and uses statement is a part of our Legal Services Financial Model Excel. It shows the company's stakeholders where all the fund sources for a company come from.
This statement also shows how the company uses these funds.
Profitability KPIs
EBITDA. Earnings before interest, tax, depreciation, and amortization (EBITDA) measures a company's operating performance based on the Income Statement figures. It is calculated by deduction from the earnings such expenses as interest, taxes, depreciation, and amortization. The formula is: EBITDA = Revenue – Expenses (excluding interest, taxes, depreciation, and amortization).
Performance KPIs
Payback period. The cost of acquiring new customers should be compared to the profits that these customers generate. When these two numbers are divided, the result is called a payback period.
Valuation
Our Legal Services Financial Projection Template has two integrated valuation methods. It has a discounted cash flow (DCF) and the weighted average cost of capital (WACC) calculations to show a company's forecasted financial performance.
Top Revenue
The Top revenue tab in the Financial Projection Excel shows off the financial information regarding each of your offerings. In particular, with the help of this Legal Services 3 Way Forecast, you can obtain an annual breakdown of your revenue streams, including the revenue depth and revenue bridge.
File types:
Excel – Single-User: .xlsx
Excel – Multi-User: .xlsx
Free Demo – .xlsx