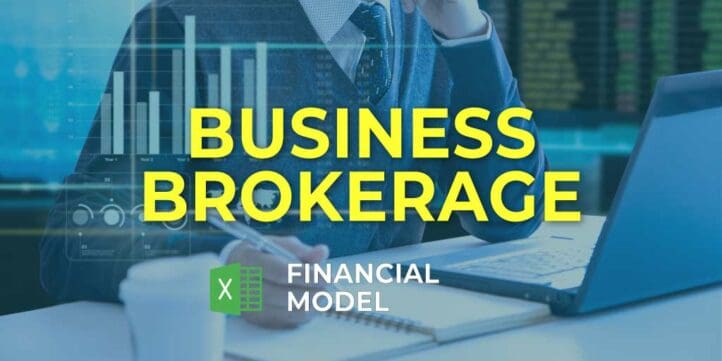 Financial Model, Financial Services, Human Resources & Headhunting, Professional Services & Advisory, Service Businesses
5-year financial projections, Business Valuation, Financial Model, Financial Modeling, Financial Projection, Financial Projections, Pro-Forma, Startup Financial Models, Three Statement Model | Three Financial Statements
NOTE: Single-User pertains to a limited Single User License where the template can only be used by one single user; while Multi-User is a license for users sharing the template with up to 20 members. Please refer to Terms of Use and License and Permitted Use for clarification.
BUSINESS BROKERAGE CASH FLOW PROFORMA TEMPLATE KEY FEATURES
Simple and Incredibly Practical
Simple-to-use yet very sophisticated Business Brokerage Financial Model Excel Spreadsheet. Whatever size and stage of development your business is, with minimal planning experience and very basic knowledge of Excel you can get complete and reliable results.
Get Investors to Notice
Most entrepreneurs can't get investors to return their calls. With the Business Brokerage Three Statement Financial Model, you will secure meetings with potential investors easily.
Convince investors and lenders
Enhance your pitches and impress potential financiers with an Excel Financial Model delivering the right information and expected financial and operational metrics. Facilitate your negotiations with investors for successful funding. Raise money more quickly and refocus on your core business.
It is part of the reports set you need.
It doesn't matter you are worried about cash or not, setting up, and managing a Business Brokerage Financial Projection should be a cornerstone of your reporting set. It's the main report of your business that must have in place to grow sustainably. Before you rush into rent more office space or making a new hire, you should always run a Cash Flow Statement By Month scenario. You can model how that action would impact your cash balance in the nearest future. Knowing whether or not plans are possible is crucial to minimizing risk.
Key Metrics Analysis
Creates 5-year Business Brokerage Financial Model In Excel, proforma, financial statements, and financial ratios in GAAP or IFRS formats on the fly.
Investors ready
Print-ready (including a profit and loss pro forma, a Cash Flow Statement Projection, a balance sheet, and a complete set of financial ratios).
REPORTS and INPUTS
Cash Flow KPIs
Operating cash flow. Operating cash flow calculation shows how much cash the company generates from the business operations. This calculation does not include secondary sources of revenue, like interest or investments.
Sources and Uses
The sources and uses statement presented in this Business Brokerage Pro Forma show where a company is making money and spending those funds.
Liquidity KPIs
Working Capital. The working capital financial metric reflects the money you need for short-term operations. Working capital shows the difference between current assets and current liabilities.
Financial KPIs
In the Financial Model Excel Template you can visually track key financial indicators over the five years period as well as 24 months period.
– EBITDA/EBIT shows your company's operational performance
– CASH FLOWS shows your company's inflows and outflows
– CASH BALANCE this is the forecast of cash in hand you will have.
Costs
Start-up costs are an essential part of any Financial Model Excel. They begin to accrue before actual operations start, so it is crucial to monitor them early to avoid overspendings and underfunding. Our Business Brokerage Startup Financial Model has the proforma for start-up costs that show both funding and expenses. You can use this proforma to monitor your expenses and create cost budgets.
Benchmarks
Our Financial Model Excel has the proforma for industry benchmark analysis. Industry benchmarks, including the financial benchmarks, show users the comparison of performance indicators, e.g., financial indicators, with similar performance indicators of the other companies in the same industry.
All in One Place
This Business Brokerage Three Statement Financial Model Template is key for investors. You will need a Financial Model to validate how much money you need to start-up with and how much your investor can make on this investment. Remember that investors are not tolerant of start-ups that do not have a business plan or a Financial Model Excel Spreadsheet.
File types:
Excel – Single-User: .xlsx
Excel – Multi-User: .xlsx
Free Demo – .xlsx