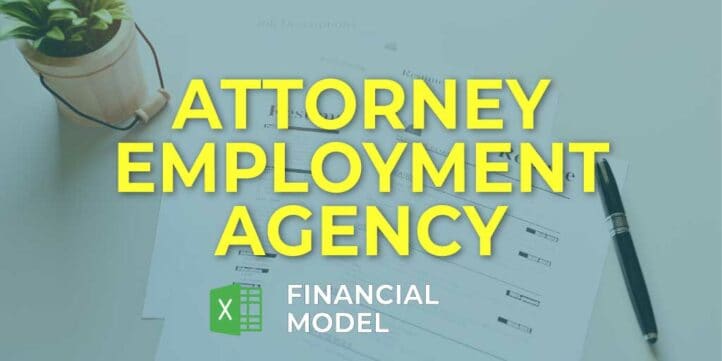 Financial Model, General Excel Financial Models, Human Resources & Headhunting, Marketing Agencies, Professional Services & Advisory, Service Businesses
5-year financial projections, Business Valuation, Financial Model, Financial Modeling, Financial Projection, Financial Projections, Free Financial Model Templates, Pro-Forma, Startup Financial Models, Three Statement Model | Three Financial Statements
NOTE: Single-User pertains to a limited Single User License where the template can only be used by one single user; while Multi-User is a license for users sharing the template with up to 20 members. Please refer to Terms of Use and License and Permitted Use for clarification.
ATTORNEY EMPLOYMENT AGENCY 3 WAY FORECAST EXCEL TEMPLATE KEY FEATURES
Video tutorial:
Manage surplus cash
Most companies don't have excess cash in the bank. It is a well-known situation. But managing surplus cash for reinvestment in new market opportunities, or debt repayments can be essential to keeping stay in the business. Managers are entirely ready to plan for what to do with the cash surplus if they have the forecast of when and where the business will have surplus cash in the bank account. Cashflow Forecast will provide supplementary guidance on what to do with a cash surplus.
Get it Right the First Time
Funding is a binary event: either you succeed or you fail. If you fail, most investors won't give you a second chance. Learn about the pros and cons with Attorney Employment Agency Financial Projection Template.
Saves you time
Allows you to spend less time on Cash Flow Statement and more time on your products, customers, and business development
Identify potential shortfalls in cash balances in advance.
The Attorney Employment Agency Excel Pro Forma Template works like an 'early warning system.' It is, by far, the most significant reason for a Cash Flow Statement Projection.
Simple and Incredibly Practical
Simple-to-use yet very sophisticated Attorney Employment Agency Excel Pro Forma Template tool. Whatever size and stage of development your business is, with minimal planning experience and very basic knowledge of Excel you can get complete and reliable results. Additionally, you will receive uncompromised after-sales service and access to valuable tutorial videos and blog posts.
Plan for Future Growth
Startup Cash Flow Statement can help you plan for future growth and expansion. No matter you're extending your company with new employees and need to take into account increased staff expenses. Or to scale production to keep up with increased sales, future projections help you see accurately where you're running — and how you'll get there. Forecasting is also a well-known goal-setting framework to help you plan out the financial steps your company has to take to reach targets. There's power in Cash Flow Statement Projection and the insight they can provide your business. Fortunately, this competitive advantage comes with little effort when you use the Cash Flow Projection.
REPORTS and INPUTS
Profitability KPIs
Return on investment (ROI). ROI is an essential measure of profitability. Return on investment (ROI) shows a ratio between cash inflows and cash outflows that follow from the investments. The ROI ratio can be calculated as net investment gains divided by total investment costs.
Cash Flow KPIs
Operating cash flow. Operating cash flow calculation shows how much cash the company generates from the business operations. This calculation does not include secondary sources of revenue, like interest or investments.
Cap Table
In the Financial Projection Excel, the capitalization table, or 'cap table', lists a company's securities that include common stock, preferred stock, options, warrants, etc. It also shows who owns those securities. Business owners should keep this information organized and up-to-date to make wise decisions regarding fundraising, employee options, and acquisition offers.
Burn and Runway
The cash burn rate is one of the tabs your future investors may be very interested in. This metrics shows the time left to a complete cash burn. Also, this template shows a cash burn ratio. The calculation is based on your average annual cash balance and average monthly operating cash outflows.
Top Expenses
This Attorney Employment Agency Three Way Financial Model has a Top expenses tab that displays your company's four most significant expense categories and the rest of the expenses as the 'other'.
Break-Even
Excel break-even formula calculation is a part of this Attorney Employment Agency Financial Projection. This financial indicator is essential for every start-up to understand whether it is appropriate for doing this kind of business.
Break-even analysis shows the company's required revenue level that will cover all the business costs, including taxes. When this revenue level is reached, the company begins to bring in profits, which means that the start-up investments start to pay off.
Valuation
With our pre-built valuation template in the Attorney Employment Agency Financial Projection Model Template, you will receive all the data your investors might need.
The weighted average cost of capital (WACC) will show your stakeholders the minimum return on enterprise funds invested in its activities capital. Free cash flow valuation will show a cash flow available to all investors, including shareholders and creditors. Discounted cash flow will reflect the value of future cash flows in relation to the current time.
File types:
Excel – Single-User: .xlsx
Excel – Multi-User: .xlsx
Free Demo – .xlsx