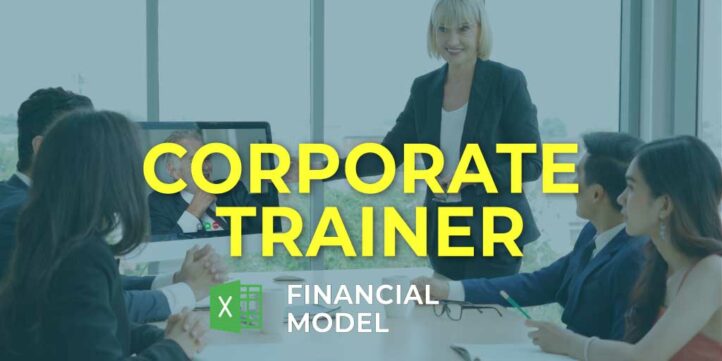 Financial Model, Human Resources & Headhunting, Professional Services & Advisory, Service Businesses
5-year financial projections, Business Valuation, Financial Model, Financial Modeling, Financial Projection, Financial Projections, Free Financial Model Templates, Pro-Forma, Startup Financial Models, Three Statement Model | Three Financial Statements
NOTE: Single-User pertains to a limited Single User License where the template can only be used by one single user; while Multi-User is a license for users sharing the template with up to 20 members. Please refer to Terms of Use and License and Permitted Use for clarification.
CORPORATE TRAINER FINANCIAL PROJECTION TEMPLATE KEY FEATURES
Video tutorial:
5 years forecast horizon
Generate fully-integrated Corporate Trainer Pro Forma Projection for 5 years (on a monthly basis). Automatic aggregation of annual summaries on outputs tabs.
Update anytime
With Pro Forma, you can easily adjust inputs at the launch stage and throughout the further activities of your store to refine your forecast.
Save time and money
Via Pro Forma Template you can without effort and special education get all the necessary calculations and you will not need to spend money on expensive financial consultants. Your task is building a strategy, evolution, and creativity, and we have already done the routine calculations instead of you.
Simple and Incredibly Practical
Simple-to-use yet very sophisticated Corporate Trainer Financial Model In Excel tool. Whatever size and stage of development your business is, with minimal planning experience and very basic knowledge of Excel you can get complete and reliable results. Additionally, you will receive uncompromised after-sales service and access to valuable tutorial videos and blog posts.
Generate growth inspiration
By running various scenarios and looking at the effects they could have on your cash balance, you will begin to see which options are best for your business. Ones that are possible, and what is involved in making them work. Organic growth isn't the only option – there are growing funding options becoming available, and Startup Cash Flow Statement could be a way of looking at the impact an injection of cash could have on your business and its growth plans.
Works for startups
Excel Financial Model Template creates a financial summary formatted for your pitch deck
REPORTS and INPUTS
Costs
Our Corporate Trainer Excel Pro Forma Template has a well-developed methodology for creating a cost budget. You can plan and forecast your costs from operations and other expenses for up to 72 months. The cost budget has a detailed hiring plan while also automatically handling the expenses' accounting treatment. You can set salaries, job positions, and the time of hiring.
Moreover, the model allows users to calculate hiring as the company scales automatically. Pre-built expense forecasting curves enable users to set how an expense changes over time. These pre-built options include % of revenues, % of salaries, % of any revenue category, growth (or decline) rates that stay the same or change over time, ongoing expenses, expenses that periodically reoccur, expenses that regularly change, and many more. Costs can be allocated to key expense areas and labeled for accounting treatment as SG&A, COGS, or CAPEX.
Cap Table
In our Corporate Trainer Budget Spreadsheet, a Capitalization table, or Cap table is a spreadsheet critical for start-ups that shows the company's ownership structure. It lists your company's shares and options if any. It also shows the prices your investors have paid for these shares and each investor's percentage of ownership in the company.
Financial Statements
Our Corporate Trainer 3 Way Forecast Model has pre-built consolidated financial statements: p&l proforma, Balance Sheet, and pro forma cash flow projection. These financial statements can be presented on a monthly, quarterly, and annual basis.
Users can also import existing financial statements and reports from Quickbooks, Xero, Freshbooks, and other accounting software to create rolling forecasts and to make actuals vs. forecasts comparisons.
Sources and Uses
The sources and uses of funds proforma in this Corporate Trainer Profit Loss Projection tell stakeholders the sources where a company obtains its money and how it spends it.
Loan opt-in
Calculating the necessary payments related to the obtained loan or mortgage is essential, especially for start-ups. At the same time, many companies may find this calculation to be a difficult task. In this case, our Financial Model has a loan amortization schedule with an amortization calculator will help to plan and list these loan payments.
Performance KPIs
Return on assets. The return on assets financial metric can be calculated based on the information from two main financial statements: Balance Sheet and profit and loss proforma. Return on assets measures the accomplishment of earnings to the assets, i.e., the amount of money used to get those earnings.
Cash Flow KPIs
Cash conversion cycle (CCC). The cash conversion cycle (CCC) is a financial metric that expresses the time it takes for a company to convert its resources in the form of inventory and other resources into cash flows. The cash conversion cycle is also called the Net Operating Cycle.
CCC measures how long each dollar that the company inputted is tied up in the production and sales process before it gets converted into cash.
The cash conversion cycle metric accounts for various factors, such as how much time it takes to sell inventory, how much time it takes to collect accounts receivable, and how much time it takes to pay obligations.
File types:
Excel – Single-User: .xlsx
Excel – Multi-User: .xlsx
Free Demo – .xlsx