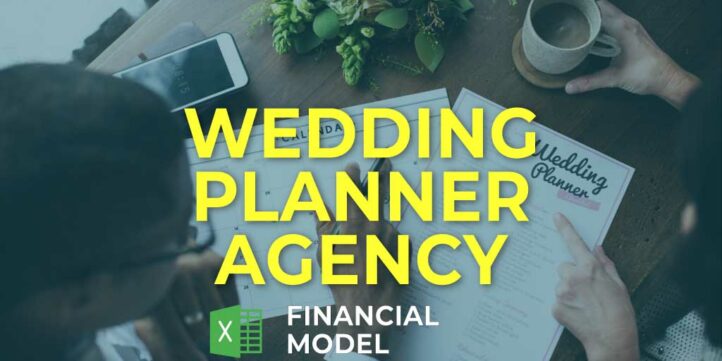 Financial Model, Marketing Agencies, Professional Services & Advisory, Service Businesses
5-year financial projections, Business Valuation, Financial Model, Financial Modeling, Financial Projection, Financial Projections, Free Financial Model Templates, Pro-Forma, Startup Financial Models, Three Statement Model | Three Financial Statements
NOTE: Single-User pertains to a limited Single User License where the template can only be used by one single user; while Multi-User is a license for users sharing the template with up to 20 members. Please refer to Terms of Use and License and Permitted Use for clarification.
WEDDING PLANNER AGENCY FINANCIAL PROJECTION TEMPLATE EXCEL KEY FEATURES
Video tutorial:
External stakeholders, such as banks, may require a regular forecast.
If the business has a bank loan, the bank will ask for a Wedding Planner Agency Three Statement Financial Model regularly.
Track your spending and staying within budget
Have you written a vague idea of cash inflows and cash outflows on the back of a napkin? All is well and good. Looking at the profit and loss statement will give you a snapshot of the past business performance, but it won't show the future in terms of the Cash Flow Statement Projection. With a cash flow projection, you can plan future cash inflows and cash outflows and compare them to the budget, which can be invaluable information.
Simple and Incredibly Practical
Simple-to-use yet very sophisticated Wedding Planner Agency Pro Forma Template Excel tool. Whatever size and stage of development your business is, with minimal planning experience and very basic knowledge of Excel you can get complete and reliable results. Additionally, you will receive uncompromised after-sales service and access to valuable tutorial videos and blog posts.
Easy to follow
Clear and transparent Wedding Planner Agency Budget Financial Model structure (15+ separate tabs, each focusing on a specific planning category, colour coded => input, calculation, and report sheets).
It is part of the reports set you need.
It doesn't matter you are worried about cash or not, setting up, and managing a Wedding Planner Agency Financial Model should be a cornerstone of your reporting set. It's the main report of your business that must have in place to grow sustainably. Before you rush into rent more office space or making a new hire, you should always run a Projected Cash Flow Statement scenario. You can model how that action would impact your cash balance in the nearest future. Knowing whether or not plans are possible is crucial to minimizing risk.
Save Time and Money
Wedding Planner Agency Budget Spreadsheet allows you to start planning with minimum fuss and maximum help. No writing formulas, no formatting, no programming, no charting, and no expensive external consultants. Plan the growth of your business instead of fiddling around with expensive techy things.
REPORTS and INPUTS
Financial Statements
With our Cash Flow Proforma, you can easily create a projected p&l statement, a Balance Sheet, and a cash flow statement for your company. You can choose these statements' format and make any financial statement with a monthly or annual breakdown, or for five years.
Costs
Our Wedding Planner Agency Financial Projection Template Excel has a well-developed methodology for creating a cost budget. You can plan and forecast your costs from operations and other expenses for up to 72 months. The cost budget has a detailed hiring plan while also automatically handling the expenses' accounting treatment. You can set salaries, job positions, and the time of hiring.
Moreover, the model allows users to calculate hiring as the company scales automatically. Pre-built expense forecasting curves enable users to set how an expense changes over time. These pre-built options include % of revenues, % of salaries, % of any revenue category, growth (or decline) rates that stay the same or change over time, ongoing expenses, expenses that periodically reoccur, expenses that regularly change, and many more. Costs can be allocated to key expense areas and labeled for accounting treatment as SG&A, COGS, or CAPEX.
Top Expenses
This Wedding Planner Agency Financial Model Excel Spreadsheet has a Top expenses tab that displays your company's four most significant expense categories and the rest of the expenses as the 'other'.
Performance KPIs
Lead-to-client conversion rate. Lead-to-Client Conversion Rate is an essential metric for businesses that attract new clients with the Internet, social media, and other similar channels. Leads do not turn into customers automatically. Company's sale team need to convert these leads into actual customers.
The Lead-to-Conversion business metric is a good measure of the sales team's performance. Moreover, it indicates the quality of your product. If you have a low conversion rate, it may sign that your product is not attractive to the customers.
Top Revenue
The top line and bottom line are two of the most important lines on a company's pro forma profit and loss statement. Investors and analysts pay special attention to the company's revenue and profits and carefully monitor any changes regarding these financial metrics from quarter to quarter and year to year.
The top line of the pro forma p&l statement refers to a company's revenues or gross sales. Therefore, when somebody says that the company has 'top-line growth,' it means that the company is experiencing an increase in gross sales or revenues, which should positively impact other company's financials and overall performance.
Benchmarks
Our Five Year Financial Projection Template has the proforma for industry benchmark analysis. Industry benchmarks, including the financial benchmarks, show users the comparison of performance indicators, e.g., financial indicators, with similar performance indicators of the other companies in the same industry.
All in One Place
This Wedding Planner Agency Financial Model reflects all the main aspects of your business. It will be a roadmap that enables entrepreneurs to understand their business and their perspectives. As a start-up 3 Way Financial Model, it will help understand cash flows and determine the cash burn rate. This is very important for any business because it shows how long money will last and which milestones the business owner can achieve with these expenditures.
File types:
Excel – Single-User: .xlsx
Excel – Multi-User: .xlsx
Free Demo – .xlsx