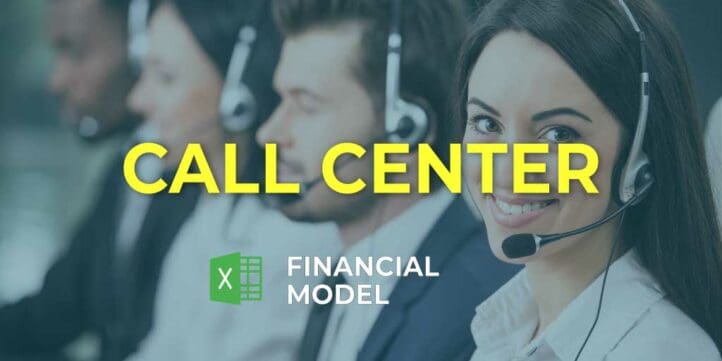 Call Centers, Financial Model, IT Services, Marketing Agencies, Online Businesses & IT, Service Businesses
5-year financial projections, Business Valuation, Financial Model, Financial Modeling, Financial Projection, Financial Projections, Pro-Forma, Startup Financial Models, Three Statement Model | Three Financial Statements
NOTE: Single-User pertains to a limited Single User License where the template can only be used by one single user; while Multi-User is a license for users sharing the template with up to 20 members. Please refer to Terms of Use and License and Permitted Use for clarification.
CALL CENTER FINANCE PROJECTION KEY FEATURES
Video tutorial:
External stakeholders, such as banks, may require a regular forecast.
If the business has a bank loan, the bank will ask for a Call Center 3 Way Financial Model regularly.
Currency for inputs and denomination
In Pro Forma Projection define any currency code or symbol and preferred denomination (e.g. 000s) to reflect your preferences.
Investors ready
Print-ready (including a projected p&l statement, a Cash Flow Pro Forma, a balance sheet, and a complete set of financial ratios).
Simple-to-use
A very sophisticated Call Center Cash Flow Proforma, whatever size and stage of development your business is. Minimal previous planning experience and very basic knowledge of Excel are required: however, fully sufficient to get quick and reliable results.
Print-ready Reports
Solid package of print-ready reports, including a profit and loss proforma, startup cash flow statement, a balance sheet, and a complete set of financial ratios.
Avoid cash flow problems.
Cash flow, and especially Cash Flow Statement For 5 Years from operations, is the lifeblood of your business – do not ignore it! The level of cash flow in your company dictates the decisions you can make and how quickly you can grow your business. So you should monitor and manage cash flow regularly. Monthly cash flow forecasting will give you a current view of the cash inflows and outflows within your business and also what the next period looks like. Regular Cash Flow Forecast forecasting can highlight where cash gaps will be in the future and where there could be improvements made. Most importantly, a Startup Cash Flow Statement will give you a good idea of the health of your business cash flow at a glance. Finding potential cash flow gaps ahead of time can save you and your business both time and money. You can make decisions and take actions before things get too bad, ensuring your Startup Cash Flow Projection is maintained, based on your forecasts.
REPORTS and INPUTS
Benchmarks
3 Way Financial Model Template benchmark tab calculates the company's key performance indicators, either business or financial, and finds an industry-wide average as a comparison. The industry average metrics are then used to determine the relative value for benchmarking analysis.
Financial benchmarks are essential for the financial planning of companies, especially for start-ups. These studies help companies determine the 'best practice' companies within the industry and compare their own financial results with these best practices. It is a useful financial and strategic management tool.
Top Revenue
When the company's management starts to make a Financial Projection Model, revenue is the most crucial component in the Financial Projection Template. Revenue is one of the main drivers of the enterprise's value in the Startup Financial Model. That is why financial analysts must pay special attention to the planning and devising the best strategy to approach modeling future revenue streams.
Revenue forecasts should also have assumptions about the growth rate based on historical financial data. Users can find all the components of wise financial planning of the revenue streams in our Call Center Cashflow Projection.
Break-Even
Our Call Center Financial Projection Excel has proforma for the breakeven analysis. Companies use break-even analysis to determine the price for their products or services that will generate enough revenue for the company to cover its costs.
All in One Place
A well-developed and easy-to-use Financial Model Excel Spreadsheet. You do not to be a financial expert to design your start-up Financial Model In Excel. Everything you need is the right set of financial tools, and our Call Center Pro Forma Projection will give you them.
Valuation
With our Call Center Finance Projection, you will get proformas for valuation analysis. You will be able to perform a Discounted Cash Flow (DCF) valuation analysis and other valuations you may need.
Liquidity KPIs
Current Ratio. The current ratio is a liquidity ratio that helps users measure a company's ability to meet short-term obligations that should be paid within a year. This financial metric tells investors how a company can maximize the current assets on its balance sheet to cover its current debts.
Cap Table
A Cap table is a critical spreadsheet for any start-up company that shows all the company's shares, who owns them, and the investors' prices for these shares. The Financial Projection Excel (cap table tab) also reflects each investor's percentage of ownership in the company and its dilution.
File types:
Excel – Single-User: .xlsx
Excel – Multi-User: .xlsx
Free Demo – .xlsx