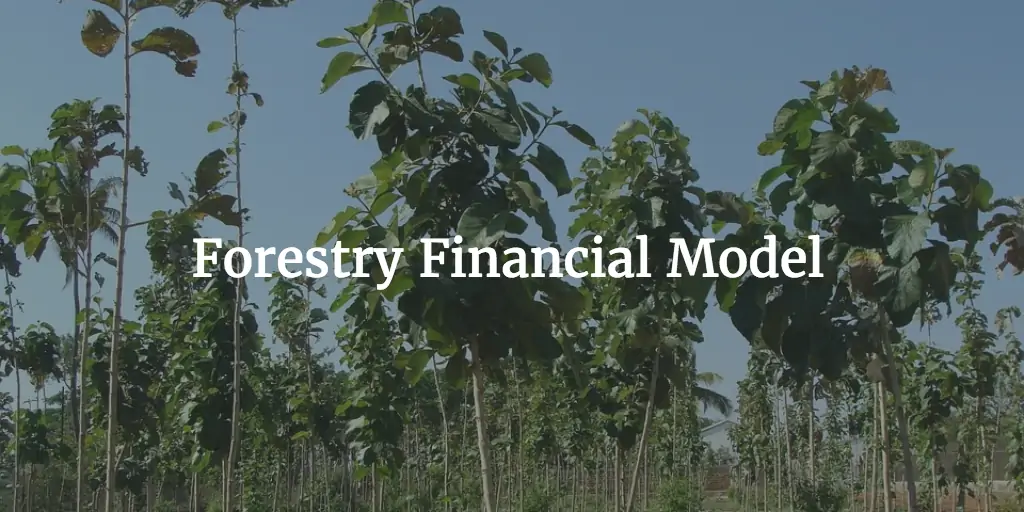 Agriculture, Forestry
Cash Flow Projections, DCF Model, Excel, Financial Feasibility, Financial Projections, Financing, IRR (Internal Rate of Return), NPV (Net Present Value), ROI, Valuation
The forestry financial model is a comprehensive financial model in Excel which allows to calculate the financial viability (IRR, NPV, ROI multiple) for multi-stage forestry plantation project, such as tree plantations, timberland investments or any other forestry project.
The Excel financial model can derive cash flow forecasts for both, simple single site tree plantation projects which are planted in one yearm and more complex cash flow forecasts for forestry projects with different plantation and harvest years for up to 25 sites. The model outputs all its key metrics on a consolidated basis as well as per each single tree plantation (up to 25).
Forestry projects, such as teak farms, require long-term cash flow forecasts as the trees can take up to 25 years (or for some species even longer) to grow till they produced wood volume can be maximized. This comprehensive model allows to forecast cash flows for tree farms planted up to 25 consecutive years which reflects one full tree growing cycle for a teak wood.
The highlights of the financial model are the following:
Inputs:

Forestry strategy assumptions: years of commercial thinnings, trees and wood volume (m3) extracted
Cost assumptions for the purchase of land, care-taking, maintenance and G&A costs over the project lifetime
G&A costs can be allocated automatically as per the relative size of the hectares under management
Forecasted wood price
Inflation assumptions for prices and costs
Up to 25 different tree plantations with different sizes (hectares), planting years and harvest years

Model output:

Key metrics such Project IRR, Funding required, Net Present Value (NPV), NPV per hectare, Return on Investment (ROI) multiple
Summary figures such as forecasted total revenues, cost, taxes and profit in absolute terms (e.g. USD) and on a relative basis (e.g. USD per hectare)
The NPV calculation can be adjusted to reflect NPV values for the timberland investment over time

All key metrics are outputted both on a consolidated basis as well as on a per plantation basis
The model e.g. can be used for teak plantations or similar forestry projects which require to forecast extracted wood harvest volumes and wood prices over a long period of time.
The comprehensive financial model is available as Excel file. A PDF Demo version is available for a closer look what exactly is included in the financial model (except for some rows with more details and grouped together).
Filetype: .xlsx (Microsoft Excel 2008 for Mac)
Screenshots of the comprehensive forestry financial model are provided below.