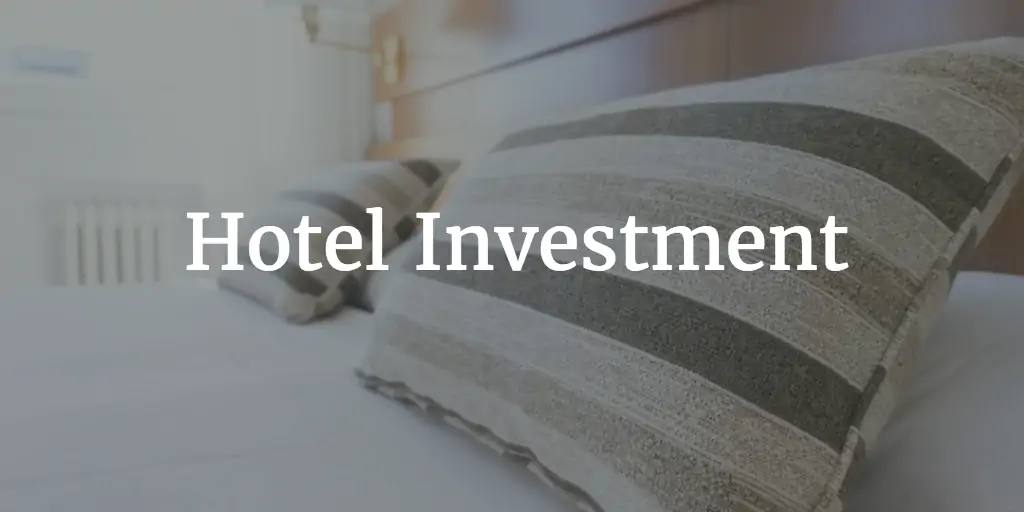 This financial model has been reworked based on the feedback received on the previous hotel valuation model. This model now is an alternative version of the Hotel Valuation Model. The main focus of the analysis of this financial model lies in IRR.
The Hotel Investment Financial Model provides a framework to forecast the expected cash flows for a hotel investment and calculates the financial metrics of relevance to investors such as the IRR (levered and unlevered).
The Excel model template provides the following:
Executive Summary with key charts, key metrics, and key assumptions. Simply change the assumptions on the right and see immediately the effect on the charts for easy to understand
Yearly financial projections for 10 years
Key Metrics

Average room rate
Average occupancy rate
Number of rooms

Revenue Streams

Room rental
Food & Beverage

Costs

Commission costs for affiliate marketers and transaction costs
Cost of sales
All other operating expenses (OPEX) costs (modeled as fixed costs)

Financial Statements (Yearly) – Income Statement, Balance Sheet, Cash Flow Statement
IRR analysis based on levered cash flows
Sensitivity Analysis on IRR with Switch for levered and unlevered IRR
Valuation comparison based on alternative methods such as Discounted Free Cash Flow (DCF), EBITDA multiple and cap rates
Debt schedule which models two layers of financial debt (junior and senior debt) – if needed
Fixed asset depreciation schedule with different categories of fixed assets
Forecast of all relevant financial ratios
Print-friendly layout including charts and graphs
The Executive Summary page provides the hotel investor with a comprehensive overview of the financial economics of the envisaged investment in a hotel.
The model is available in two versions, one with only a preview pdf file (Free Version) and all cells editable in Excel (Paid Version).
Filetype: .xlsx (Microsoft Excel 2008 for Mac) and .pdf
Users who purchased Hotel Investment Financial Model, also purchased:
Reviews
The layout of the model could be improved so that all model inputs are in one area.
The model builder could also consider adding a bit more flexibility around having the ability to add additional revenue, cost of sales and opex. items.
Overall, pretty good, considering the price!
is it possible to change the currency ? how ?
Hi Maxime, thank you for leaving a review of this model template. Regarding your question, as you can see in the Assumptions Section > General Assumptions, you can change the Currency accordingly.
It's a nice model if you manage everything. There should be a option based on new hotel dynamics. Buying a asset and adding a management company. The management company pays a fix rent + variable rent, per room. Obviously having a deposit (6 months , etc). Hotel business are becoming more and more complex and specialization is going this way.
Thanks,
Hi! Very clear and easy to use model. However, on the balance sheet page, how did you obtain the value of 6'569'000 for Equity under the column "Closing". Somehow the excel formula does not show the formula. It surely cannot be Asset – liabilities. Can anybody clarify?
The Closing Balance Sheet is just pro forma to set the starting point for the Balance Sheet going forward for those who like to see a proper Balance Sheet. The $6'569'000 is the amount needed so that Assets = Liabilities + Sh. Equity at the time you acquire the asset. For the model this calculation is not relevant as IRR calculation bases on future cash flows and not on the balance sheet you acquire at point of purchase. If you feel this is confusing, simply set the figures in the closing balance sheet to zero as its really not relevant for the calculation. We might change this in the next model version to avoid confusion.
Write a Review
Get these templates too for a discount!